The car market is probably not the place where customers would normally imagine finding bargains and discounts. However, in their greed, automotive investors may have hoarded too many cars and also missed the right time to sell them. What this means is that now they have to sell them for discount prices. 
For the uninitiated in the Pakistani automotive space, cars are an asset class in Pakistan. Profit has already documented this in detail for those interested. 
Read more: The lopsided market structure of the automobile industry. 
As with any asset class, you also have investors in the automotive space. Investors constitute a sizable portion of  car purchases. They make their gains when demand for cars outstrips supply. However, this situation does not arise normally given the production models in the industry. Thus, investors obtain cars in bulk to create artificial shortages, and then ration them out to the highest bidder for what is colloquially known as 'on-premiums'. 
It's a model that's as old as the Pakistani car market itself. However, Profit has identified 21 different models that are selling for below their official prices. How did we find this? Profit looked at the prices of 1,036 cars from 83 different models across 14 brands being sold in the second-hand car market to determine the discounts. Or as we term them, 'off-prices'.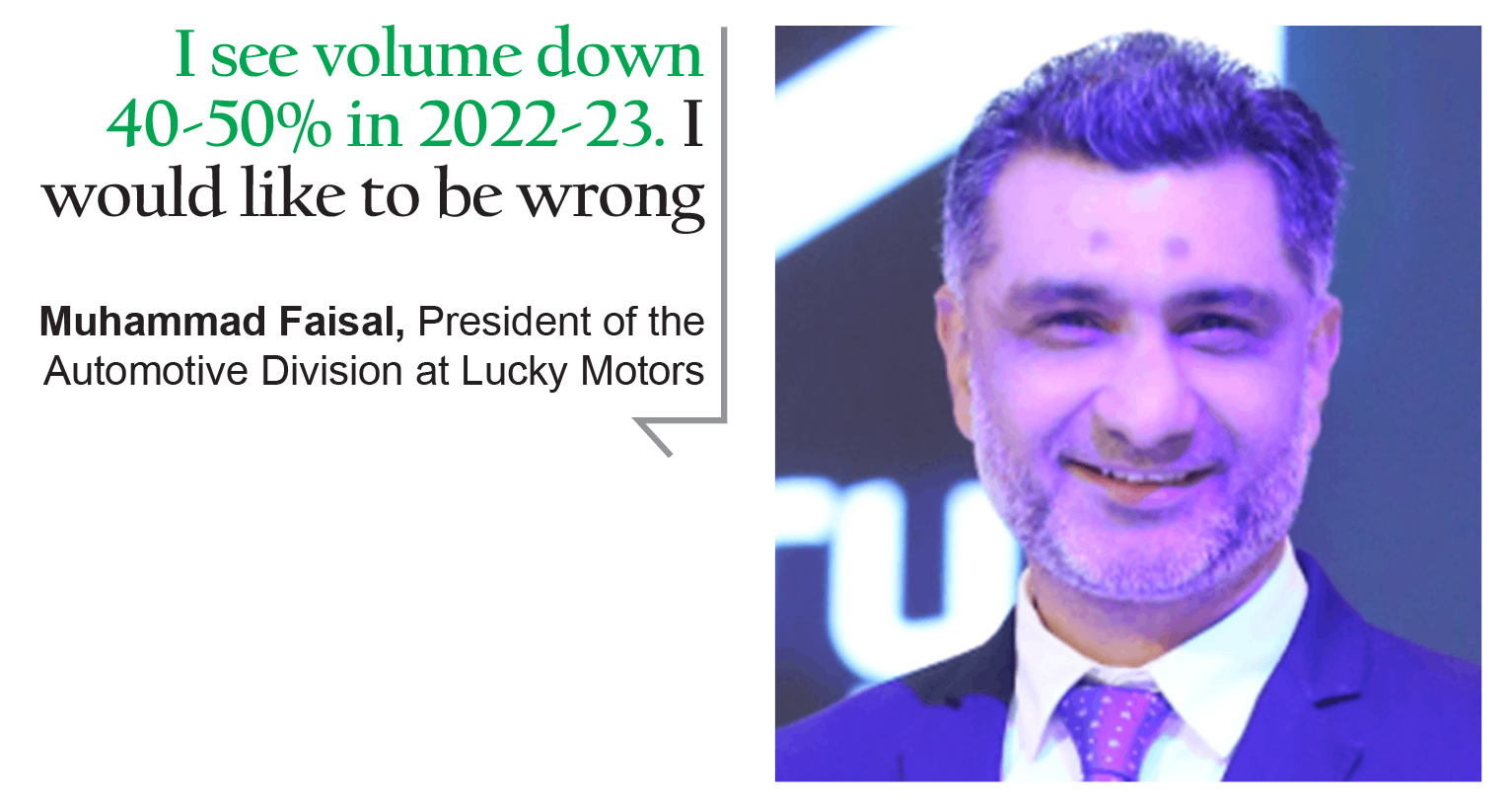 Article continues after this advertisement
We set the average price of a model by looking at a sample size of 15, wherever possible, for the particular variant. All cars that we looked at were the latest (2022) edition of the car to ensure that the vehicle was bought in January of this year or later. 
No cut-off point for mileage in particular was applied due to the fact that cars are, well, cars at the end of the day. Some investors may want to actually enjoy their vehicle before selling it off. However, preference was given to cars with lower mileage in the sample size to ensure the prices captured were particularly for vehicles bought for resale. 
So, what's going on then? Profit investigates how customers may have lucked out in the automotive market at a time when, perhaps, everything else was in a shambles. 
Why are some cars selling for 'off'? 
Setting the price of a car, or its premium in our case, boils down to the fact that it is both a car and an asset at the end of the day. Companies, and investors in our case, that do not get this right tend to encounter problems. 
To look at an instance of when a company got this wrong, read more:  The KIA Sorento 101 – How not to price a car.
With the premise established, let's take a look at what's happened. Profit can point towards two notable phenomena for the current situation: Inflation and the rupees's current stability against the dollar.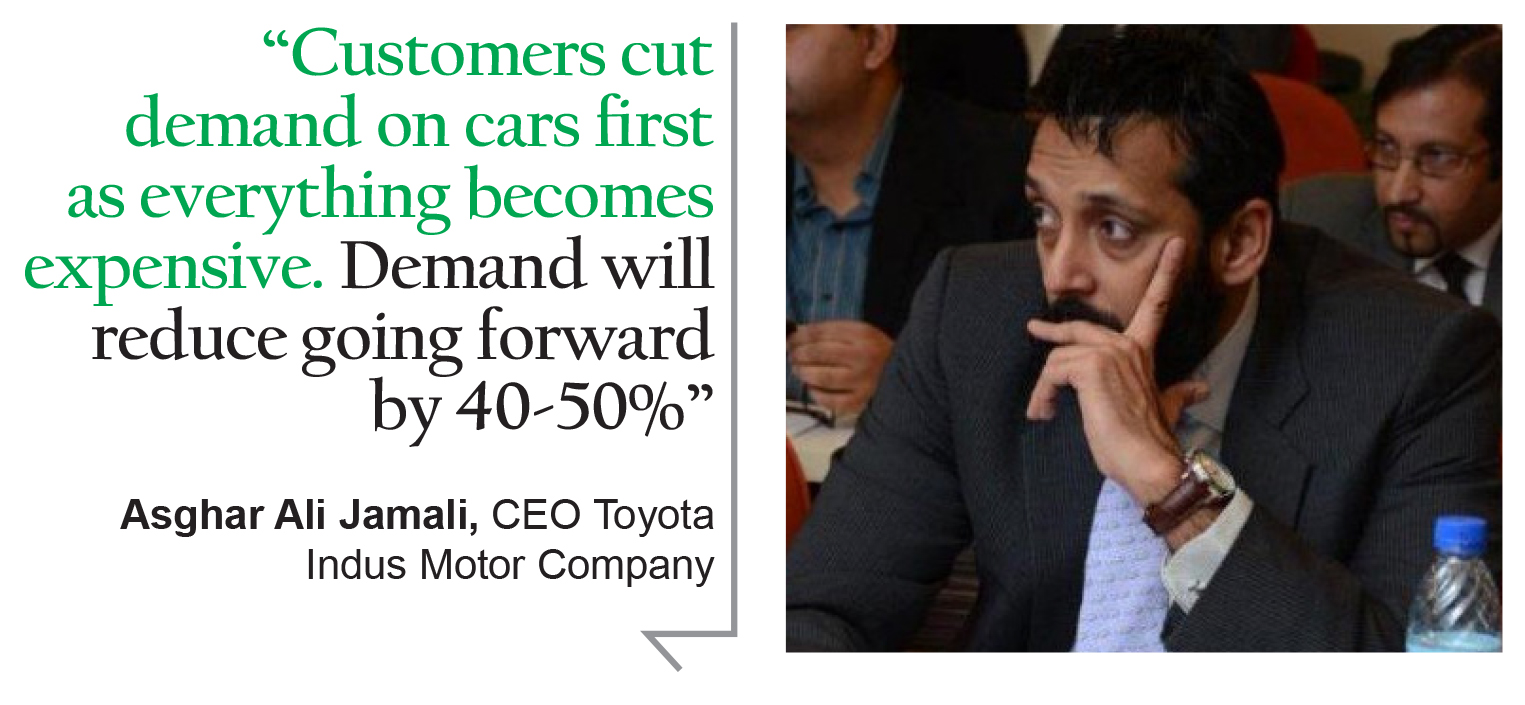 Firstly, inflation figures for August clocked in at a 47-year high. "Customers cut demand on cars first as everything becomes expensive." said Asghar Ali Jamali, CEO Toyota Indus Motor Company, in conversation with Profit. Jamali's statement seems correct when we look at automotive sales for July. 
Cars operate in a competitive market. Chances are that many in the market for a new car either already have one or can purchase something more affordable in times of inflation. Therefore, investors have to really selectively pick which cars to place their bets on. Investors with the aforementioned 21 cars drew a losing hand. Profit can say this because according to research every car not in this list is still going for some amount of on-premium, for now at least. 
Secondly, most automotive companies reduced their prices in August on account of the rupee appreciating against the dollar. So the tl;dr edition of Profit's aforementioned detailed reason for why cars are an asset class in Pakistan is that they rely on imports. A lot. Thus, their prices are directly linked with the rupee's value against the dollar. 
The rupee's stability reduces the likelihood of prices increasing which makes cars not the best asset to invest in. Furthermore, Pakistan's IMF's deal has led to the possibility of the rupee appreciating further. This would lead to automotive manufacturers reducing their prices further based on what happened in August and this in turn would make cars quite a bad asset to have.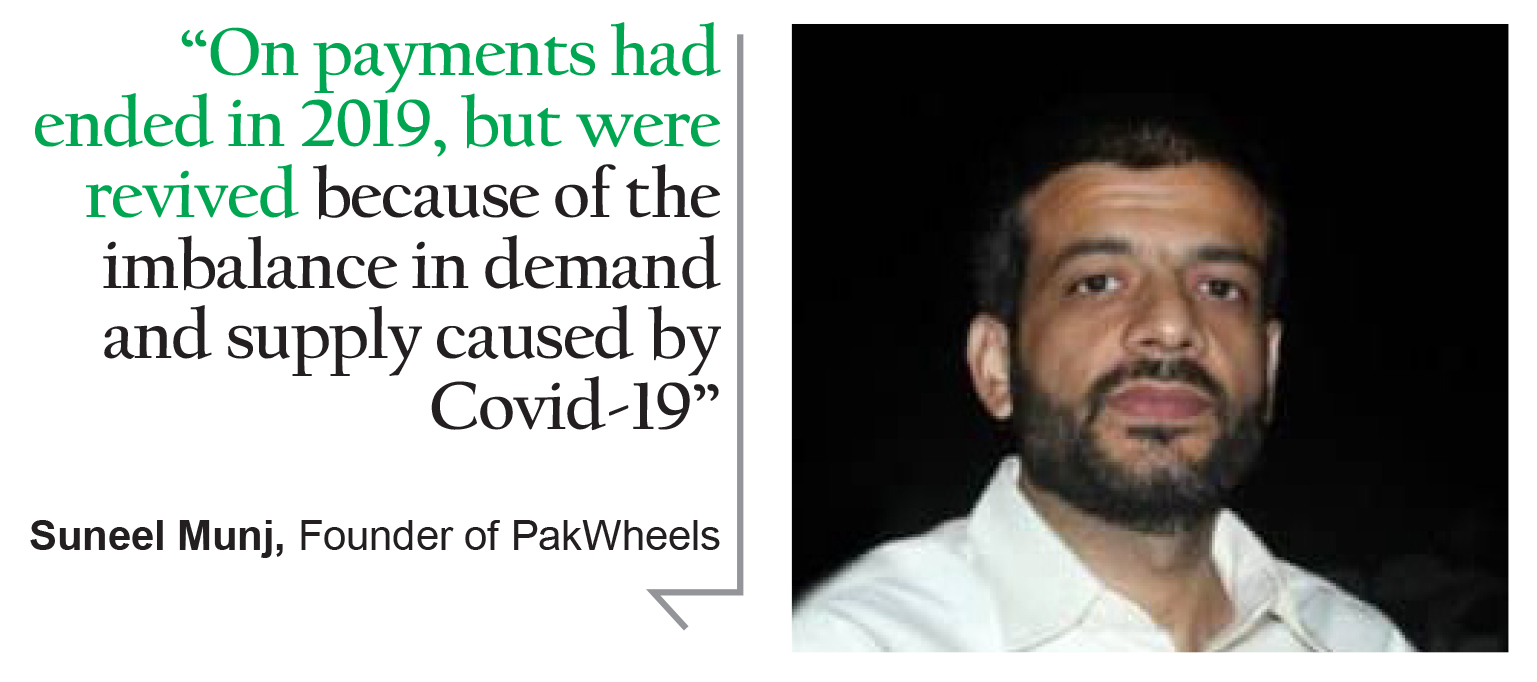 Recap time. Investors hoarded cars that customers can no longer afford, which may also reduce in value in the future. So, what have investors decided to do in this situation then? 
They have decided to cut their losses. They have decided to do this by undercutting the official value of the vehicles to recoup their original investment with whatever gains they have made. 
Why would investors shoot themselves in the foot? 
This entire situation is perhaps best encapsulated by the age old saying of 'lalach buri bala hai'.  The question one might ask then is, how bad are the losses? Well, it depends on when the investor acquired one of the aforementioned 21 cars in 2022. 
Not leaving anything to speculation, Profit has done the math to see whether any of the cars selling for discounts were profitable bets, and for how long that remained the case.  
 In looking at the gains and/or losses made, Profit used the ex-factory price of the vehicle in the possible month purchase. We then subtracted the ex-factory price from the current average price for which the car can be found in the second-hand market. 
The earlier the investor got in the fray, the higher his returns based on our findings. It is likely that it is with return expectations such as these that investors continued to purchase cars for the remainder of the year and ended up in the situation where they are now. 
In the end investors possibly got good returns, and customers will now get bargains. So, everything works out right? 
Can we expect more bargains in the future? 
Probably.
"Demand will reduce going forward by 40-50%," said Jamali when Profit asked him about how the industry will fare in the coming year. 
"I see volume down 40-50% in 2022-23. I would like to be wrong," said Muhammad Faisal, President of the Automotive Division at Lucky Motors, when Profit questioned him as well.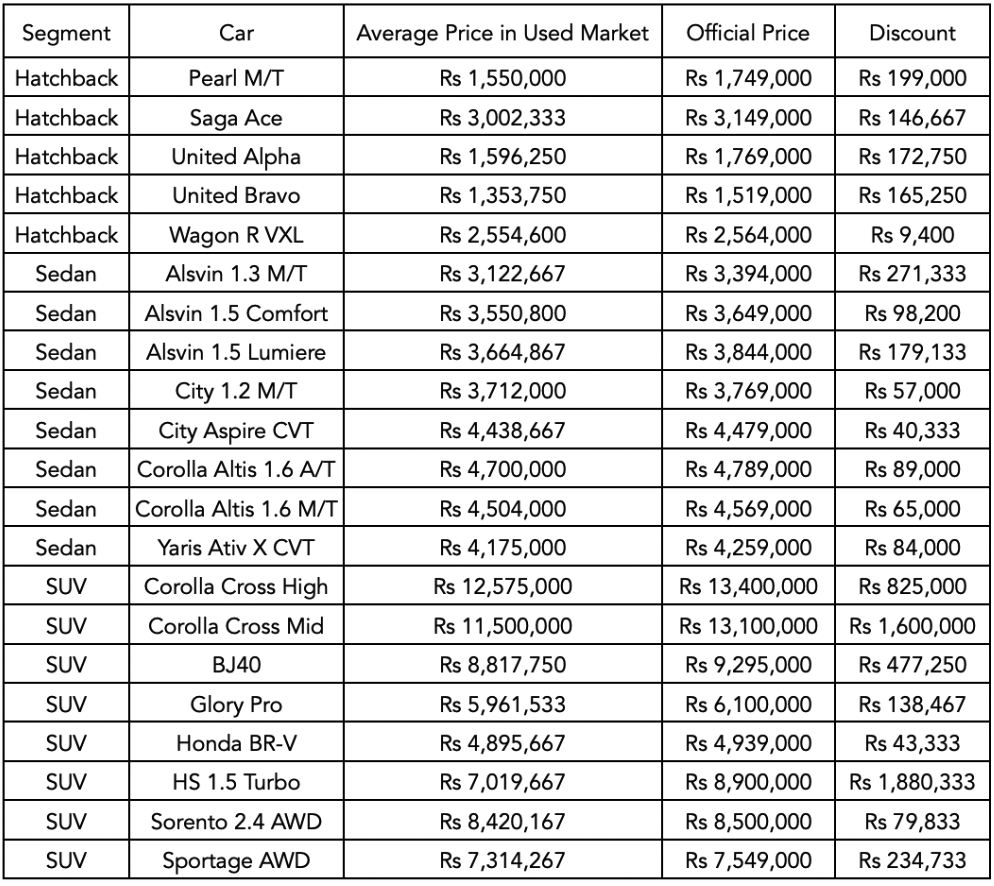 Given customer demand is on the precipice of collapse, on-premiums are likely to contract going forward. It's very likely that we'll see investors set the clearing price of their stock to below official levels because of their reserves as customers simply opt to buy fewer cars on account of the economic situation. 

In the situation that the rupee does depreciate against the dollar, we still may see some similar bargains. It's true that the underlying asset (the car) investors possess will increase in value but they won't really be able to sell it. This in turn will lead to them having capital tied up as well. So long as the clearing price is above the price the investor bought the car for, investors will continue to sell below the official price. 

"On payments had ended in 2019, but were revived because of the imbalance in demand and supply caused by Covid-19," said Suneel Munj, Founder of PakWheels, in a video. 

Thus, this is not a new phenomena per se in Pakistan. The sheer quantity of cars that may be sold for off-payments, given the sales figures for FY 2021-22, would be new. Maybe even a pleasant surprise for many for those who held out on buying a car on the notion that "sabr ka phal meetha hota hai".