Over the course of the past two months, one of Pakistan's largest industries has been running from pillar to post in a desperate attempt to secure raw materials. From writing letters to the prime minister to knocking at the doors of the US Ambassador in Islamabad for help Pakistan's textile industry is, to put it mildly, in shambles. 
Not enough cotton was grown in the country this year on account of the floods to meet the demands of textile manufacturers. And with Lines of Credit closed due to the ongoing economic crisis, importing the cotton is proving to be a herculean task. 
And textiles is not the only industry getting swirled up into the fast-growing tornado of doom and default. With dollar reserves falling to drastic levels, talks with the International Monetary Fund (IMF) dragging on at a painfully sluggish pace, friendly countries no longer reposing faith in Pakistan's sincerity in implementing economic reforms, and help seeming far out, Pakistan's industries are teetering on the edge right alongside the macroeconomy. 
But is it as simple as all that? Can we really just say "it's the economy stupid" and chalk up the dire straits our industries find themselves in to the economic mismanagement of our political leadership? That is what the business community would have you believe. At a recent event, former chairman of the Karachi Chamber of Commerce and Industry (KCCI) symbolically presented "the keys" to Karachi's industry to SBP Governor Jameel Ahmed. We can't run our businesses in these conditions, he said, maybe you'll have better luck doing so. 

The sentiment is clear, and to a large extent it is true. In its efforts to shore up reserves the government has made it hell to import vital items. But there is also an understanding that different industries in Pakistan often operate with a marked lack of foresight. "Their habit tends to be to make hay while the sun shines, and when times turn bad, ask the government to bail them out with tax breaks and subsidies and other such things," explains Khurram Hussain, a senior business journalist and former editor at Profit. 
Article continues after this advertisement
For a long time, this is how our industries have chosen to operate: make quick buck when the opportunity presents itself with no care for contingencies for the future and make a whole lot of ruckus when things aren't going your way. Decades of finding light at the end of the tunnel either through aid or government assistance have trained our business owners to be shortsighted. The only problem is, sometimes when you're looking at a dark tunnel there isn't light at the end of it because you're staring down a shotgun barrel. 
 As Pakistan continues to struggle, there is an opportunity for introspection for the business community. Profit spoke to industry leaders, economists, and experts to try and understand how the ongoing crisis has impacted textiles — the largest export-oriented sector of Pakistan — and what the coming days might look like.  
The LCs issue 
Lines of Credit. It is one of those phrases that most people only learn when there is something wrong with them. Very briefly put for those not in the knowhow, when any product is imported into Pakistan a letter of credit (LC) guarantees that payment will be made to the foreign suppliers after the goods have been received and cleared by Customs. These letters are issued by regular commercial banks. So if you are an importer, you will pay your bank and they will issue an LC and give it to the company that is shipping the product to Pakistan. The LC is then presented and the bank releases the payment in dollars.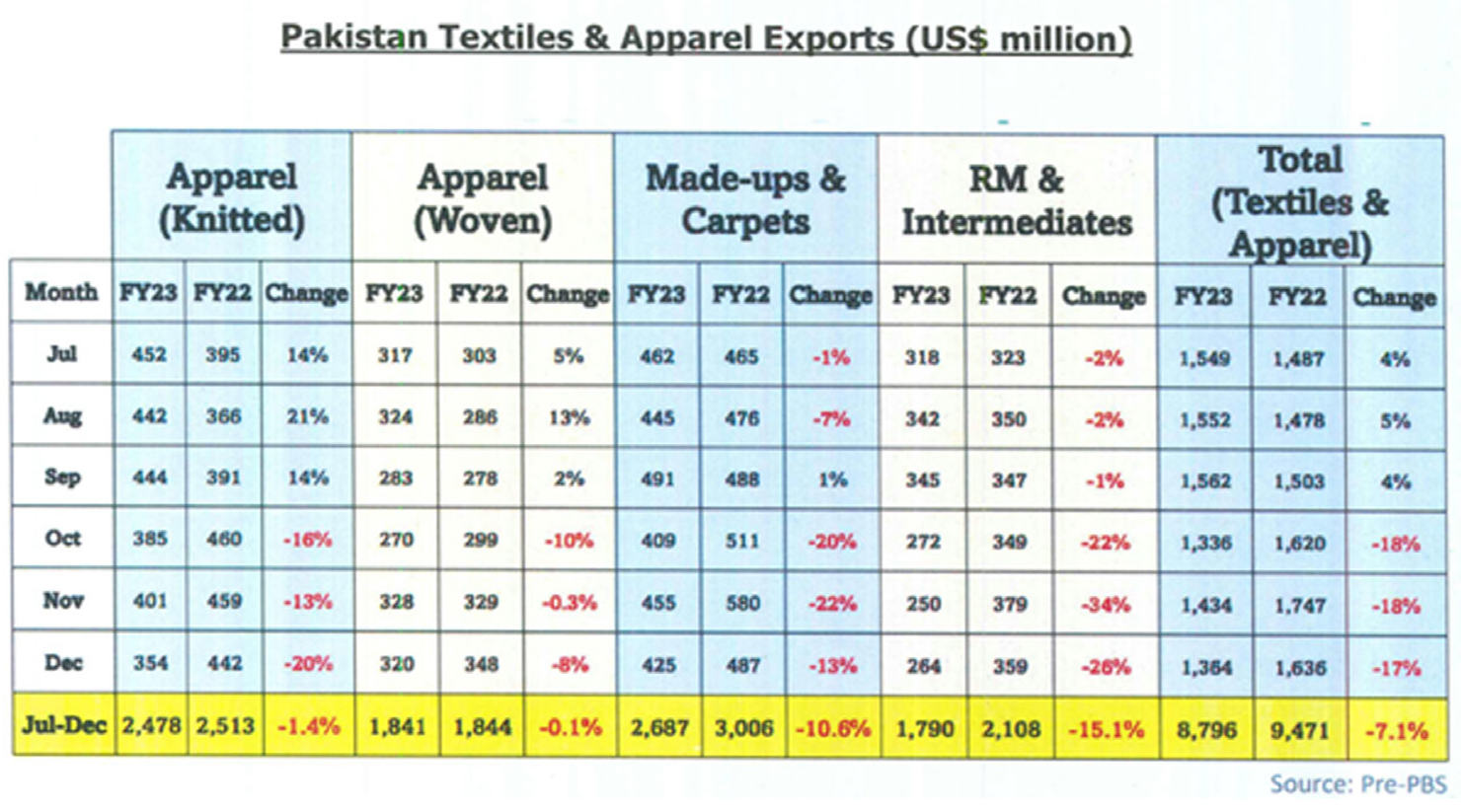 Now here's the rub. Since LCs are issued by banks, the State Bank of Pakistan (SBP) can control them. As the regulator, the central bank can boss around commercial banks and tell them what to issue LCs for and what not to issue LCs for. For example, when the incumbent government first took over one of their first courses of action was to announce that automobile importers needed to get special permission directly from the SBP before LCs would be opened for them. As Pakistan's reserves continued to plummet, in a desperate attempt to keep dollars in the country, the SBP became stingy with LCs. 
This was a massive problem for an import-oriented industry like Pakistan. A number of industries started facing issues. And while industries like automobiles were in a quandary, there were graver issues when LC issues started arising for essential commodities such as wheat, maize, and medicines. In the middle of all this, the textile industry occupies a special place. It is Pakistan's largest export-oriented industry, which means they bring dollars into the country. But what do you do when your biggest exporter suddenly needs to import its raw materials?  
Profit asked Dr Aadil Nakhoda, assistant professor at the Institute of Business Administration (IBA), to elaborate upon why the Government, and the State Bank particularly, are restricting the textile sector's imports if it constitutes an upward of 60% of our exports? Nakhoda responded, "The government is restricting imports in order to reduce the pressure on the current account deficit. Initially, the restrictions were on consumer goods, which expanded to raw materials and intermediate goods. The idea is to cut the demand of imports in order to not only reduce the CAD but also alleviate the pressure on the exchange rate of the Pakistani rupee." 

As it stands, this seems to be a circular problem because the inability to import raw materials due to the lack of foreign currency will translate into the inability to export goods. As we have already established above, the textile industry is the single most important sector for Pakistan's exports, making it equally important for wealth generation. According to Zaman, "Last year, out of the $31 billion, almost 20 billion dollars worth of exports were made by the textile industry." The government is reluctant/unable to open LCs for essential imports. As a consequence of this, the size of the industry has been brought to its knees. In turn, it can be predicted that in the near future the industry's inability to export textile goods will ultimately lead to an even worse foreign trade and currency crisis, while also swelling unemployment rate across the country.
Despite being one of the largest industries and exporting sectors in Pakistan, textile manufacturers have failed to safeguard themselves from a long impending economic crisis and now stand helpless in face of adversity. Pakistan's domestic cotton production has declined to a historic low this year, dropping to 5 million bales for the current year mainly due to heavy rains and floods. The estimated cotton production losses have been worth more than $2 billion. This domestic cotton production is significantly shorter than the textile sector requirements as the textile industry of Pakistan consumed nearly 15 million bales of cotton last year, and the current season anticipated demand indicates that about 10 million bales will need to be imported. 
Desperate times 
So how has the industry responded? Over the past two months a series of letters from the All Pakistan Textile Mills Association (APTMA), the industry association for textile manufacturers that lobbies for them, have demanded that the government help them out in their pursuit to import cotton. 
Read more: In desperate bid for cotton, textile manufacturers turn to US Ambassador
Earlier this month, APTMA's patron in chief, Gohar Ijaz, had sent a letter to US Ambassador to Pakistan Donald Blome making a desperate plea for a soft loan for the import of cotton from the US. This is not the only indicator of the disaster that the textile industry has on their hands. Two days before the letter to Blome, APTMA also appealed to the Finance Minister and on the 23rd of December they appealed to the Prime Minister of Pakistan, regarding the same issue. In the letter to the Finance Minister, APTMA informed Dar that the industry is on the brink of shutting down due to the shortage and lack of raw materials.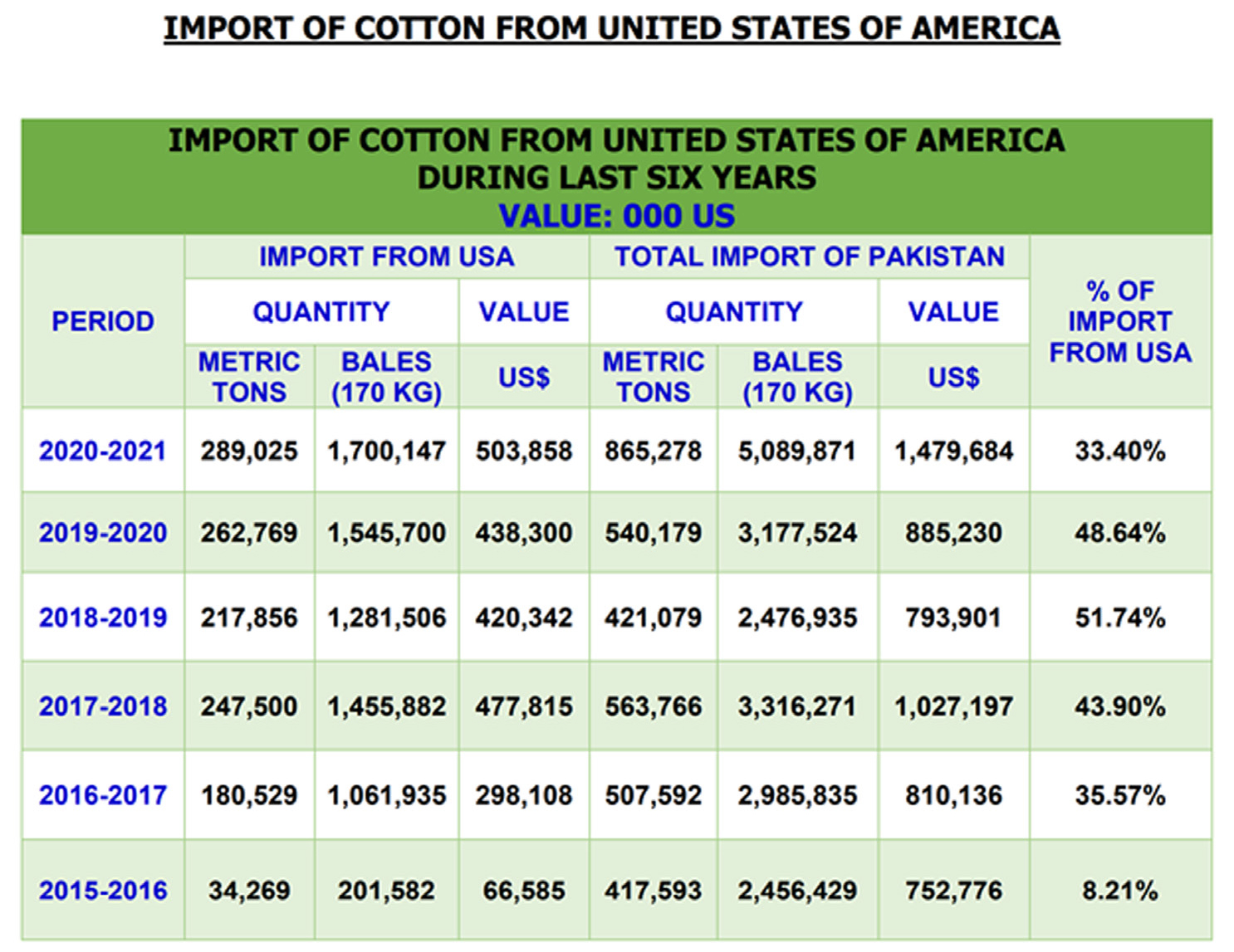 Towards the end, the letter urged Dar to intervene and resolve the issue or risk losing an estimate of $8 billion worth of profits from the import of $4 billion. In an attempt to preserve current foreign reserves in an economy rapidly heading towards defaulting, should the government allow forgoing double the worth of future profits? The obvious answer is no. Despite Dar's reassuring tweet, textile manufacturers continue to scramble for help. However, in seeking the government's assistance, they might be flogging a dead horse. 
The significance of US cotton
Before we dive into the intricacies of the issue, it is important to first understand the significance of US cotton in Pakistan's imports. According to Dr Aadil Nakhoda, Assistant Professor of Economics at IBA, "Before 2017, Pakistan was primarily dependent upon the imports of Indian raw cotton as it constituted a higher proportion in total imports of raw cotton. However, this has now been replaced by US cotton as relations with India have deteriorated. Pakistan imported more than $575 million worth of US cotton in 2021, increasing at 18% per annum in the last five years." He added that Pakistan stands as the third largest importer of US cotton after China and Vietnam, importing approximately 10% of its total world exports. This means that cotton trade is not only important to Pakistan, but the US as well. 
"Furthermore, with more than $3 billion worth of clothing articles destined to the US from Pakistan, the cotton trade between Pakistan and US becomes ever more important, especially for Pakistan," says Nakhoda. Therefore, we can safely conclude that our textile industry relies upon US cotton as an important input for Pakistani textile products exported to the US and elsewhere, explaining APTMA's desperation to acquire cotton immediately. 
Confirming Nakhoda's point, APTMA Chairman, Hamid Zaman told Profit that, "Pakistan requires a lot more cotton than it can grow locally. Due to this, we have become one of the largest buyers of US cotton, which is also arguably the best cotton."
Why are Pakistan's textile manufacturers in an import debacle? 
"Textile remains the main sector for Pakistan's exports. Our complete supply chain of cotton involves spinning, weaving, and garment-making, for the end product to finally be ready for export. 80% of our industry includes non-integrated sectors, whereby everyone plays their parts in the value addition of textile goods." says APTMA Chairman Hamid Zaman.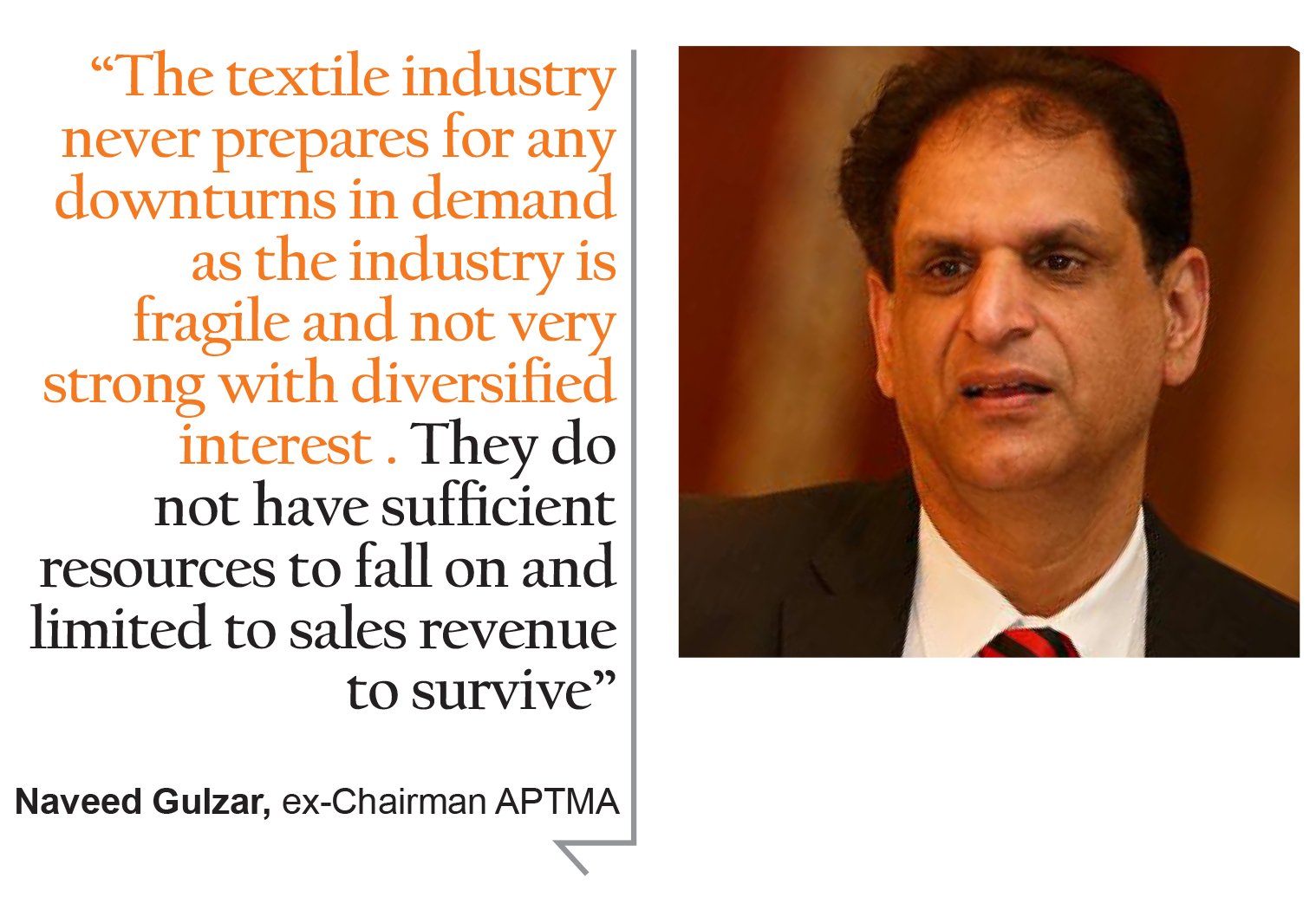 Last year Pakistan's textile industry used over 15 million bales of cotton including, both imported and locally produced cotton, according to Zaman. After value addition, Pakistan exported over $50 billion worth of cotton produce. However, this year, where there should have been 7 to 8 million bales of cotton, there are only 4 to 5 million bales. This is due to the loss of cotton crops in the flooding disaster that followed 2022 monsoons. 
"This year we just have an estimated 4.5 million bales of locally produced cotton, so we will require some 10 million bales to be imported." The issue becomes pressing when we realise that the stock of cotton that our local cotton manufacturers have right now is depleting very quickly and so is their buying power to import more. "For now the industry is functional because of forward booking, so the raw materials ordered before are still available, however, if we don't get more urgently, we will experience shortages across the country. This will hurt our exports more than anything else and worsen the foreign reserve situation, while also worsening the unemployment situation." 
This same point was also made clear in APTMA's letter to the US Ambassador. "The impact on employment of the shutdowns is already significant and would be catastrophic if the situation is not brought under control by supplying raw cotton to the textile mills," reads the letter. 
Furthermore, Zaman informed Profit  that a lot of the cotton that was ordered earlier is now stuck at the ports. "Where banks had agreed to import it, they are now refusing to honour the L/Cs." This further exacerbates the problem because uncleared shipments mean penalties that are multiplying by the day. "In the last month, we have incurred over Rs.2 billion worth of penalties and detention charges on the imported cotton that is being held at the ports." This makes it apparent that the textile industry is getting tossed with curveballs from every direction, creating an economic crisis of a very high magnitude. However, according to recent news, the government has waived demurrage charges for stuck containers. Even though this news offers some consolation, there is no certainty of whether this decision will be successfully implemented or not.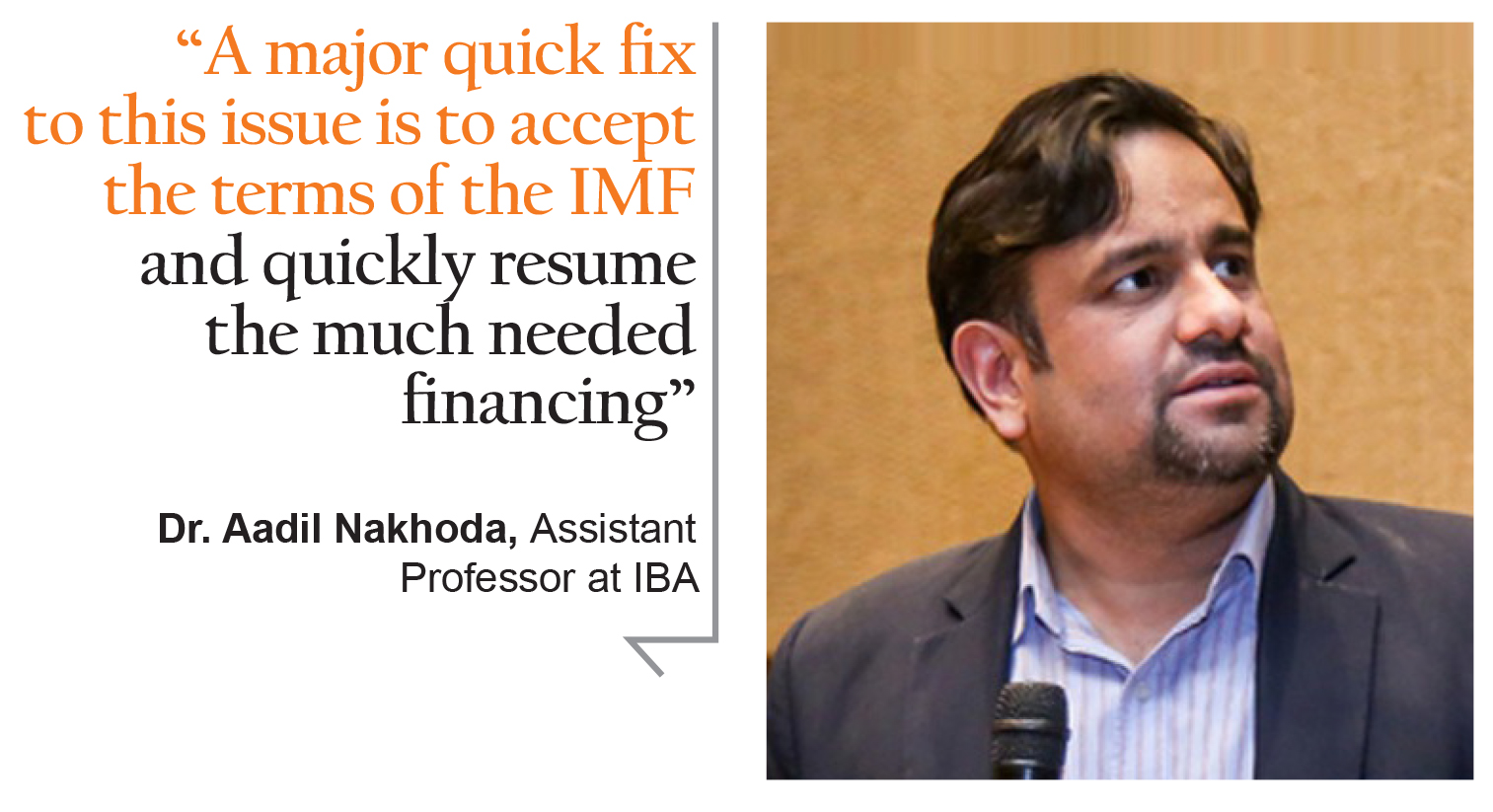 To put it simply, not only is the industry struggling to import more raw materials, but the ones already imported are also inaccessible. Why is this happening? Well, the reason is rapidly depleting foreign reserves. Even though the government has demonstrated support, they remain unsuccessful in assigning the proper priorities to enable the textile industry to obtain required raw materials. 
What does this mean for the future of the industry?
So far we have established the cause of the country's import crisis. Nevertheless, it is still unclear what outcome to expect. Dr Nakhoda told Profit that the most likely consequence of restricting imports of raw materials and intermediate goods for an export-oriented industry is the likelihood of erosion of the industry's competitiveness, thereby further hurting the economy.
Similar to Nakhoda's response, Zaman also said that, "We do not see a solution at the moment. Even though we have met with government officials at every level in the past month, they all seem helpless." he refused to elaborate further, since the issue has become highly politicised now. However, he did add that "The government could not prioritise just one kind of import over others. The situation is quite critical at the moment and if we are unable to find a solution soon enough, we will experience industry wide shutdowns." So, this much is clear that this issue has a great potential to worsen Pakistan's economic conditions and put an entire swathe of the population at risk for unemployment.
Hamid Zaman asserted that the possibility of the industry shutting down will result in 40% of the country's workforce being unemployed and 60% of the imports to be lost. He said that "The economy that is already headed towards default will reach there faster."
We asked Dr Nakhoda how the current import restrictions are likely to reduce the overall export potential of the textile sector, to which he replied, "With availability of much needed raw cotton becoming scarce due to these restrictions, exports are likely to be affected. There is already a decline in exports as the large-scale manufacturing index also reports a downward trend." Nakhoda believes that these conditions will definitely reduce the export potential of the sector.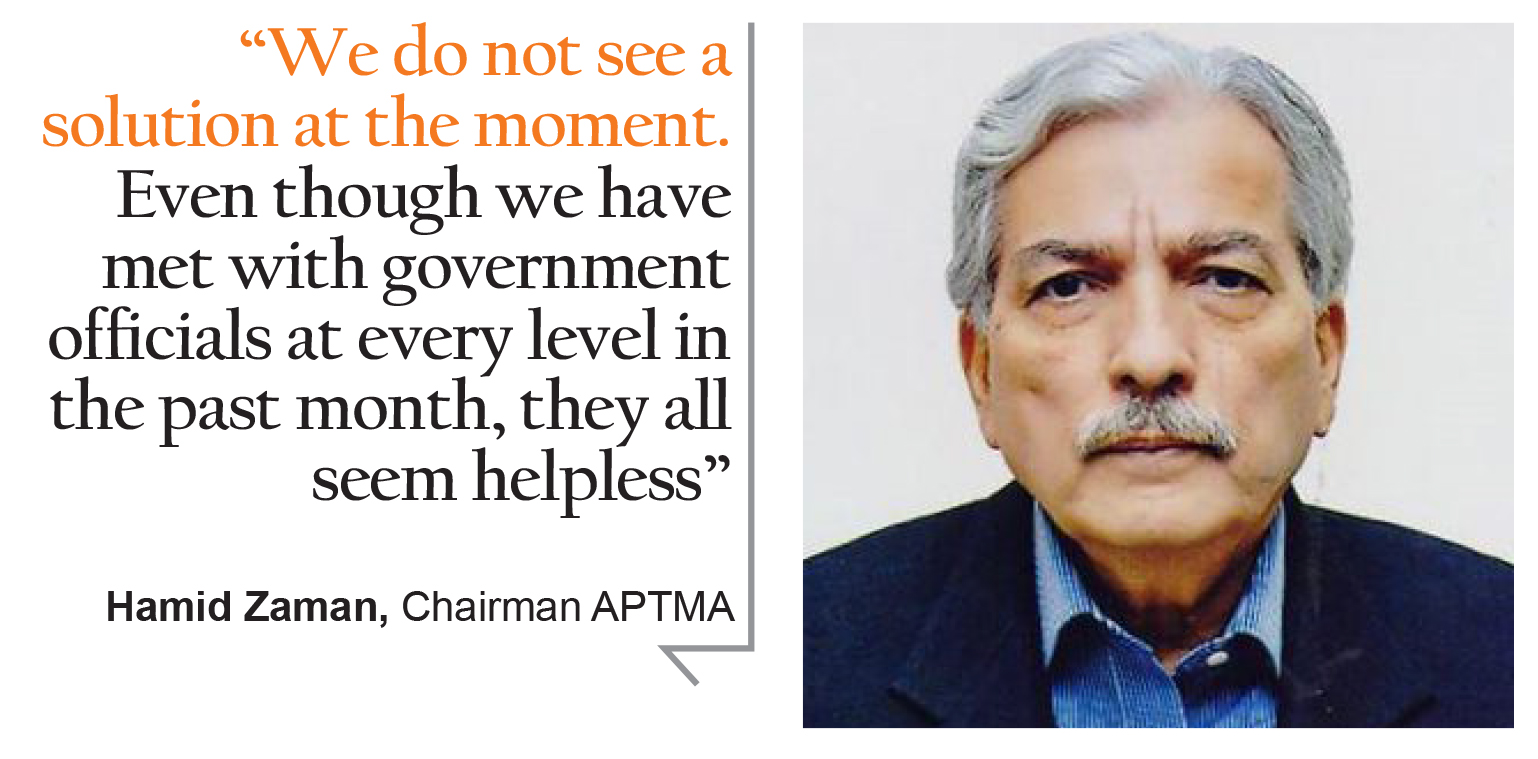 He continued, "It will disrupt established trading relationships that may have helped boost exports. A lot of production nowadays is based on contracts that involve using particular types of raw materials sourced from specific countries. There are quality measures and certifications that are involved in production which need to be met, which reduce the ability of exporters to shift to different sources. Such abrupt measures to curtail imports hurt the ability of exporters to improve their trading relationships and increase exports."
 Why did the textile industry not prepare for this disaster? 
It is fair to inquire why the industry had failed to prepare for this crisis, considering that our economy has been spiralling downward for the past few years? According to industry experts, this situation has been predictable since 2021, so why were there no safeguards in place to save themselves from this current debacle? 
Zaman told Profit that, "Pakistan has been experiencing a shortage of cotton for the last few years. Our spinners and weavers have been importing raw materials from all over the world, including West Africa, Brazil, South America and the US." This statement confirms that Pakistan's cotton production has been diminishing way before the flooding disaster of 2022. 
Zaman also said that, "We had anticipated the current crisis of getting raw materials due to both the economic condition of Pakistan and the recent flooding disaster."
Profit asked Naveed Gulzar, ex-chairman APTMA to share his insights on the matter, to which he said, "In economics all boom is followed by recession . The textile industry was booming in 2021 and with tariff facilities, a lot of industries invested in new machinery. However, due to post covid supply chain issues, along with the events transpiring after the Ukraine war, demand became distorted and new capacities were shut." Gulzar further shared that, "The textile industry never prepares for any downturns in demand as the industry is fragile and not very strong with diversified interest . They do not have sufficient resources to fall on and limited to sales revenue to survive"
Meanwhile industry experts were open to sharing their two cents on the matter. Ammar H. Khan, Macroeconomist and Chief Risk Officer at Karandaaz Pakistan, told Profit, "This was very much predictable. They generated record revenue and profits during 2021. They also got substantial concessional financing post covid." Then why did they not prepare accordingly? Habib said that, "The problem is at macro level. Our cotton production has been declining and we had to import cotton. The same has not changed. Ideally, the textile industry should have been at the forefront of integrating cotton supply chains and achieving backward integration to ensure supply security, but they never did that." 
Likewise, Khurram Husain, ex-Editor at Profit, voiced a similar assumption, saying that, "The best I can say is that our business community in general, and textile exporters included, live in the moment and don't really spare much effort to see the direction in which things are moving and what might be coming down the road. There is a very marked lack of foresight in how they operate." He elaborated that, "Their habit tends to be to make hay while the sun shines, and when times turn bad, ask the government to bail them out with tax breaks and subsidies and other such things." Seems like old habits die hard and APTMA's habits have come back to bite them in the posterior. 
What is the solution?  
Gulzar  informed Profit that textile manufacturers are in continuous dialogue with the government. He said that, "We have had several meetings with the government. Even though they want to help out, they have no idea how to rescue the industry, with the current economic crisis." According to Gulzar, there is no apparent solution to the problem, other than incurring more debt for the time being. 
Current APTMA Chairman, Zaman resonated with Gulzar, informing Profit that "We have met with US officials and their delegations. These meetings led to positive responses. However, despite this show of support, nothing has been done yet. Our appeal to the US ambassador requests that they should give us credits or soft loans to keep the industry afloat. This debt has certain clauses, such as America giving Pakistan loans for importing American commodities. This proves to be a win-win situation for both parties." Zaman shared that APTMA has high hopes regarding this letter because a similar deal was made with the US in the 90's and keeping that precedent in mind, the possibility of this endeavour bringing relief seems high. 
In an attempt to mitigate the crisis, textile manufacturers and other organisations including APTMA, met with the governor of the State Bank of Pakistan on Monday, 16 January 2023. Zaman told Profit that in this meeting "We had a one-point agenda which was to ask for SBP's assistance in getting the imports cleared." Another request made during the meeting was the appointment of 200 million dollars every month for the next three months to be prioritised for cotton importing. 
Zaman believed that other than their conditions being met, "The only other outcome will be an absolute disaster, second to the recent flooding in the country's history."
On the other hand, Dr Nakhoda has a different solution in mind. He informed Profit that it is not just the textile industry that is suffering. "The issue with the clearance of L/Cs is too widespread within the economy. A major quick fix to this issue is to accept the terms of the IMF and quickly resume the much needed financing." Whereas, this seems like a viable solution to Pakistan's economic crisis, the question remains whether our Finance Minister will be willing to swallow his pride for the greater good of the country?
Further, Nakhoda added that, "The imports for those exporters who sell most of their output abroad should be allowed based on the fact that they can avail financing in lieu of their export receipts. However, the issue is that several exporters are facing challenges, such as in customs clearance, even though they have the required financing to import the raw materials. Also, exporters, who have better established businesses and a longer history of trading with the US can approach their customers to finance their imports of raw materials and intermediate goods." 
However, Nakhoda argued that these measures may erode competitiveness as it makes Pakistani businesses more susceptible to higher costs of financing, given the risks with economic outlook. So, according to Dr Nakhoda "The ultimate solution is to seek IMF financing and then avail credit lines as well as other funds from multilateral organisations and bilateral partners to alleviate the balance of payment concerns."
All of this brings us to a very simple conclusion. A crisis of biblical proportions is brewing in Pakistan's largest manufacturing sectors. The verdict on whether or not this manifests will be out in the days to come. Of these sectors, the largest is also one of the noisiest. As the government fiddles its thumbs in negotiation with the IMF, Pakistan's textile industry is watching with bated breath whether or not the guillotine will come down on its neck in the days to come. Despite their constant attempts to seek aid and assistance from the government and US officials, the issue stands unresolved. Only time will tell as the industry waits not so patiently for a verdict on the matter.