You may be wandering through the Daachi or Haryali exhibition in Lahore and stop by a stall selling exquisite earthen pots. Or you might be scrolling through Instagram and come across a business account selling artisanal, hand-embroided kurtas. There is no doubt that Pakistan has perhaps the most incredible, indigenous handicrafts, regionally distinctive-ranging from Sindhi ajrak, Multani (blue) pottery to the Peshawari chappal. With flourishing online businesses and ubiquitous handicrafts' exhibitions in metropolitan centres, artisanal products have found new markets. There is a renewed interest in local crafts. 
Such fairs have become ubiquitous across the country, and while they are all the rage and many are endeavouring to help, there is a limitation to what they can achieve. 
One might appreciate the resplendence of a pashmina shawl without seeing the labour that was put into crafting it. Many of these handicrafts are made by marginalised women artisans, who are based in remote places. Lacking technological access and social outreach, they mostly depend on more affluent entrepreneurs for selling their products. 
According to the International Labour Organization (ILO), nearly 65% of Pakistani women earn their livelihood through cottage industries. Despite this, women's labour is not a precursor to their financial empowerment. 
Two women involved in organising outlets for the sales of products prepared by women artisans spoke to Profit about their efforts. And though both efforts have been in different capacities and under different circumstances, the problems remain the same. 
Many underprivileged, women artisans are selling fruits of their labour through privileged, urban entrepreneurs at exhibitions and pop-ups across big cities. While ostensibly empowering women, many of these ventures become exploitative. Entrepreneurs tend to keep high profit margins and only return a fraction of their earnings to the artisans who shed their sweat, blood and tears into crafting these products. Class is indeed a social denominator that can't be ignored when it comes to women's empowerment, as elite women are certainly more privileged than their non-elite counterparts. The question then becomes, how can underprivileged, artisan women be made less dependent on such entrepreneurs? 
Article continues after this advertisement
The Blue Fair
Filza Akbar, the President of the Women's Chamber of Commerce and Industry Multan Division (WCCI-MD) organised the much-anticipated yearly event, the South Punjab Women Entrepreneurs Handicrafts Festival and Seminar, The Blue Fair in Multan. 
The Blue Fair is an invitation to marginalised, women artisans from remote areas to display and sell their crafts, which range from embroidered cloth, earthenware pottery, hand-woven fabric, traditional jewellery to wooden furniture. This year, the exhibition was held on February 16, at the prestigious Multan Garrison Mess (MGM) and attended by prolific guests, including the First Lady of Pakistan, Mrs Samina Alvi. The purpose of this event was to uplift marginalised, women artisans by opening doors for their financial empowerment. 
Akbar explained, "in Pakistan, artisans often don't have their own displays and the platforms to stock their products. At the same time, they are not tech savvy, which is why they eagerly await this yearly exhibition which provides them with an opportunity to display their products. It's an empowering exercise for the women, instilling confidence in their craft."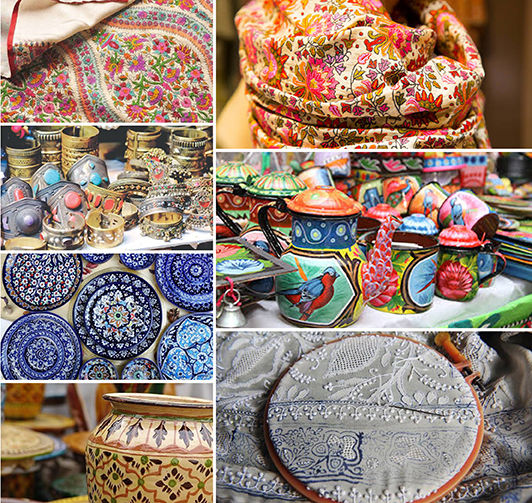 While the Blue Fair primarily caters to women from South Punjab, it boasts artisans from across the country. "There's a lot of cross-cultural interaction at Blue Fair. Women across Pakistan connect with each other; networking you may call it. You'll find a woman from Peshawar and another from interior Sindh exchanging notes. Blue Fair allows women to share creative ideas and raw material, which opens new markets for them. They may find new clients also. It is a highly lucrative opportunity for them," Akbar detailed.
The WCCI is regularly engaged with uplifting women's labour. It has massive outreach in South Punjab, and especially focuses on women who exhibit some entrepreneurial drive. After seeking talent, proper training is provided to these women. The WCCI continues to facilitate them by allowing them to set up free-of-charge stalls at the Blue Fair, and providing help with marketing. This year particularly, artisans were also sponsored from the flood affected regions of Pakistan. 
But Akbar recognised the limitations of such efforts across the country and the need to ensure that artisans got a fair share of their labour, which may not always have been the case.
Working with the fringes
Haya Zahid is a lawyer who works with marginalised women as a Legal Empowerment Practitioner and the CEO of the Legal Aid Society (LAS) and also the government-appointed secretary for the Committee for Welfare of Prisoners. 
LAS was established in 2004 by Justice Nasir Aslam Zahid, the former Chief Justice of Sindh and has now been expanded to 24 prisons and notified by the government of Sindh as a statutory body. Colloquially known as the Legal Aid Office, it is run by barefoot lawyers (often self-taught lawyers who lack formal legal training and are not accredited to practise law) , who provide free of cost services to the entire population of 17,000 prisoners in these prisons. 
The setup caters to an important talent pool amongst women in Pakistan. There is ample, idle talent in jails which can be utilised productively, in a manner that facilitates the financial inclusion and empowerment of women prisoners. 
"I work at this fringe where children and women come into conflict with the law and prisons. Let's first be cognisant that many of these women are not criminals. The majority behind bars are on trial and they are suffering because of the 2.2 million cases pending in courtrooms. Now, you may have access to a lawyer, you may get out or get convicted. The question to ask is whether you are coming out on rehabilitative grounds or returning more damaged," Zahid says, adding, "sadly, structural changes are not great." 
But there was a glimmer of hope in Zahid's voice, "the new laws are very progressive. They just need to be implemented with a lot of focus on correctional aspects of what they do in prisons." 
What are those correctional aspects?
Zahid added, "insofar as rehabilitation of prisoners is concerned, a great example is the Tihar jail in India. It has an online shop where prisoners sell their handicrafts. Online transactions ensure complete transparency. This enables you to buy something with social impact, as the income is returned to someone who is vulnerable or marginalised. We don't have such systems in Pakistan." 
What can be done in Pakistan?
"We have abundant talent in jails here but unfortunately it's idle. There are four women's prisons in Sindh, and there are 300-400 women imprisoned at any time. These women are willing and able to work, but their skills need to be enhanced. This will rehabilitate them as once they are released, they'll be able to return to the marketplace. Yet, there needs to be a good system in place to enable this."
The Legal Aid Office did something on these grounds. Zahid and her colleagues bought goods worth Rs. 20,000-25,000 to make handcrafted cushions and keychains, got inspiration from Instagram and provided the materials to women in prison. Then, they made products that were perceived to appeal to the commercial aesthetics of the crowd at the WOW (Women of the World) festival in Karachi. Sadly, the sales ended up balancing the costs- no surplus was made.
"You see, this is not what we do. We're a legal aid clinic- just a bunch of lawyers working for the committee. But we need to upscale vulnerable women. We returned all of that income (around Rs 24,000-25,000) to women labourers. We even have a Seraiki teacher, Naseem, who recorded how much labour each woman had invested," Zahid told Profit. 
"Prior to this, we did an art exhibition where women displayed their paintings. We hired somebody to teach them how to paint and then sold the canvases. But again, we're a legal aid clinic, our impact here is limited. Yes, we have access to the prisons. Our lawyers go there thrice a week and know everybody there, but this setup is not sustainable. It can't be a long-term project."
Something more systemic needs to be done in order to upscale these women. "This is a niche area of women who are stigmatised because they are going to prisons. Once they are in prisons, what can the state and big businesses do to hone their talent?"
The solution?
How can women's labour be adequately compensated and how can the structural roadblocks that inhibit artisanal women's financial empowerment and inclusion be overcome? The question has been long asked – and there is now a solution in sight: Fintech. However, women artisans' access to this solution remains limited at best. 
"Long story short, if you want to look at women's financial empowerment and inclusion, you need to realise that there is a big digital divide on the fintech side that preempts this. You'll find many related stats," said Zahid.
Indeed, technological spaces are increasingly classed and gendered. According to an article published in Aurora, 37% of Pakistani men have access to mobile internet, followed by a mere 19% of women.
The sentiment was echoed by Akbar: "The digital inclusion of women is fundamental, perhaps as essential as one's dietary needs. In today's world, everything is online. You don't need a degree to go online – just some basic skills and equipment such as smartphones and smart wallets." 
But Akbar warned that women will need help with this.
"Artisans can't be expected to do everything on their own. Every artist cannot be an entrepreneur simultaneously. I have regularly raised this concern in our meetings. Many artisans are just creative, they are not good at selling. We need to claim responsibility and ensure that they get their fair share," Akbar said. 
"You should start by giving them adequate wages. Then, the advocacy should introduce a more transparent system, as part of which the entire value chain should be shown. There is obviously value addition, but the collaborations of artisans and entrepreneurs should be based on fair share."
Zahid believes that large corporations and banks should help as part of their corporate social responsibility (CSR) programmes. Women's financial empowerment ultimately boils down to access to technology. "Why can't we use CSR? Why can't HBL or any other banking service come in and set up an online shop? They'll be servicing such a big strata inside of prisons," exclaimed Haya.
Zahid and LAS, which was at its inception as a legal aid clinic, are now engrossed in programming with a focus on child rights, gender mainstreaming, access to justice and resilience in terms of climate change disasters. It recognises that technology is indispensable to gaining social empowerment. 
"We have a massive digital divide. How do we get women to have bank accounts and insurance? How do we facilitate them to take out small loans? How can they access the online space sitting from home? Most remote areas lack basic internet connectivity, 3G, 4G should be everywhere by now. That's how you can bridge the gap," Zahid stressed.
"Look, you really can't change the game or dynamic here for the local, woman artisan until women are not off the grid. I was listening to this podcast by Shehzad Ghias, in which he said that even the paan wala in India has a QR code, because the government is trying to make everything digital, so that there is more transparency. Therefore, the biggest challenge in Pakistan is that it's not compulsory for anyone to open a bank account. Now, how do you bring people to the grid? All women need bank accounts. All women need access to smartphones and data, so they can access markets and not remain dependent on entrepreneurs or opportunists."