Allow us, for a brief moment, to take some liberties. It is not Profit's place to comment on matters of style, taste, or aesthetic sensibilities. In fact, journalism is a famously dour field occupied by pests and pessimists in near equal numbers. 
But despite our lack of expertise it would not be appropriate to write this story without commenting on what inspired it in the first place. Over the past few years, Lahore's residential real estate market has seen an influx of a very particular kind of architecture. 
The architecture in question is uniquely Lahori. It takes elements from classical and European designs and mixes and matches different styles of architecture to produce a very particular kind of house. Most of these houses are characterised by their often golden, gaudy, and garish exteriors. And while students of architecture might nitpick and raise their eyebrows, the real estate market has largely lumped these houses into a category now known as "Spanish" style homes. 
The emergence of these Spanish houses has been obvious and fast. But exactly how prevalent are they? Who are the architects and developers behind this? And more importantly, what effect have they had on Lahore's real estate market? Profit conducted an in-depth survey in Lahore's DHA Phase 6 to determine how common this style of architecture has become in the past 10 years, what effect it has had on real estate valuations, and what the construction cost realities of this style of houses is.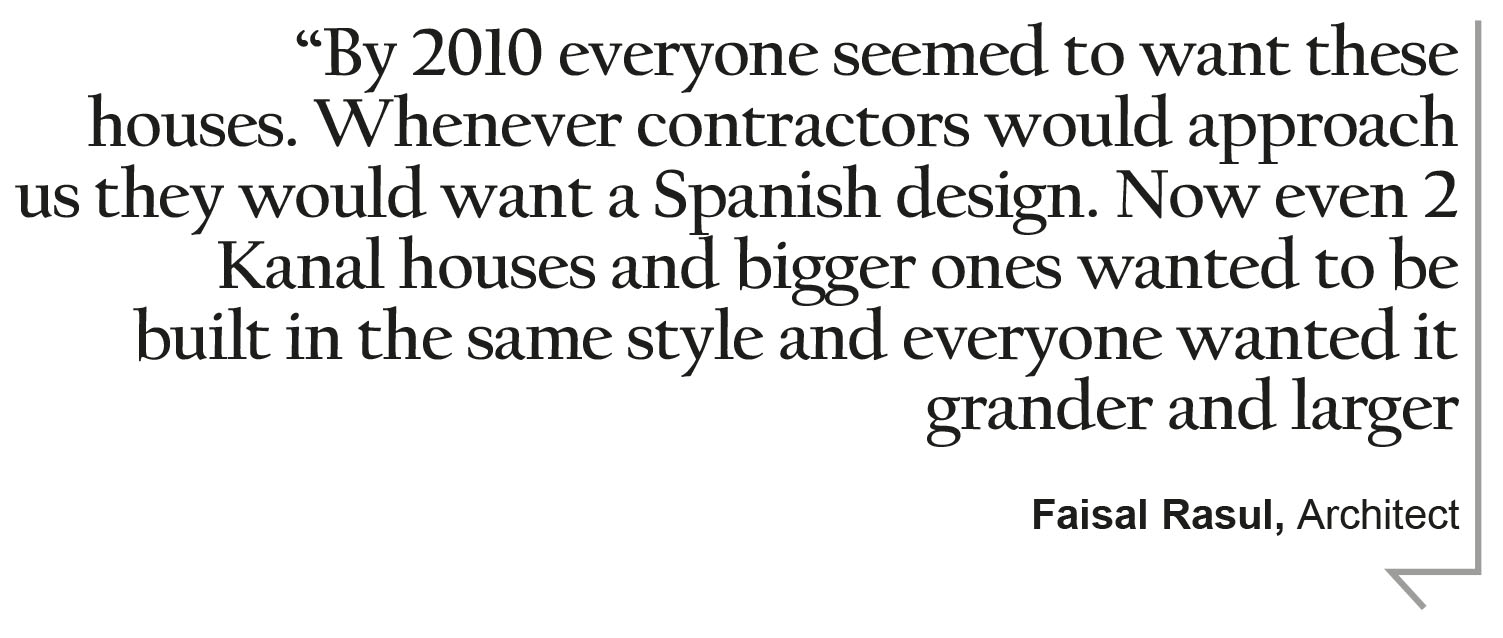 Our results largely show that Spanish style houses are a trend that has taken off particularly in DHA and has since spread across the city. Of the more than 600 houses surveyed by Profit, exactly 192 had all the markings of "Spanish" design indicating that nearly a third of all new houses being made in this area fall under this style of design. Conversations with real estate developers and contractors have shown that these houses are not particularly more expensive to make but are highly in demand in the market and hence fetch a higher price than other styles of architecture. 
Article continues after this advertisement
But before we get to the survey, let's start with some history. 
The origin of Spanish architecture
The Spanish style of architecture itself is nothing new for Pakistan. In fact, houses of the Spanish style have been made in Pakistan from the early 1950s and particularly in Lahore. The first batch of architects native to Pakistan graduated from the National College of Arts (NCA) Lahore in 1952. These contained some of the giants of Pakistani architecture such as Nayyar Ali Dada and others who have now become household names and are responsible for many of the country's most iconic buildings. 
Among this first batch of architects were people such as Aslam Khan, Raees Raheem, and Zaheer Khan. At the time the City of Lahore was still a bit of a silo. It looked nothing like what it does today and the concept of a modern urban city as the capital of Punjab was still fresh. Today the walled city of Lahore might seem like an ancient and antiquated reality, but up until 1839 Maharaja Ranjit Singh still ruled from the Lahore fort and the Sikh empire did not end completely until 1850. At the time of partition, it had not been a hundred years since the old city was the capital of a great empire. 
In fact, it was only in 1850 after the defeat of Maharaja Duleep Singh in the second Anglo-Sikh war that the Lahore Cantonment was established by the newly reigning British empire. At the time it was set up as a garrison town and would only later, with the arrival of the Raj, take shape not just as a military cantonment but also as an upmarket residential real estate colony. This meant that around the time of partition, Lahore as a modern city was still taking shape. 
"It was during the British period from 1849-1947 that Lahore, for the very first time, spilled over its fortified walls," write professors N Naz and G A Anjum of the University of Engineering and Technology. Naz is a professor of architecture and Anjum teaches in the department of City and Regional Planning. 
"Lahore for the very first time spilled over the fortified walls. Civil lines, the Cantonment, and the Model Town were developed to house the elite class segregated from the local population. Lahore Improvement Trust (LIT) soon after its inception in 1936 started preparing a Master Plan for the future development of Lahore. However, due to the Second World War, the task could not be accomplished. After Independence in 1947, there was brisk building activity in Lahore to accommodate migrants. Many schemes had to be launched to meet the housing Shortage. From 1947-1958 there was aggressive building activity in Lahore and new colonies sprang up on the outskirts, notably Gulberg, Shad Bagh, Chauburji and Wahdat Colony." commented Naz. 
So when the first batch of architects emerged from NCA in 1952, they were setting their sights on a modern city in the making. Think about it. Model Town had been constructed in 1921 and was still developing. Gulberg was planned by S A Rahim from 1950-54. The concept of DHA did not yet exist. That is when these pioneering architects began to adopt their own signature styles. Among them was Aslam Khan who established his practice in Lahore's cantonment where he started building houses in the classical European style influenced by Spanish and Mediterranean architecture. 
By definition, these are houses identified by their airy, open exteriors and iconic smooth stucco walls and barrel roof tiles. Common features in these homes include the use of wooden beams, wrought iron, and warm tones. Originating from the Spanish coast of Amalfi, these homes were designed specifically for the climate and caught on in Lahore as well. At the time, these houses were simple, identified by their barrel tiles and expansive arches and one among many different styles of residential architecture popping up in Lahore. 
While these mediterranean homes caught on somewhat in defence, most architecture in the rest of the city took its inspiration either from local India architecture or colonial style homes. Model Town, the Hindu cooperative society set up in 1921, had its own regulations and thus developed a style of its own. Gulberg and other areas gave way to large driveways, massive lawns, and a general aversion to pillars and columns. For a while these styles were replicated as Lahore continued to expand. Block like houses made by contractors were the norm in newer housing areas. That is until recently.   
Methodology and findings 
So where does Spanish style architecture stand in Pakistan today? To get to the bottom of this Profit conducted a survey of over 600 houses. Our working theory was that a lot of houses built in affluent residential areas over the past 10 years have been made in the Spanish style. For this we had to pick a residential area that was relatively new and had mostly developed over the past 10-20 years, was affluent (the cost of a 1-kanal plot was over Rs 3 crore) and had access to good commercial markets. For this we chose DHA Lahore's phase 6. 
To ensure maximum credibility, we picked three different blocks of phase 6 and chose to sample 200 houses of 1 kanal or more in each block. Skipping any empty plots we decided to survey the first 200 homes in each block. To determine what counted as a 'Spanish' style house we spoke to a number of architects. They explained that some classical markers of Spanish houses are: 
Barrel Roof Tiles.

Smooth Stucco Walls.

Wood Support Beams.

Arches and Curves.

Wrought Ironwork.
While these are the markers of classical Spanish houses as understood by architectural textbooks, in Pakistan the term has taken on a new meaning. Markers of Spanish houses in Pakistan also include the following: 
Doric Columns 

Elaborate wrought iron gates 

Moorish Arches

Heavy crown moulding work on the external facade 

Elaborate or colourful tile work on the floors 
During the survey, we inspected the external facade of these 600 houses for all of these factors. If a house had at least 5 of these elements incorporated just in its external appearance, it would be checked off as a Spanish style house. The findings were overwhelming. 
Of the 600 houses that were sampled, at least 192 met at least five of the 10 given criteria. Another 52 houses met at least four of these criteria. A vast majority of these Spanish houses were built on 1 Kanal land or less while a smaller proportion of these houses were built on 2 kanals or more. The prices of these houses on average, as estimated from demands made by local real estate agents and online listings, range from Rs 8 crore to Rs 16 crore depending on how elaborate the house is and whether it comes with a basement or not. 
Generally, however, a 1 Kanal Spanish house without a basement was averaging at around Rs 8 crore. Comparatively, houses that were not Spanish in design with similar specifications (no basement, swimming pool etc) cost around Rs 50 lakh to Rs 1 crore less. For further context, 1 kanal plots in these particular blocks that were surveyed cost Rs 4 crore to 5 crore on average. 
What does all of this mean?
So what do these numbers tell us? For starters we can see that the Spanish style of architecture is currently dominating the market. Most of the houses being built are in this very distinctive style. Another observation we made but did not record in our official tally was that a lot of these houses are obnoxiously similar. The colour scheme is largely gold based, the gates all carry similar designs, and the general layout of the houses is the same. 
As we learnt through multiple conversations with architects, stakeholders, and other builders, that is because a lot of these houses are built mostly by contractors rather than by private individuals. This has been a story that has developed over the years in DHA Lahore. And perhaps the one person that has been the most influential in all of this has been the architect Faisal Rasul. 
A 1992 graduate of NCA, Rasul did his masters from University College London before returning to Pakistan in 1998. Drive around any block of Defence and you will surely see a number of under construction or newly constructed Spanish style houses with the banner for "Faisal Rasul" designs hanging proudly. His firm, which he runs along with his wife, specialises in Spanish houses. Rasul designs and draws up the houses and his wife is an interior decorator who sets them up with furniture and all the other trappings.
Over the years he has partnered with many builders and been the biggest contributor to this trend of Spanish houses. His style has been widely accepted by the market and also widely replicated. So much so that there are plenty of houses that real estate agents will sell to you as "based on Faisal Rasul designs" — meaning replicas or copies of his style made by other architects. 
"This entire thing started in Defence. When I came back to Pakistan the first house I made was my own in DHA Phase 4 on 1 kanal of land. At the time most of the houses being made in Defence were being made on what you would call the modern design look. I also started making these for some clients but took a chance on Spanish houses as well," he tells Profit. Soft-spoken and articulate, Rasul clearly has a passion for what he does and is an ardent believer in his product.  
This was of course the mid 2000s. By this point DHA Lahore had become quite developed. The Defence Housing Authority (DHA) was registered with the Punjab Government in 1975. This was the time when the Pakistan Army had set up DHA as a means to provide housing and accommodation to its retired officers and to the families of its martyrs. Development of DHA projects took time but by the 1990s construction in this area was on its way. 
And with it the real estate landscape in Pakistan was forever changed. Out of nowhere you had a housing society that was gated, well maintained and was considered upper-class and respectable. The seal of the Pakistan Army meant that it was considered safe both to live in and conduct business in. Moreover, the chances of land fraud were low because the area was completely acquired and new so the land was not tainted by family disputes and the like. This meant a lot of upper class families were moving to a new area and had the money to spend on constructing houses as well.
It was this class of people that these Spanish designs have appealed to. "Around 2005 when I first started making these houses other developers started noticing that people were asking for these kinds of houses. Initially it was only 1 Kanal house we were making," he explained. 
A possible reason for this is that it does not cost significantly more to make houses in Spanish style than in any other. The base cost of bricks, cement, and other materials is the same because these houses do not require more material; they are just built differently. But because there was novelty in this and the designs started getting glittzier because of Rasul's particular style, a lot of people making 1 Kanal homes felt they were getting a more luxurious look for around the same amount of money. 
The trend caught on as trends do. "By 2010 everyone seemed to want these houses. Whenever contractors would approach us they would want a Spanish design. Now even 2 Kanal houses and bigger ones wanted to be built in the same style and everyone wanted it grander and larger. We paid a little more attention to detail in our designs. We worked harder on making the house more beautiful and on things such as our marble floors and the crown mouldings we were using on the external facade and also on the internal walls.", Rasul added. 
This made Rasul's designs more distinctive and more in demand. In addition to developers, his architectural firm started getting a lot of private requests as well and very quickly Faisal Rasul was on the map as a major up-and-coming residential real estate architect in Lahore. As time passed by, even though his practice was based in DHA, his designs started to find copies and demand in other areas as well. 
"That is just how it works. The trend became quite big mainly because of developers but also private clients. Things that are made in Defence are then copied in other areas such as DHA, Valencia, etc. The trend starts from DHA and spreads onwards," he claims.
"People want these houses because they speak to their dreams. When they were little kids drawing pictures of their dream houses they were making them with slanted roofs, arches, chimneys and big doors. This style of architecture started on the Spanish coast before making its way towards South America and eventually towards the coastal areas of LA and on to Florida. Celebrity houses are often in this shape and style. These are the dreams that people have and it is the architect's job to translate these dreams into reality." he explained.
A question of costs 
And this is what it boils down to. As mentioned before, the cost of building a house in the Spanish style is not particularly higher than the cost of building a regular house. Essentially, the grey structure of any two houses with similar covered areas and the like will very much be the same. It is simply that since Spanish houses are in fashion and are seemingly 'fancier' for lack of a better word people are willing to get to a higher price point for this. 
"In terms of cost I think it is not particularly different," says Faisal Rasul. "Spanish houses are a little difficult to make in terms of the drawings and the finishing which requires a little more detailing. We have made teams that have learned how to do things like moulding on the front elevation, cut work on marble flooring and there is no shortage of craftsmanship in this country. It is only a question of a little extra effort. Because the labour cost here is not that expensive and we have plenty of local material such as marble and plaster it is not very difficult. House becomes spanish not through the tiles or marble but through the arches, columns etc and those are things that can be managed at the same cost."  
Essentially the added price point of these houses is simply because they are in  fashion. But there is a history behind how they came to this point.