For the first time in over a year, Pakistan has acquired a liquefied natural gas (LNG) cargo from the spot market. The state-owned Pakistan LNG Ltd (PLL) has secured a single shipment for December from the global commodity trader Vitol at a hefty 13% premium to the current spot prices against the Japan/Korea Marker (JKM).
PLL was seeking two shipments for December. It received two offers from the commodity traders Vitol and Trafigura. Vitol had proposed one shipment for delivery between 7-8 December at $15.97/mmbtu. On the other hand, Trafigura had suggested two shipments for delivery between 7-8 December and 13-14 December at $18.39/mmbtu and $19.39/mmbtu respectively.
To put these prices into perspective, spot prices for LNG shipments are trading between $11.38/mmbtu on the Dutch TTF Natural Gas and $14.25/mmbtu on the JKM.
"Vitol has offered a reasonable price. We have to bear in mind that traders would charge a premium for country risk when supplying to Pakistan," elucidates Shahid Karim, CEO of LNGFlex and former CEO of Daewoo Gas. But, what is the reason for this premium?
"The offers from Trafigura and Vitol, at exorbitant premiums, are the consequence of the twelve to eighteen months where Pakistan was on the verge of default, where import payments were delayed, and where dividends royalties were withheld," expounds Mustafa Pasha, Chief Investment Officer at Lakson Investments.
"All of this has led to the supply chain for Pakistan being jeopardised globally. It will take time for the confidence of those suppliers to be restored. Until then, there will be fewer people willing to do business with you and those that do will demand terms that are harsh," Pasha continues.
However, Pakistan is also in a precarious situation financially. Ignoring the fact that our sovereign risk has increased over Pasha's aforementioned time period, why did we pay the premium when we're also struggling?
Why'd we pay the premium? 
Let's make one thing clear. Premiums are exorbitant for everyone, not just the initial payment. "The premium will trickle down to customers, and will fuel inflation, elucidates Ahsan Mehanti, CEO at Rayaan Commodities.
Nevertheless, Pakistan needs LNG," Mehanti asserts. Pakistan faced a cold shoulder when it solicited its tender for LNG cargoes in June, and it spurned Trafigura's offer in August as well when the trader proffered two cargoes for December and January at a 30% premium. Abandoning the tender after these repeated blunders could have spelled trouble for Pakistan.
"Aborting this tender would expose Pakistan to adverse repercussions in the LNG market. Repeated tender cancellations and non-awards, whether due to foreign reserve constraints or premium pricing, can impair Pakistan's credibility and bargaining power," expounds Jawad Majeed, General Manager at Tabeer Energy.
Would it matter if we jeopardise our relationship with commodity traders for LNG cargoes? Absolutely.
Pakistan's LNG appetite 
Once self-sufficient in natural gas, owing to ample domestic reserves and low cost of production, Pakistan is expected to become more dependent on imports as indigenous supplies decline. The Oil & Gas Regulatory Authority estimates that Pakistan currently suffers from a gas deficit of about 38-40 billion cubic metres (bcm), which could climb to as high as 70 bcm within the next decade if development of infrastructure continues to lag behind.
Pakistan began importing LNG for the first time in 2015, following the inauguration of its first LNG import terminal, Engro LNG in March 2015. According to forecasts, Pakistan's LNG imports are set to see a near 60% increase over the next decade.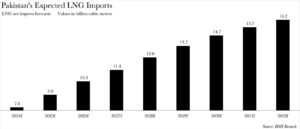 Pakistan currently has access to LNG at approximately $11-$12 per mmbtu through its long-term contracts, which include agreements with Qatar Energy, Qatargas II T1, and a recent agreement with Azerbaijan. Nonetheless, Pakistan has not shied away from the spot market.
According to data provided by the International Group of Liquefied Natural Gas Importers, Pakistan has obtained LNG cargoes from the spot market from Egypt, Malaysia, Oman, Qatar, the UAE, and the USA.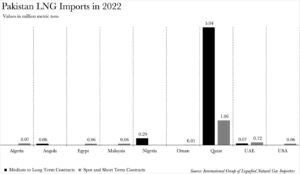 The cancellation of these cargoes by PLL would highlight the pressing need for Pakistan to re-evaluate its energy strategy. However, we're still on the hunt for a second cargo. Will we buy the second cargo from the spot market too then? 
Where do we get the second cargo from? 
The short answer is that no one knows. Azerbaijan seems to be the most plausible option. Earlier this year, in June, Pakistan inked an agreement with Azerbaijan. According to the agreement, Azerbaijan would offer 12 low-cost LNG cargoes to Pakistan on flexible terms for a span of one year. Crucially, Pakistan has the prerogative to decline any offered cargo without incurring any penalties.
Can we anticipate them to undercut the rate Trafigura proposed for the second cargo? Perhaps, but there are no guarantees. "The deal with Azerbaijan is a framework agreement without any price. Moreover, it is a government-to-government arrangement, whereas this tender is a market reality. I doubt Azerbaijan would bid any lower if we approach them. December is usually the peak season for the spot price," Karim elucidates.