Speak to any young Lahori, Karachiite and Islamabadi, and it feels like coffee has taken over the tea market in the country. In fact, with Pakistani Gen-Z and late millennials, there is always a 'chai versus coffee' debate going on. Brands like Nescafe have taken their advertisements product expansion up a notch, with taglines like "jagna tou paray ga" or "turn up the chill" entering the cultural lexicon.
But can those taglines beat the tea industry's classic "chai chahiye" or "tum, main aur aik cup chai"? The truth is, tea is rooted in the cultural fabric of the country. People always talk about having a conversation over a cup of tea. Even marriage proposals are pondered over a "chai ka cup". Day events like "shaam ki chai" and "Hi-tea" have been a part of society for as long as one can remember. 
And the tea industry has the numbers to back it. The tea market is expected to grow annually by 10.5% (compound annual growth rate (CAGR) 2023-2028). And this year, the industry's revenue is expected to amount to $1 billion this year. It is going to take a lot more effort and a paradigm shift for coffee to break through: but efforts are already underway.
What do Pakistanis drink, anyway?
Before we get to the inroads that coffee has made of late, it's important to get a lay of the land first. As products, both tea and coffee fall in the 'hot beverages' sector. 
In the report "Pakistan food and drink" for Q3 2023 by BMI – A Fitch Solutions Company, it is estimated the tea, coffee and other hot beverages market will be the largest market by 2027 and account for 71.2% of total spending. It will also show substantial growth, with an estimated annual spending increase averaging at 7.7%. By 2027, it is projected to reach a total expenditure of Rs 433.3 billion (approximately $ 1.2 billion), compared to Rs 326.6 billion (approximately $ 1.2 billion) spent in 2023. This robust growth reflects the evolving preferences and habits of consumers, highlighting the increasing importance of the hot beverages market.
Article continues after this advertisement
According to the report, the market for hot drinks was around Rs 150 billion in 2022, and it is expected to hit Rs 350 billion by the year 2027. Rapid urbanization and modernization have led to people consuming more hot drinks as manufacturers and retailers have given them a variety of options to choose from, both local and imported.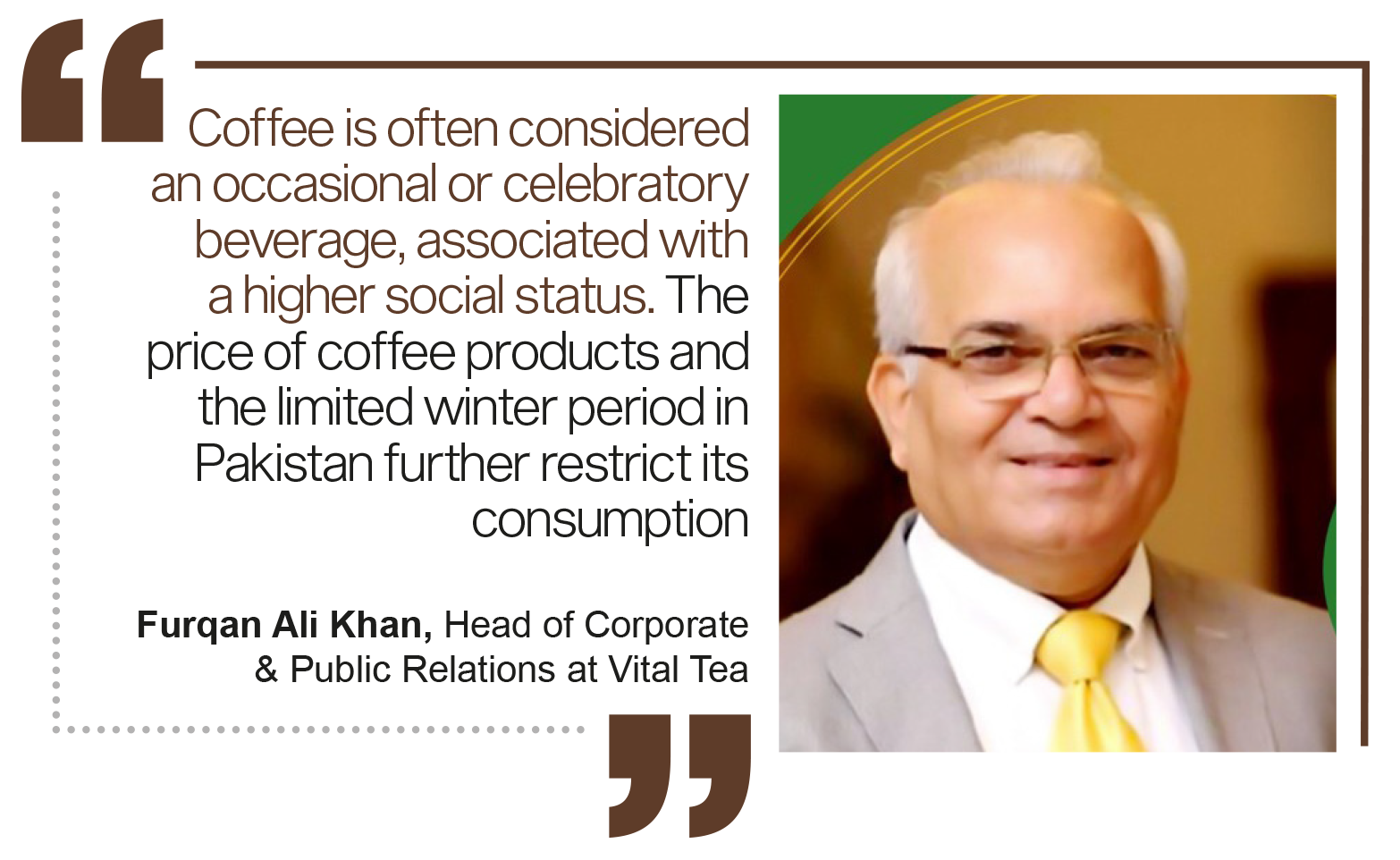 At the moment, tea leads in the hot beverages sector. According to an analysis report on the Hot Drinks Industry in Pakistan by Euromonitor International 2022, Nestlé SA has a 3.1% company shares of hot drinks, compared to Tapal Tea (Pvt) Ltd, Unilever Pakistan Ltd and Vital Group leading the hot drinks market share with 43.4%, 26.6% and 11.6% respectively.
But that does not mean the hot beverage industry is not transforming over time. Currently, coffee is experiencing rapid growth, both in terms of volume and value, largely due to its integration into popular culture and current trends within the country. In 2022 alone, coffee sales reached Rs 7.2 billion, of which Rs 6.5 billion was in instant coffee sales and the rest fresh coffee sales. 
Let's talk about Nescafé
In Pakistan, the competitive coffee market is predominantly led by Nestlé, whose Nescafé brand holds a commanding position. The company has operated in Pakistan since 1988 under a joint venture with Milk Pak Ltd, and then took over management in 1992. In 2014, Nestlé accounted for a substantial 55% of the retail sales value in this market.
Coffee consumption in Pakistan predominantly involves the "Latte" variant, which is mainly coffee with milk. When Nescafé was launched, it started by selling pure soluble coffee in Pakistan in the classic jar and managed to expand their product portfolio over the years. It now offers a variety of coffee products,  from the 3 in 1 instant coffee sachets, to the recent gold range of coffees and cold ready-to-drink bottles.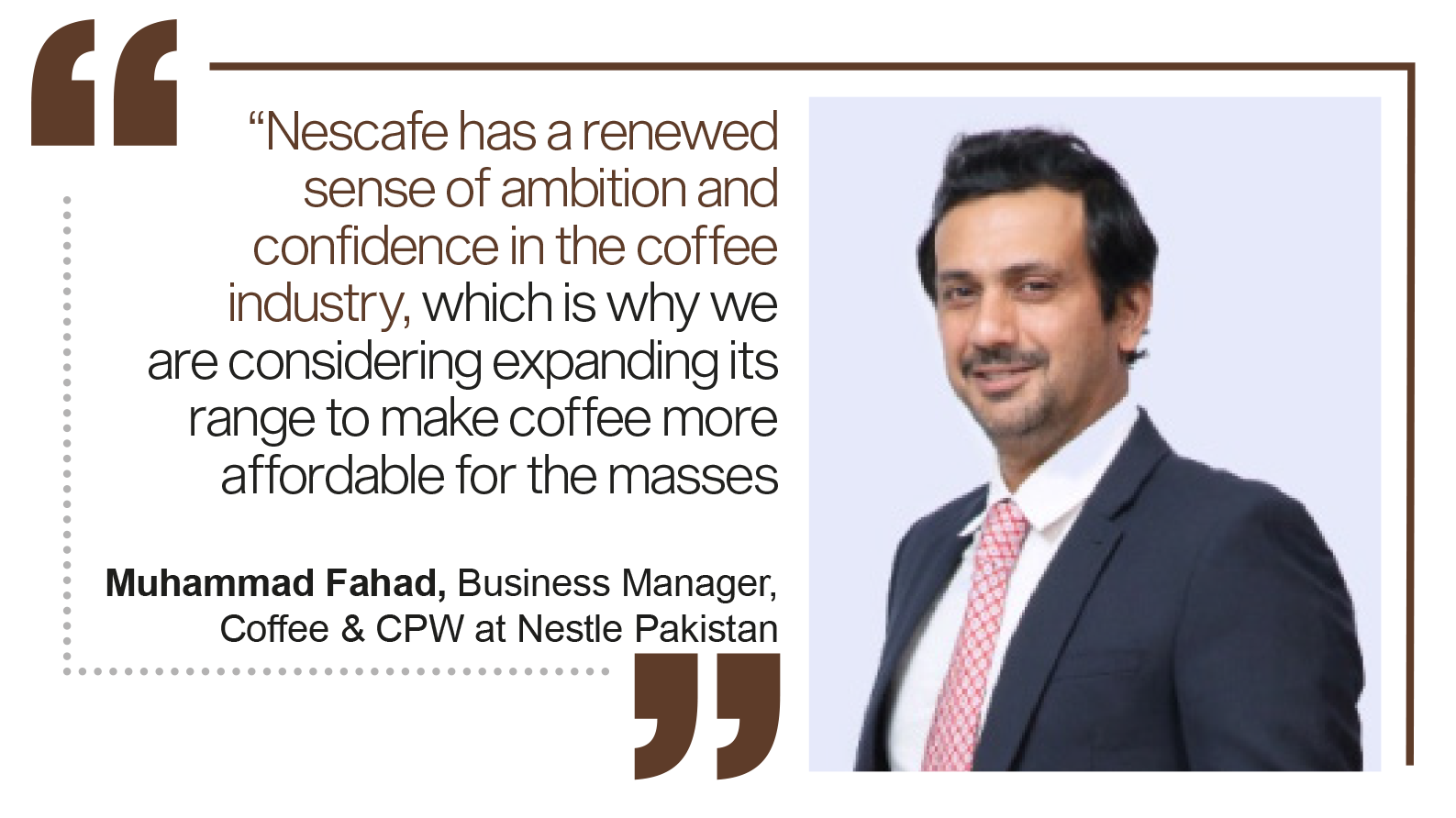 Profit spoke to Muhammad Fahad, business manager, Coffee & CPW at Nestle Pakistan, who said Nestle Pakistan prides itself on the fact that "Nescafé is 98% of the coffee category in Pakistan".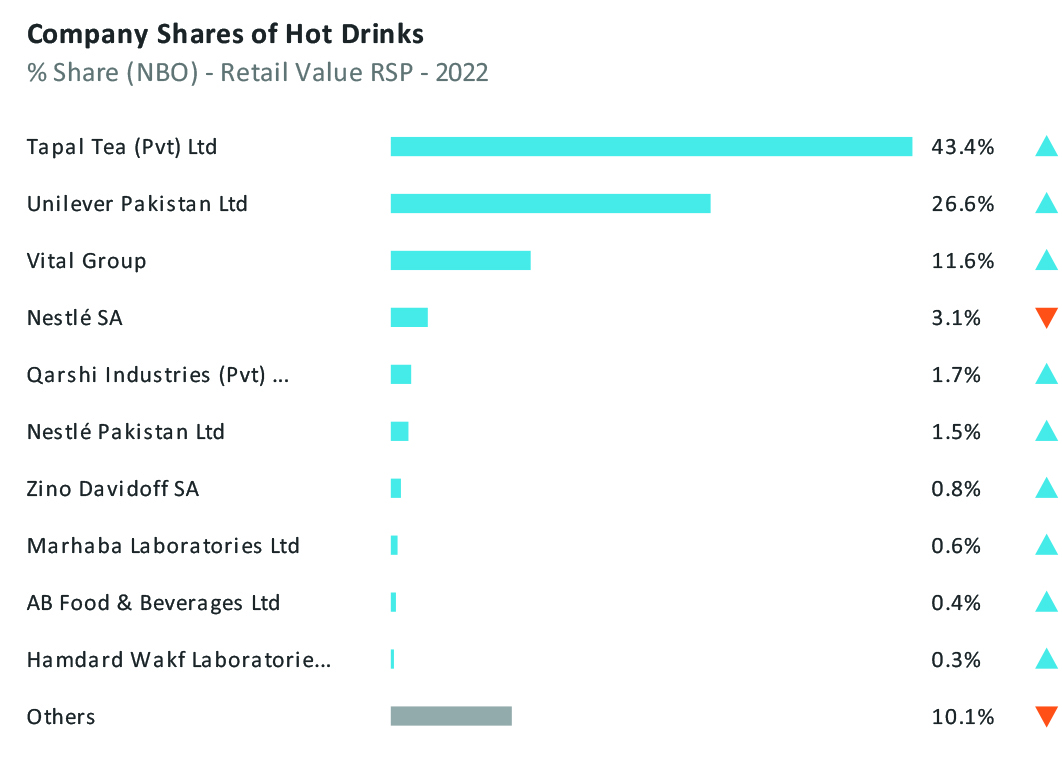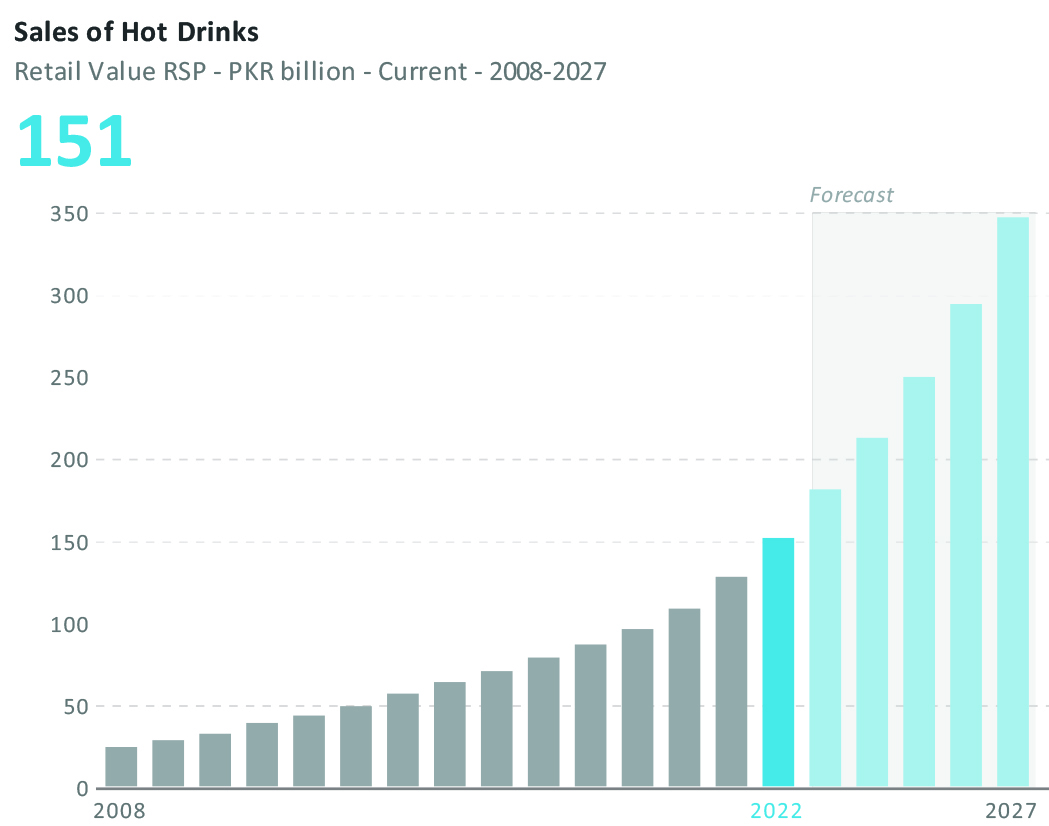 Fahad stated that Nescafe has intentionally positioned itself to cater to a niche market, specifically the youth-centric segment of the population. Most of the brand's advertising and messaging revolves around this target audience.
"Nescafe has a renewed sense of ambition and confidence in the coffee industry, which is why we are considering expanding its range to make coffee more affordable for the masses," Fahad said. He added that this strategic shift indicates "a dual focus on both the niche market that Nescafe has traditionally served and a potential expansion into the mass market".
Nescafe has gained immense popularity ever since the launch of Nescafe Basement in 2012, a music platform that, according to Fahad, has contributed significantly to the brand's recognition and revenues. The platform has aired 5 seasons so far with 59 episodes. 
Fahad further said that Nescafé is inherently geared towards a specific demographic, primarily the youth. "The majority of our marketing efforts and brand messaging revolve around this target audience," he said, adding with their "renewed ambition and confidence in the category" the brand is determined to make their products more accessible to a wider customer base.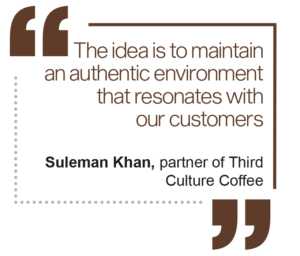 For a brand operating in the coffee category, where the concept was relatively new and budding, demand generation was essential for business development and growth. Fahad emphasized on this point and said, "Nescafe's brand personality, both on a global and local level, has been characterized by hip and trendy messaging. This branding approach has been instrumental in establishing Nescafe as a prominent name in the coffee industry."
While Nescafe may have helped establish coffee's presence in the country, 'coffee culture' is now also on the rise. The younger generation prefers hanging out with friends at "coffee shops" as compared to drinking coffee at home, which has helped coffee transition into a trendy and sought-after beverage. So, how much has artisanal coffee and 'coffee cafes' helped shape the industry?
The rise of the coffee cafe
Profit spoke to Suleman Khan, one of the three partners of Third Culture Coffee in Lahore, to get a primer on the rise of cafes and coffee culture. According to Suleman, coffee in Pakistan arrived in three distinct waves.  
The first wave marked the introduction of instant coffee, serving as a simple caffeine delivery system, devoid of intricate flavours or cultural significance.
The second wave was led by brands in Starbucks in the US, which popularized espresso-based drinks in a café setting, making high-quality coffee more accessible. For example, Costa's coming to Pakistan was part of the second wave, as it tried to make its mark in Karachi in the late 90s and early 2000s. The same was the case with Jammin' Java which was opened first in Lahore in 2004 by Faisal Kabil and his partner. The brand now has four branches in Lahore and Faisalabad, with arguably the most popular branch located inside LUMS (Lahore University of Management Sciences).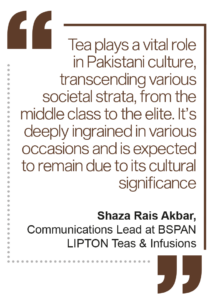 Despite this, both Costa's and Jammin' Java failed to make a splash outside their respective geographic locations. Then along came Gloria Jeans.
The Australian coffee brand opened its first flagship store on Kasuri Road, Lahore in 2007, and currently has over 50 outlets nationwide. "It struck gold," Suleman said, adding that it entered the scene at a time when people were starting to embrace the coffee culture, and they secured prime locations in Gulberg and DHA , gaining a first-mover advantage in the process.
Then comes the third wave, exemplified by cafes like Third Culture Coffee. Third-wave coffee shops are typically small, independent coffee shops, which prioritize quality over quantity, offering superior beans and unique experiences. These beans undergo meticulous grading, with a minimum score of 80, and are roasted in-house, adhering to strict standards. Precision-driven equipment, top-notch grinders, and well-defined brewing methods further distinguish this wave. Over the past 15 years, it has gained momentum, shaping the coffee landscape into a more artisanal and discerning experience.
Suleman said Pakistan's coffee market is evolving from second-wave to third-wave coffee, with an increasing number of coffee drinkers discerning between quality and mass-produced options. He continued stating that, in the Middle East, there's a relatively high proportion of third-wave coffee drinkers compared to the USA and Europe.
Third Culture Coffee began operations as a roastery in 2020. The owners eventually decided to open a cafe in July 2022 due to an influx of visitors. This decision coincided with the pandemic, a time when most people wouldn't dare enter a shop, and Suleman's business partner was keen on providing this experience to their consumers. They started in an improv 10-by-20 feet container located on Main Boulevard in Lahore, selling almost 300,000 cups of coffee overall before it closed down in August 2023. Third Culture then opened up multiple branches in different areas of Lahore. 
Coffee culture is not just about good coffee: it's also about the experience."The idea is to maintain an authentic environment that resonates with our customers. We have a loyal base of returning customers, with roughly 700 familiar faces visiting daily out of our approximately 900 daily customers," Suleman told Profit. 
Being a coffee roaster has not only benefited the cafe's business but also presented economic opportunities. They have received export orders from Lebanon, Dubai, and Oman, showcasing the potential to export roasted coffee. Additionally, while many coffee shops buy pre-roasted beans at a certain cost, this cafe imports fresh coffee beans mostly from Colombia, Brazil, Guatemala and Nicaragua from farmers reducing pressure on the country's finances.
According to a report by The Observatory of Economic Complexity, in 2021, Pakistan's coffee imports totalled $1.26 million, positioning the country as the 142nd largest coffee importer in the world. Coffee was ranked as the 859th most imported product in Pakistan. Notably, the fastest-growing coffee import markets for Pakistan from 2020 to 2021 were Italy, which saw an increase of $192,000, Canada with a growth of $56,600, and the United Arab Emirates with an upsurge of $42,200.
What about the tea market?
Pakistanis have grown up in households where tea consumption is massive. Even the increase in prices and the decrease in tea imports did not make much of a difference. Tea imports in Pakistan for the fiscal year ending on June 30, 2023, saw a 9.13% decrease compared to the previous year. Between June and July 2022-23, the country imported around 231,449 metric tons of tea, valued at $556.043 million. This marked a decline from the previous year when 253,748 metric tons were imported, amounting to $626.195 million, as reported by the Pakistan Bureau of Statistics. 
Economic pressures, currency devaluation, and government bans haven't significantly impacted tea manufacturing in Pakistan. Consumers adapt by buying larger tea packs to maintain taste and quality.
In Pakistan, tea is viewed as a "necessity", with loose black tea being the preferred choice among the majority of consumers which is about 40% of the tea market. Although urbanization has led to a partial transition to tea bags, loose black tea still holds a substantial share of retail volume and sales, particularly among rural consumers. Approximately 75% of the world's tea production consists of black tea. During the 2017-2018 period, Pakistan sourced black tea from 17 different countries. This imported black tea is blended to create a range of varieties that cater to the diverse preferences of consumers, after which it is either packaged or sold in loose form for consumption.
The Euromonitor report also stated that black tea has earned around Rs 124 billion, and tea with milk has earned around Rs 139 billion in retail value for the year 2022.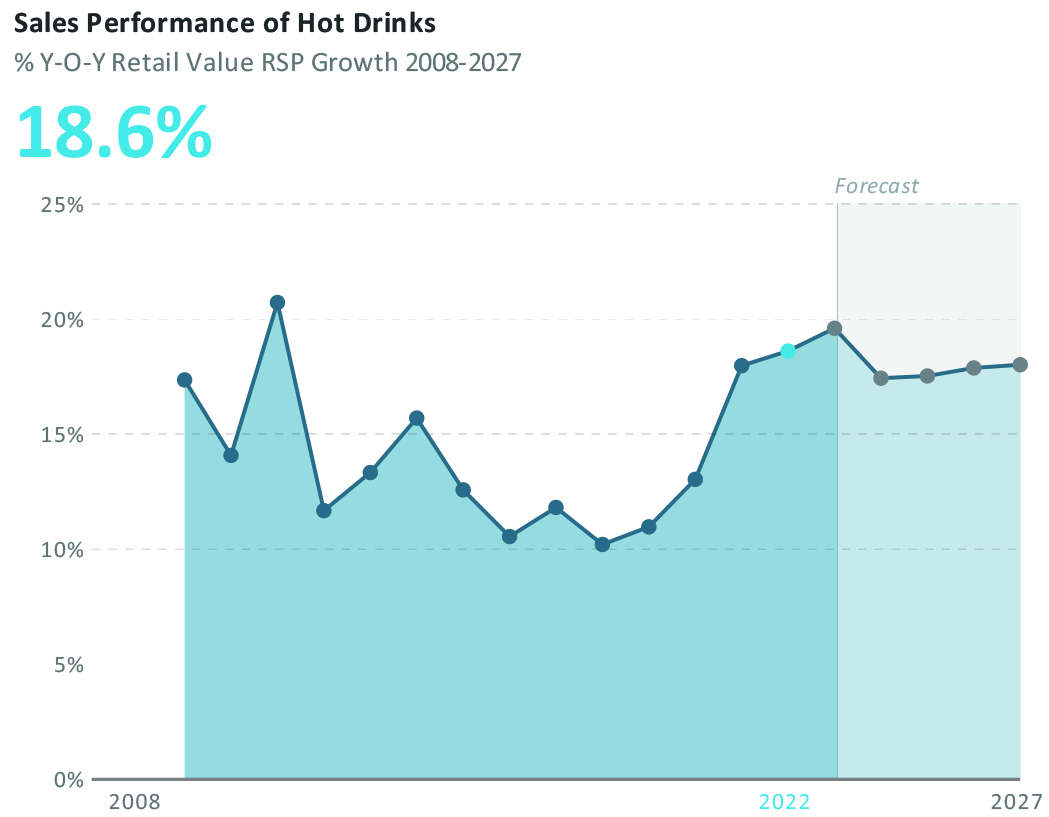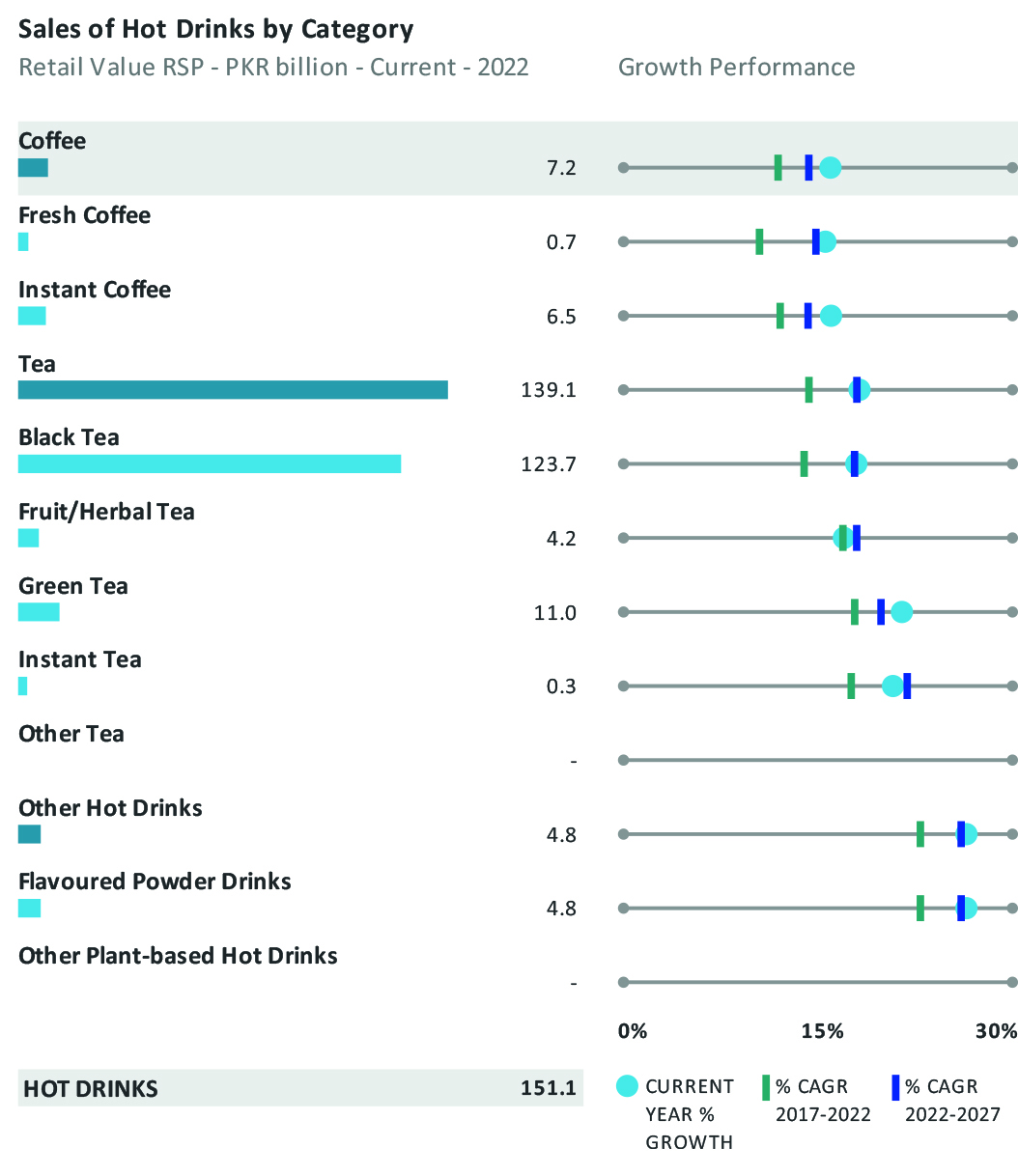 A 2016 report in Dawn stated that the tea consumption formats are changing as a majority of Pakistanis now have a preference for ready-to-consume products and beverages. Tea brands have introduced variations to the products like tea bags (which are the most popular), herbal tea, infused tea, flavoured tea, and instant tea. In terms of consumption and company shares in the overall market Eastern Tea Company's brand Vital has emerged as a significant player after Tapal and Lipton. Vital Tea has gained significant popularity in recent years. At the time of filing, a 900 grams pouch of loose tea for Lipton costs around Rs2200, whereas the cost for Tapal and Vital Tea is Rs1700.
  What tea brands have to say
Profit spoke to Shaza Rais Akbar, communications lead at BSPAN LIPTON Teas & Infusions, who said:  "Tea plays a vital role in Pakistani culture, transcending various societal strata, from the middle class to the elite. It's deeply ingrained in various occasions and is expected to remain due to its cultural significance."
That being said, Gen-Z pakistanis have still made an impact with their preferences. The traditional kehwa and doodh patti have evolved into a diverse range of teas. Consumers can now find options like ginger tea, and peach tea, and exotic choices like ginseng or lavender tea. Akbar has noticed that there's a shift towards green tea and flavoured options due to health and fitness concerns among this group of consumers. 
"Trends like iced tea and infused teas are emerging but are a small part of overall consumption," she said. She continued to add that Lipton is trying to keep up with this trend by coming up with variations of the tea products, like the recent introductions of green tea flavours, including options like peach and lemon. These new green tea innovations have been well-received, particularly with younger generations and homemakers, according to Akbar. 
Profit heard a similar opinion from Furqan Ali Khan, head of corporate and public relations at Vital Tea. He said that introducing green tea and Turkish tea is well-received in the market. 
"New products generate excitement and curiosity among consumers," he said, stating that green tea has gained popularity due to its health benefits, but Turkish tea is a flavour that is also gaining traction, with more export orders than domestic demand. 
"Change and conversion to these new products are expected to take place gradually," Khan said.
Khan said tea is consumed across all socio-economic segments, with a variety of tea types and stock keeping units (SKUs) catering to different preferences. Additionally, he stated that the hot beverage market, especially the tea market will always be in demand because it is a choice for "people of all ages and backgrounds". Khan said, "Even during the COVID-19 pandemic, when social interactions were limited, tea consumption witnessed significant growth as people spent more time at home." 
In fact, Khan went on to say that the coffee market was the one 'lagging' in Pakistan. "Coffee is often considered an occasional or celebratory beverage, associated with a higher social status. The price of coffee products and the limited winter period in Pakistan further restrict its consumption," he said.
He may have a point there. An earlier analysis by Profit in April 2023 showed that "a simple cup of tea costs approximately Rs50, and if a person consumes three cups a day, every day, the cost multiplies to Rs4,500 a month. In a country where the minimum wage is Rs15,000, this means that tea drinking can consume a whopping 30% of income".
Still, tea prices have nothing on the cost of coffee in this country. A small cup of coffee costs around Rs 350 at Tim Hortons, while coffee at Third Culture Coffee can easily hit the Rs600 mark. 
According to market insights, the price per unit for coffee has not changed much from $5.95 in 2020 to $5.85 in 2023, and it is expected to remain steady till 2028. However, the price per unit for tea hasn't seen much change in this timeline either, from $7.28 to $7.16. That being said, tea's price per unit is expected to increase to $10.21 by 2028 (this may be due to imports and the devaluation of the currency).
And yet: despite the expected increases in prices, Pakistanis continue to spend money on hot beverages. As per Akbar, "The tea industry's resilience in the face of economic pressures and rising costs is evident in the mere 2% increase in tea consumption despite inflation rates ranging from 30% to 35%. This underscores the fundamental necessity of tea in Pakistani households." 
So will coffee ever take the top spot in a Pakistani's home? At the moment, it seems unlikely. But changing trends and growing sales suggest that coffee is occupying a different emotional space for younger Pakistanis: one associated with going out and enjoying coffee at cafes. If entrepreneurs can tap into that potential, who knows: maybe taglines like 'turn up the chill' will be as mainstream as 'chai chahiye?' after all. 
*All graphs via Euromonitor's Analysis on the hot drinks industry in Pakistan (2022). *