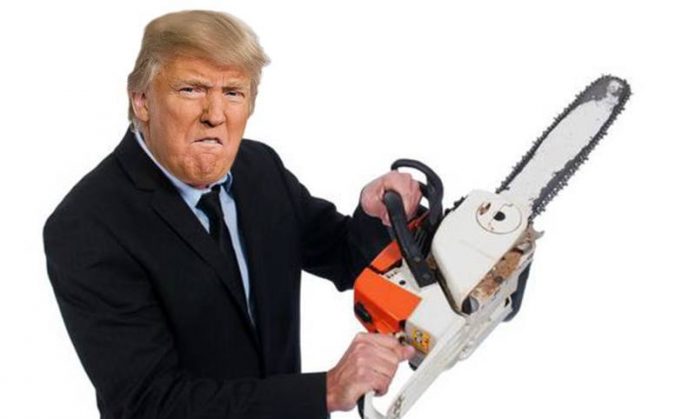 Wall Street stocks pushed to fresh records on Friday, again rallying off comments from President Donald Trump signalling imminent action on tax cuts.
All three major indices finished at new highs for the second straight day, with the Dow Jones Industrial Average winning 0.5 per cent to end at 20,269.37.
The broad-based S&P 500 gained 0.4 per cent at 2,316.10, while the tech-rich Nasdaq Composite 007A Index climbed 0.3 percent to 5,734.13.
President of Meeschaert Capital Markets, Gregori Volokhine attributed the gains directly to Trump's statement on Thursday that he would release details of a "phenomenal" tax-cut plan in two to three weeks—a statement he echoed on Friday.
"Yet again we see the magic of (Trump's) words," Volokhine said. "All the market needs to set new records is to put the word 'phenomenal' next to taxes."
Petroleum-linked shares advanced on higher oil prices, with Schlumberger rising 1.2 per cent, Devon Energy 1.5 per cent and ExxonMobil 0.8 per cent.
Ford's shares rose by 1.1 per cent after announcing it would invest $1 billion in an artificial intelligence startup Argo AI, the part of a goal of releasing an autonomous vehicle for commercial use by 2021.
Video game developer Activision Blizzard surged 18.9 per cent after announcing it raised its dividend and approved a new $1 billion in share repurchases. Those moves followed better-than-expected fourth-quarter earnings due to solid sales during the holiday season.
Electronic Arts, another video game developer, surged 3.5 per cent.
Sears Holding soared 25.6 per cent as it announced that it planned cost cuts of at least $1 billion annually. The retailer expects to close 150 stores during the first quarter.
Online ratings and listings company Yelp plummeted 13.6 per cent due to disappointment over its revenue and operating profit forecast.