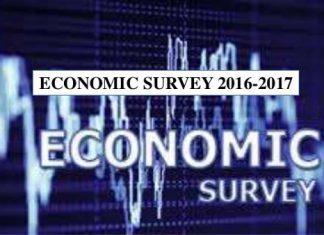 Finance Minister Ishaq Dar while unveiling the economic survey 2016-17 today said that the economy had grown 5.28pc in the current financial year (FY) 2016-17 against the forecast of 5.7pc set a year back. He also mentioned that the government had been able to bring down the fiscal deficit to 4.2pc in comparison to 8.8pc in 2012-13.
According to Dar, the country wouldn't require any IMF bailouts after 2019 as he boasted that the homegrown industries will be able to help. He mentioned that Pakistan's economy would surpass in size that of Canada, South Korea and Italy by 2050 and added that the country will be part of the G20.
He said, "This is the first time in 10 years that we have crossed the 5pc GDP growth mark and crossed the $300b mark in Pakistan's history." Dar added "The industrials sector grew 5.02pc, Agriculture 3.46pc and Services 5.98pc." A package of Rs100b was also announced for reconstruction of infrastructure in the northern areas and also for internally displaced people. This package will be a part of the budget being announced tomorrow, he said.
Dar stated that the government is now targeting a growth rate of 6pc for the next financial year 2017-18, inflation was reported to be at 4.09pc in comparison to the forecast 6pc in FY 2016-17. He added that the reason for the widening current account deficit was due to imports linked to CPEC project machinery. The current account deficit he mentioned is expected to increase to $8.3b by the end of this FY.
In regard to public debt he said "Public debt was at 53.1% of GDP in 2008. It went up to 60.2% of GDP and it is now at 59.3% of GDP." Also in respect to foreign direct investment (FDI) he mentioned it is expected to reach $2.58b for FY 17 and the foreign remittances will hopefully reach $19.5 for this year. The government's trade deficit was recorded at $24b during FY 2016-17. He added that the country's per capita income had reached $1629 from $1333 the year before.