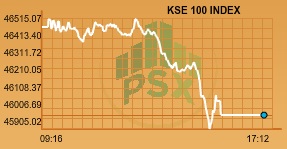 LAHORE
Bears dominated the Pakistan Stock Exchange (PSX) again on Tuesday. The indices laid off gains of the previous week although the earnings session kept knocking on the door.
An article published in the Wall Street Journal was of the opinion that the up-gradation to Emerging Market Status by MSCI shall attract more money inflows to the country. Dollars shall be sold to buy Pakistani rupees to buy local stocks stabilising country's economy.
The benchmark KSE 100 index could gain only 51.89 points to mark intraday high of 46,517.55. The index later dropped 560.64 points to day's low of 45,905.02 and settled below 46,000 level.
The KMI 30 index took a 1.36 per cent hit while the KSE All Share Index depreciated by 1.05 per cent. The advancers to decliners ratio stood at 80 to 276.
The market volumes contracted to 205.79 million from previous sessions' 241.03 million. Summit Bank Limited (SMBL -15.14 per cent) topped the volume chart with 27.21 million. The bank got on to investors' radar after Monday's board approval to merge with and into Sindh Bank Limited. The 1-week decline in the scripts now clocks at 30 per cent.  K-Electric Limited (KEL -5.34 per cent), volume 17.67 million, and TRG Pakistan Limited (TRG -0.41 per cent), volume 16.12 million, followed.
Pakistan State Oil Company Limited (PSO +5.00 per cent) spent the trading session comfortably at its upper circuit breaker price after the announcement of FY 17 results. The board came out with a cash payout of Rs 15 along with 20 per cent bonus shares. The company sales expanded 15 per cent improving gross profit margins from 3.37 per cent to 4.24 per cent. But these were 20 per cent lower than that 5 years. Profit After Taxation of Rs 18.23 billion was declared with per share earnings of Rs 67.08. The growth in earnings per share amounted to Rs 77 per cent and was 32 per cent growth in 5-years.
Financial results were declared by Askari Bank Limited (AKBL -4.39 per cent) and the script landed close to its lower circuit breaker. The bank reported markup earned of Rs 8.98 billion up 3.62 per cent quarter-on-quarter but just added of 1 per cent when compared to the same period last year. The profit after taxation clocked at Rs 1.78 billion up 4 per cent YoY which converted into earnings per share of Rs 1.43. Earnings per share in the last quarter were reported at Rs 0.98. No payout was approved by the board.