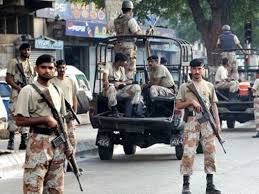 ISLAMABAD: Pakistan Rangers' practice of illegally collecting contributions via coercive means and carrying out commercial activities has been condoned by Public Accounts Committee (PAC) on Wednesday.
PAC questioned Pakistan Rangers Sindh officers for being involved in practices that were illegal, reported a local newspaper. And PAC Chairman Syed Khursheed Shah took notice of Colonel Sohail's rude behavior in the committee and directed him to issue an apology.
Furthermore, Interior Secretary Arshad Mirza was instructed to provide details on contributions mechanism under use by Sindh Rangers and the commercial activities it was indulging in without having the authority.
Director General Federal Audit apprised PAC that Rangers were accumulating contributions from its low-ranked employee for welfare purposes, which was illegal. He said Rangers had gathered Rs146m from its employees during FY 2015-16.
The audit objection revealed Rangers were receiving Rs465 from sepoy and lance naik-level, Rs454 from maids and Rs569 from other non-commissioned officers on pretext of contributions.
Dr Azra Fazal of PPP said low-ranked officials were being forced to make these contributions to avoid any unpleasant situation. Colonel Sohail voiced his anger against Dr Azra's comment, which earned him the wrath of PAC Chairman and directed to show reasonable behavior.
Sohail disclosed high-ranked officials were also contributing to the welfare fund, but details of what they were contributing were not shared. PAC directed Sohail to avoid putting pressure on low-ranked/paid employees and secure a solution to financing these welfare schemes.
DG Federal Audit also disclosed Rangers were involved in various commercial activities which included running shooting clubs, operating petrol filing stations, canteens and printing press etc.
He remarked this issue had been brought to PAC's notice in 2002, but no action had been taken in last 15 years.
PAC Member Ashiq Gopang queried as how Rangers were involved in commercial activities without having any legal authority, to which their officer couldn't answer.
The audit was investigating and trying to fetch details about revenues generated from commercial activities undertaken by the Rangers.