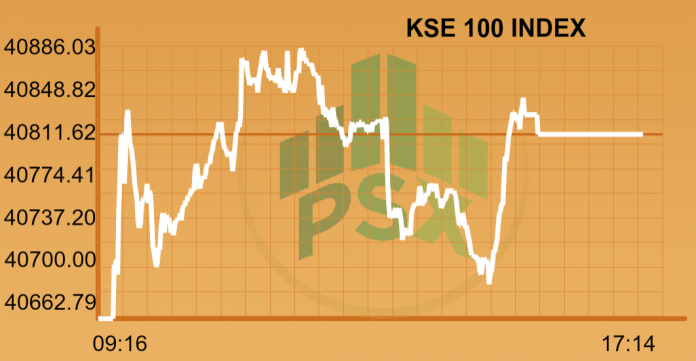 LAHORE: The Pakistan Stock Exchange (PSX) took a breather on Thursday after three sessions in the red. Pakistani equities exhibited a positive behaviour from start and remained in the green throughout the day. The market rose steadily to make a high of 40,886, gaining 223 points or 0.4 per cent, till midday, thereafter some profit taking was witnessed which pulled the market lower. However, due to some late buying, market managed to close at 48,813 points, gaining 150 points or 0.37 per cent for the day.
The KMI 30 index surged 238.63 points to 70,225.09 while the KSE All Share Index gathered 95.85 points. The advancers to decliners ratio stood at 149 to 159. Today investors turned their attention to penny stocks. Resultantly, d/d traded volumes were up 7 per cent while value was down 26 per cent.
The market volumes inched up from last sessions 90.37 million to 96.65 million. Azgard Nine Limited (ANL +2.23 per cent) led the volume chart with 13.54 million shares exchanging hands. TRG Pakistan Limited (TRG +1.59 per cent) followed with 7.68 million shares traded and K-Electric Limited (KEL -0.37 per cent) with 5.77 million.
Top index point performers were HBL (+1.3 per cent), POL (+1.4 per cent), ENGRO (+1.4 per cent), PPL (+1.1 per cent) & PAKT (+5 per cent) contributing 111 points while IGIIL (-4.8 per cent), KAPCO (-1.2 per cent), SNGP (-0.7 per cent), FCCL (-1.5 per cent) & MARI (-0.6 per cent) withholding 31 points.
On the sector front; Commercial banks contributed 69 points, E&P staged recovery on the back of a slight uptick in WTI prices to add 46 points, while on the flip side Power, Insurance, and OMC cumulatively eroded 25 points.
The chemical sector was the top performer with 1.77 per cent increase in market capitalisation followed by the cable and electronics sector. The sector topped up its market cap with 1.50 per cent. Top cap sectors, the commercial bank sector and the oil and gas exploration sector saw a rise of 0.48 per cent and 0.61 per cent.
Hira Textile (HIRAT + Rs 1) hit its upper limit as PSX uploaded draft prospectus for IPO of its associate Hira Terry Mills (46.9 per cent stake).
Wyeth Pakistan Limited (WYETH +0.15 per cent) notified the exchange about the conclusion of the transaction for the divestment of their product in Pakistan with Siza (Private) Limited (a Lakson Group Company).