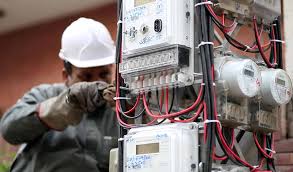 ISLAMABAD: Perturbed over noncompliance of directions regarding accurate meter reading and consumer billing, Power Division Federal Minister Sardar Awais Ahmed Khan Laghari has now directed to issue displeasure, final warning and show cause to the Chief Executive Officer of various DISCOs.
The federal minister issued the directions in a review meeting attended by the officials of the Power Division, PEPCO (Pakistan Electric Power Company), PITC (Power Information Technology Company), AEDB (Alternative Energy Development Board) and other concerned organisations here on Thursday.
Sardar Awais Ahmed Khan Laghari directed to issue a final warning and show cause to Peshawar Electric Company Chief Executive Officer Shabbir Ahmed over non-compliance of directions regarding accurate meter reading and consumer billing. He also directed to issue show caused notices to CEOs of SEPCO (Sukkur Electric Power Company), HESCO (Hyderabad Electric Supply Company) and QUESCO (Quetta Electric Supply Company) for poor performance regarding accurate mobile meter reading and directed them to fix responsibilities on the poorest five performing subdivision officers under the existing rules.
Similarly, the federal minister also directed to issue displeasure to CEOs of QUESCO and SPECO for not displaying load and other related information for facilitation of Net Metering on their websites.
The federal minister appreciated CEOs of FESCO (Faisalabad Electric Supply Company) and MEPCO (Multan Electric Power Company) for achieving 99 per cent accuracy in mobile meter reading.
Sardar Awais Ahmed Khan Laghari directed that 100 per cent meter reading for agriculture tube well in MEPCO region from this month i.e. November 2017 shall be through Automated Meter Information to ensure 100 per cent accuracy. There are 43000 AMI (advanced metering infrastructure) meters already installed in MEPCO region for agricultural tube wells.
"It was further directed that SMS must be sent to the agricultural consumers regarding the meter reading in time so that they should have a complete record of their energy consumption," said Power Division.
According to a press statement, the Power Division Federal Minister directed that SMS service for consumers for the dissemination of information regarding meter reading, bill and electricity-related matters be initiated in all DISCOs on the pattern of IESCO's Roshni services.
Sardar Awais Ahmed Khan Laghari directed to develop a smartphone application for consumers which can help them to get information regarding load management, shut down etc of their respective feeders besides their own electricity bills.
The Federal Minister was informed that the AEDB and the PEPCO are working closely for the promotion of net metering in the country. It was informed that Distribution companies have uploaded necessary information regarding feeder load etc necessary for installation of net metering. The AEDB has already issued advertisement for shortlisting of vendors for the provision of services regarding the installation of net meters. The DICSOs have also notified designated officers for facilitation of net metering up to 250KV and NEPRA has also sought proposal/ comments on new regulations proposed by the Power Division.
The Minister was informed that after analysis of the first batch of the distribution companies for meter reading the FESCO has been able to produce 99 per cent, MEPCO 99 per cent, LESCO 99 per cent, GEPCO 98 per cent, IESCO 98 per cent, HESCO 78 per cent, SEPCO 54 per cent, QUESCO 55 per cent accuracy. However, PESCO failed to share its data in the stipulated time.
The minister was informed that all DISCOs have initiated publicity campaign to register the mobile numbers of consumers for sending SMS alerts regarding the meter reading and generation bills. He was informed that until mid of next month the process is expected to be completed.
The minister was briefed that DISCOs are also working to put in place transparent and consumer-friendly services for the provision of new electricity connections. The system will be centrally connected with IT-based solutions and the consumers will be getting information via SMS regarding his application on the analogy of system developed by NADRA.
The PITC informed that as per the directions of the minister, power sector related smartphone application will be finalised by early next month.