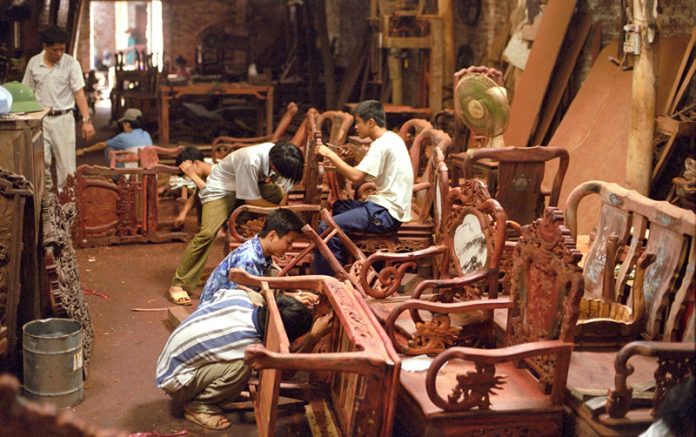 ISLAMABAD: A high-level delegation of Pakistan Furniture Council (PFC) on Saturday left for Italy to promote trade links via mutual collaboration between Pakistani and Italian business communities through business-to-business meetings after attending a 3-day international trade fair Heimtextil 2018 at Frankfurt, Germany.
According to a message received here, the delegation headed by its chief Mian Muhammad Kashif Ashfaq will discuss the possibility of enhancing mutual trade followed by meetings at Associazione Italiana d'Ingegneria Economica (AICE) in Milan and Cassa Padana Brescia.
The frequency of visits between the two countries has witnessed a rise in recent years which is indicative of further deepening of ties between the two countries.
He said that Pakistan and Italy had a good relationship in a variety of fields and it was now time to further strengthen it.
He said the delegation would meet officials of government agencies, leading companies and foreign trade agencies to explore new avenues of mutual cooperation in trade and commerce.
Mian Kashif said Italy was the fourth largest investor in Pakistan following China, UAE and Hong Kong with a total investment valuing at $ 100 million along with bilateral trade worth 1 billion euros.
He said, "Our focus is on energy, infrastructure, automobiles, agro-food, pharmaceuticals, marble, stones, furniture and textiles. We want to diversify our exports and find new partners for doing business".
He said that Italian technology could help us upgrade our textile sector and utilise its untapped capacity.
He said that he believed Pakistan had a lot of potential to promote itself for Italian business community while Italy was a country that provided excellent business opportunities for them.
He said Italy had expertise in the manufacturing of state-of-the-art textile machinery, solar panels, food processing, renewable energy, infrastructure development and agriculture and various Italian companies were exploring opportunities to undertake joint ventures with Pakistani entrepreneurs.
Italy possesses countless opportunities for expanding companies and there were many key factors that attract Pakistani investors to invest in Italy and few of them had around 60 million, demanding and sophisticated consumers, a favourable geographical position in the Centre of the Mediterranean Sea, facilities and support for foreign companies.
Many furniture retailers in Pakistan prefer to import furniture from Italy and sell the products in the local market, but Pakistani furniture industry is also equally enjoying superb potential to compete.
The PFC is playing a significant role in boosting furniture exports and local manufacturers should also join hands with the council to help it achieve its goals, he added.
He said Pakistan's business community is not only targeting to step up exports to the EU but is also striving to strengthen the partnership that will facilitate growth in trade with major partners such as the United Kingdom, Germany, Spain, Austria, Portugal, France and Italy.
He said furniture with calligraphic engraving had great demand in local and international markets, which seems to be dominant in Pakistan, therefore, Pakistani craftsmen should focus on working in this particular area to earn the foreign exchange.
In this regard, he appreciated the role of PFC in bringing the latest technical know-how in Pakistan to develop the local furniture industry for manufacturing quality products competitive with the international market.