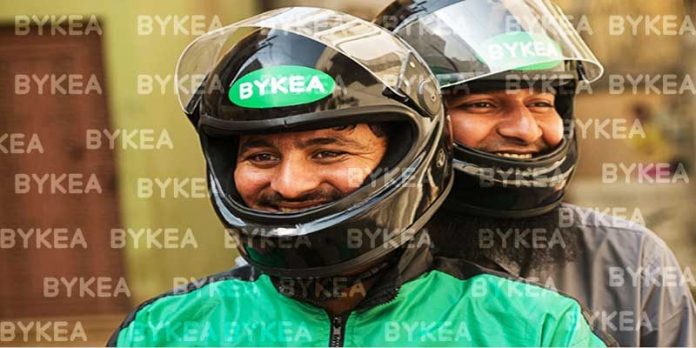 "There are 17 million motorbikes and 40 million smartphones in Pakistan," Muneeb Maayr, CEO Bykea – a ride-hailing (and more) app – told Profit in a recent interview. "These are the only two assets our lower middle and lower economic groups possess and we want to utilize these assets to turn them into an opportunity [for them, and for us]," said he, enunciating his vision.  
During his tenure at Daraz.pk, which he co-founded in 2012, Maayr dealt with a huge number of clients who mostly belonged to affluent economic groups, like upper and upper-middle class. It was during, what can be called his last days at the online shopping site, that he decided to come up with a venture that would facilitate or rather cater to masses belonging to the large lower and middle income group of Pakistan totaling over 90% of the population with wealth less than $10,000 (Credit Suisse 2015 Report).   
"I wanted to go out and build something for the masses, so last year in the summer I left Daraz," said the CEO of the newly-found app.
"There were two things I had in mind. One, the delivery side of the business where people needed to rely on conventional means and waited 24-48 hours before a parcel was delivered. We felt the need to solve that. Two, when we saw the adoption of GPS by upper class after Uber and Careem launch, we thought how the first issue could be solved", said Maayr.
Problem-solving through what people possess:
"We could only solve a problem and cater to our fellow citizens with what was easily accessible to them, what they essentially possess," said Maayr, bringing into play the potential of sheer number of motorcycles in the country.
With the said intent and vision, Maayr launched Bykea, an on-call and online service for bike ride hailing and delivery in December last year, in Karachi. The idea behind the venture was to provide an affordable mode of transportation to the ordinary people and employment opportunity to the same economic group that mostly relies on bikes as their means of transport, said Maayr.
The entrepreneur was joined by Rafiq Malik as Chief Operating Officer, Abdul Manan as Product Development Head and Ishaq Kothawala as Chief Strategy Officer. The foursome set out to launch operations of what can be called Pakistan's first ever bike ride hailing service.
"Har zaroorat ki sahulat, Bykea" (Bykea, the facility for every necessity), so claims the app tagline. Living up to its lead slogan, the team ventured into more than what was initially conceived and expanded its operations to Islamabad, Rawalpindi and Lahore in the meantime.  
Addition of 10 new few features:
While the company continues to be popular for its two basic services – bike ride and delivery – the portal has over the 10 months introduced about 10 more additional features that include restaurant delivery, ticket booking, utility bill payments and grocery purchase – all to be carried out by Bykea riders. The app has also launched a classified section for job and buy and sell postings in addition to the bike service.
But why the startup focuses on bikes solely, why not rickshaws?
According to Maayr, motorbikes are widely owned in this country of 220 million people whereas there's only less than a million rickshaws, and the latter are not suitable for delivery.
For the ride-hailing segment with the launch of Careem and Uber – international ride-hailing services – there has been a tremendous growth in their respective customer bases. However, a large number of commuters still find it unaffordable to spend a bare minimum of Rs240 on a two-way trip (average of base fare of the two apps). Bike is overwhelmingly considered an affordable and cheaper way for their convenient everyday travel.
The affordability issue:
"The mass market in this country requires affordability," the CEO said.
"When Careem launched, we said that inevitably it's going to come down to motorbikes and everyone said no, that's not happening,'' said Maayr. "The fact that Careem has launched motorbikes recently validates the fact that we have been right all along regarding the demographics of the country," he added.
Probably on the back of these demographics Bykea has been able to achieve half a million downloads of its app in ten months and the management hopes to soon cross the 1 million benchmark – a significant indication of an online service's success.
"The need is to create an ecosystem and because of the slow internet penetration in the country, there's still a long way to go," maintains the team.
Even though the ecosystem is not fully developed and new entrants are emerging every day in the ride-hailing sphere of the country, for Bykea both Careem and Uber and TCS are serious competition – well-entrenched and strong all three of them.
And Bykea has already done enough to stir the hornet's nest, alarming the big boys on the block with its ambition – by aiming to deliver literally 'everything'.
"Until recently, we had no competitor in sight," said the CEO candidly, adding, "but now in ride-hailing we have Careem because they just jumped in by adding bikes to their realm."
On the delivery side, there are still no rivals. "You would only consider somebody a competition if they were doing even one percent of the business you were doing. And our competitors are not there," asserted Maayr.
Competition to him is a very bad thing for business, for it spawns price wars – "not healthy" for any business. "In the ultimate analysis, one has to identify what one was solving that no one else was. And if one can do it better than others, then one has a market," said he.
"The thing is that we want to be a single app for a multitude of services and we see ourselves as solving the hyper local needs for a consumer in a city and in few weeks you'll see us enhancing our features and services in that direction," said Maayr, explaining his strategy to counter against the potential competition.
Women, out for the moment:
However, as per the same demographics of the country which enabled Bykea to attain popularity, a large portion of the population – the 48% constituting women – due to socio-cultural taboos are still not keen customers of Bykea.
The management's counter is that around 50-100 women were using the Bykea app on everyday basis for travelling purposes. But it is definitely the male gender from where Bykea gets its business in the main.
The constraint does not deter the Bykea management. "Only a few years ago, women would not sit in a car with unknown men but today when we see customers of international ride-hailing apps, women are there in sizable numbers", said Maayr.
"If women can sit in a rickshaw with unknown, untraceable men, then we are sure we can bring them to sit with Bykea riders who are thoroughly verified and can be tracked back in all circumstances," added Rafiq Malik, the COO.     
According to the Team Bykea, the need is to create trust and awareness amongst the people for all online-based services that intend to create convenience in everyday lives.
Rigorous background check:
When asked about verification process and eligibility criteria to become a part of Bykea's large rider team of 7,500, the management told Profit that all riders are obliged to submit their original CNIC to the company, their license is verified, then a third person is also sent to verify the home address of the said rider only after which he's eligible to come on board as a member of the Team Bykea.
After the rigorous background check, of the 7,500 registered Bykea riders, nearly 2,500 are working on a daily basis and on average earning around Rs1,500 every day. The startup follows the same model of 75% and 25% partnership with the rider and operates on the 1/4th commission like other online ride-hailing apps.
"Our demand far exceeds our capacity," said the CEO. To cater to the tens of thousands of bookings – for ride, delivery and other services – the app receives every day the number of riders is still insufficient by far. For this very reason, the startup is entirely focusing on promoting and marketing the app among the riders instead of expanding its 30-40% monthly growing customer base.