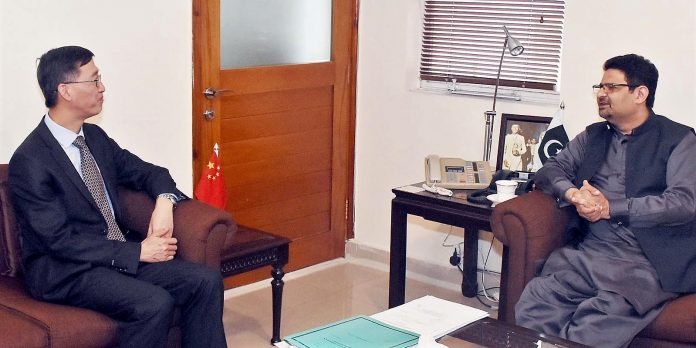 ISLAMABAD: Adviser to Prime Minister on Finance Miftah Ismail received Chinese Ambassador Yao Jing for a meeting here on Tuesday. During the meeting, they discussed Pak-China economic cooperation in various sectors particularly, the financial sector.
Adviser Finance on the occasion said that the PML-N Government in the last four years had concentrated on reforms in different sectors and resolved the problem of energy shortage which in turn, spurred economic activities and growth. There was a visible step up and record growth in revenue, he added.
He said it was government's endeavour to achieve  6 per cent growth target for the fiscal year 2017-18 and it felt confident that on the strong edifice it had built, economic development and growth would further increase in the future. He highly appreciated the continued cooperation provided by China in the economic development of the country.
The adviser said that representatives of several Chinese companies had met him with a view of initiating new business ventures in Pakistan. He said that the government will facilitate all such investors.
Yao Jing said it was heartening to note Pakistan's economy making strides despite some challenges. He assured Miftah Ismail of his strong resolve and passion for efforts aimed at keeping up the momentum of bilateral economic partnership.