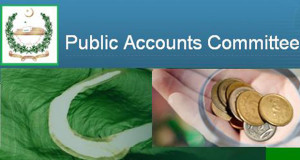 ISLAMABAD: Public Accounts Committee (PAC) has directed the Auditor General of Pakistan (AGP) to take record of Rs45 billion of Karachi Port Trust (KPT) into possession, and conduct a special audit and submit a compliance report within a fortnight.
PAC passed these direction on Thursday when it was informed by the AGP while submitting a report of audit objections worth billions of rupees that the KPT administration had invested Rs45.40 billion in six banks from the private sector while breaching financial discipline and causing huge financial loss to the national exchequer.
The meeting was held at the parliament house on Thursday and it was presided over by opposition leader Syed Khurshid Shah to start a debate on unabated corruption scams worth billions of rupees in Karachi Port Trust which were cropped during the tenure of the incumbent regime.
AGP told the committee that KPT had invested Rs 1.25 billion in the National Bank of Pakistan (NBP), Rs4.75 billion in Bank Alhabib, Rs3 billion in Faisal Bank, Rs5.25 billion in Soneri Bank, Rs3.5 billion in Alfalah Bank and Rs250 million in Sindh Bank while violating its own rules and directions of the finance ministry as well.
The KPT administration had bought investment bonds of Rs9 billion and defence certificates worth of Rs18 billion for a minimum return and caused huge loss to the national kitty, the AGP added.
KPT Director General Admiral Jamil Akhtar earned humiliation from PAC members when he told the committee that prominent bond broker Siran Khaskheli, including investment committee comprising three officers of KPT were consulted before investing such huge amounts in commercial banks.
The committee was told that KPT Act rules 62 and 63 gave clear instructions for depositing public money in the banks but prohibited the administration from investing the public money on a long-term basis.
The PAC members got incensed when it was informed that KPT administration has not conducted its internal audit of its financial accounts which is  also sheer violation of government guidelines  and policy and is an act could  be inferred as  an act of omission.
Director General KPT Admiral Jamil Akhtar was slammed by PAC members when he did not share the names of KPT board members and made an endeavor to conceal the facts about its board.
Admiral Jamil Akhtar told  that committee that senior  government functionaries involved in housing society affairs have been terminated from their services and other have been served show cause notices and admitted that huge corruption was committed in housing society and public money was looted  by the corrupt officers of previous administration.
Director general KPT added that government encroached land have been evacuated from land mafia and now each inch of government land wil be protected.