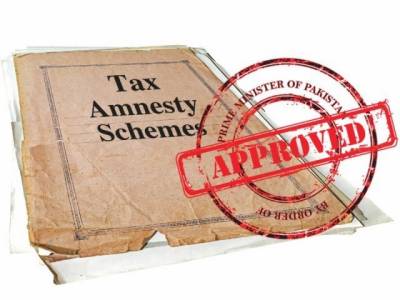 ISLAMABAD: Pakistan's path to circumventing the International Monetary Fund (IMF) remains contingent on a friendly country's assistance and the apex court's expected conclusion on the tax amnesty scheme to support the country dwindling foreign exchange reserves.
A report in The News on Saturday said $1 to $2 billion is expected to be received from a friendly country next week, officials aware of the developments said.
Also, the authorities are keenly awaiting the Supreme Court decision which will have a great influence on the fortune of the tax amnesty scheme which was recently passed by the parliament alongside the 2018-19 budget.
The apex court's backing to the existing amnesty scheme could help it get more successful at a time when Pakistan faces dwindling foreign exchange reserves and is in desperate need of improving its revenues.
Till now, around Rs10 billion have been declared under the tax amnesty scheme announced early last month and Rs500 million has been collected as tax.
As per official sources, people have shown an avid interest in availing the scheme, but the majority is adopting a wait and see policy till now.
The official source said people aren't certain about what the decision of the apex court would be regarding the tax amnesty scheme pending before it.
The source added majority of the individuals want to take advantage of this scheme whilst waiting for the Supreme Court's decision on the suo moto case on tracing and bringing back to Pakistan bank accounts and properties held abroad by citizens of Pakistan.
The tax amnesty scheme is said to have been formulated on the recommendations of a high-level committee which was setup by the Chief Justice of Pakistan on the problem of detecting and fetching back Pakistan's wealth overseas.
The committee setup by the CJP in its report submitted to the apex court said the present time was ripe for a voluntary scheme for Pakistani citizens to declare and repatriate their assets held abroad.
It recommended that current and prospective measures to detect foreign assets of Pakistani citizens like OECD (Organisation for Economic Cooperation and Development) multilateral conventions need to be widely disseminated for convincing citizens if they do not declare their foreign assets through this amnesty scheme, there are high chances that these assets will be uncovered and make them liable to prosecution or huge fines.