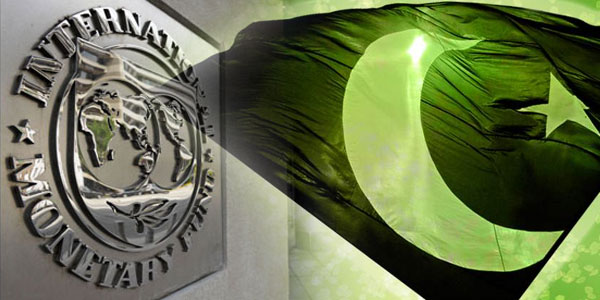 KARACHI: After the completion of PML-N's five-year tenure on Thursday, the balance of payment position has been left dented by rising debt obligations which could force Pakistan to seek an IMF bailout.
According to analysts, the State Bank of Pakistan (SBP) has $4 billion in reserves which are enough to provide import cover of one month, reported The News.
Also, $8.5 billion in external debt repayments are due at end of June.
The next government is expected to take power after the July 25th general elections and analysts believe they would have their work cut out due to a balance of payment challenges.
The trade gap has swelled driven by rising imports, which caused the widening of the current account deficit to $14 billion during the first ten months (July-April) of the outgoing financial year 2017-18.
And external debt and liabilities surged 51 percent in five years of the PML-N tenue, touching $92 billion.
An analyst at Tresmark declining to be named said "It is almost certain that we will need another bailout package from the IMF… which essentially means that the PML-N government was not successful in turning the economy around."
He added the PML-N government failed to address the actual problems for the economic woes and had been generally worse off in the last five years.
Pakistan is burning through $250 million on an average of a monthly basis, which has contributed to foreign exchange reserves falling to thee years lows despite having obtained $9.5 billion of loans in last ten months.
In September 2016, the country had successfully concluded a $6.7 billion three-year loan facility with the IMF.
However, senior economist at Standard Chartered Bank Bilal Khan said the market welcomed the government's effort to have concluded an IMF program and reach macro-economic stability.
He added that a more flexible exchange rate could have eased external-account pressures which had been ratcheting up since last year.
In last five years, the rupee depreciated by 16.6 percent against the dollar and presently its rate against the greenback stood at around 115.60.
Khan shared considering the demanding balance-of-payments position, he expected additional rupee weakness in 2018 and further monetary tightening.
Chief executive officer EFG Hermes Pakistan Muzzamil Aslam said he foresaw 5 to 10 percent currency depreciation in the time ahead.
Mr Aslam said if the balance of payment gap persisted, the currency would have to take a hit and the recent rise in policy rate was just a start before eventually going to the IMF.