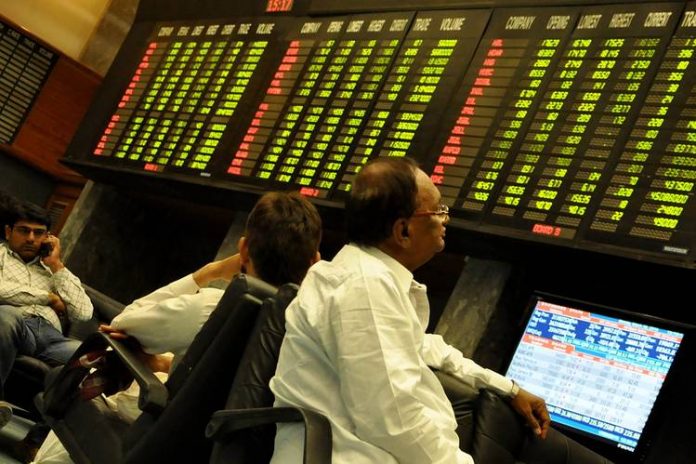 LAHORE: The Pakistan Stock Exchange (PSX) ended the week in red declining 5 per cent WoW. Devaluation of the rupee against the US dollar and downgrading of Pakistan's rating from stable to negative by Moody's both were among causes for the market to move in the negative direction. Investors are also worried about the upcoming Financial Action Task Force (FATF) decision expected early next week. Bears controlled the market with foreign investors ending as net sellers of $14.57 million in the first three trading sessions.
The day ended with more blood on the streets as the KSE 100 index closed down 721.23 points (-1.70 per cent) at 41,637.38 on the last trading day of the week. Financials (34.8 per cent of total turnover) dominated the bulk of trading activity in Friday's market, thanks to MEBL (8.4 per cent of total turnover), UBL (7.4 per cent of total turnover) and HBL (7.4 per cent of total turnover).
Materials were close behind (25.5 per cent of total turnover) along with Energy (15.8 per cent of total turnover) amid notable contribution from DGKC (4 per cent of total turnover), ENGRO (3.9 per cent of total turnover), PPL (4.4 per cent of total turnover), POL (3.8 per cent of total turnover) and OGDC (3.2 per cent of total turnover).
Major drag to the KSE 100 Index came from consumer staples (-4.27 per cent), industrials (-3.91 per cent), utilities (-2.62 per cent), energy (-2.16 per cent) and health care (-1.92 per cent) amid panic selling in PAKT (-5 per cent), EFOODS (-3.51 per cent), MTL (-2.77 per cent), TRG (-4.98 per cent), HUBC (-3.46 per cent), SNGP (-2.25 per cent), KEL (-3.27 per cent), PPL (-2.55 per cent), OGDC (-1.95 per cent), POL (-2.19 per cent), PSO (-2.78 per cent), MARI (-1.86 per cent) and ABOT (-3.07 per cent).
The total market volume fell from 241.68 million in the previous session to 178.16 million. K-Electric Limited (KEL 3.27 per cent) continued to lead the volume chart with 20.26 million shares traded. The Bank of Punjab (BOP 2.74 per cent) was next on the list with 15.84 million shares exchanged. Lotte Chemical Pakistan Limited (LOTCHEM 1.78 per cent) was third with 11.88 million shares traded.
Oil and Gas Exploration Sector saw a major decline recently, where Oil and Gas Development Company Limited (OGDC) lost 4.80 per cent, Mari Petroleum Company Limited (MARI) declined by 3.76 per cent in the last 5 sessions. Whereas Pakistan Oilfields Limited (POL) and Pak Petroleum Limited (PPL) ended 5.38 per cent and 4.57 per cent in red respectively during the same period.
The Banking Sector also took a hit in the last 5 sessions. Big names like Habib Bank Limited (HBL), United Bank Limited (UBL) and Meezan Bank Limited (MEBL) declined 8.87 per cent, 6.02 per cent and 8.44 per cent respectively.
Amid related news, Pakistan plans to seek bids for $1.8 billion of road projects by 2Q. Two new 6-lane highways from Sialkot to Kharian and Kharian to Rawalpindi to be constructed along with three highway upgrades in provinces of Punjab, Khyber Pakhtunkhwa and Sindh.
For the outgoing week, the KSE 100 Index lost 2,043.30 points (-4.68 per cent) with main contribution to downside coming from HBL (-9.59 per cent), OGDC (-6.27 per cent), LUCK (-7.70 per cent), UBL (-5.97 per cent) and POL (-6.55 per cent) taking away 713 points.
Technically speaking, market bears extended losses for the 3rd consecutive session and managed to close just above recent low from May 18, 2018 (41,458). On closing basis, the KSE 100 Index has entered a 'Death Cross' (50EMA penetrating below 200EMA) and further downside for the KSE 100 Index cannot be ruled out.