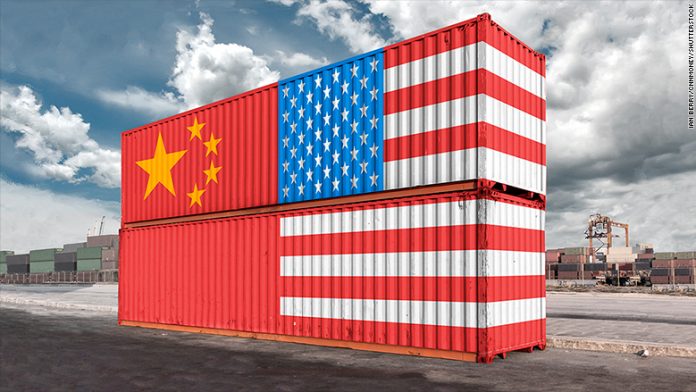 BEIJING: China's trade surplus with the United States swelled to a record in June as its exports accelerated broadly, a result that could further inflame a bitter trade dispute with Washington.
The data came after the administration of U.S. President Donald Trump raised the stakes in its trade dispute with China on Tuesday, saying it would slap 10 percent tariffs on an extra $200 billion worth of Chinese imports, including numerous consumer items.
China's trade surplus with the United States, which is at the centre of the tariff tussle, widened to a record monthly high of $28.97 billion, up from $24.58 billion in May, according to calculations based on official data going back to 2008.
Trump has demanded Beijing cut its trade surplus with the United States, and the latest result could further inflame trade tensions after both sides last week imposed tit-for-tat tariffs on $34 billion of each other's goods. Washington has warned it may ultimately impose tariffs on more than $500 billion worth of Chinese goods – nearly the total amount of U.S. imports from China last year.
The dispute has jolted global financial markets, raising worries a full-scale trade war could derail the world economy. Chinese stocks fell into the bear market territory and the yuan currency has skidded, though there have been signs in recent days its central bank is moving to slow the currency's declines.
EXPORT RISKS
After a strong start to the year, growth in China's exports has moderated recently, and is expected to face more pressure from the initial round of U.S. tariffs. Both official and private business surveys reported softer export orders last month as the trade row deepens.
China's foreign trade faces risks of slowing in the second half of the year, General Administration of Customs spokesman Huang Songping told a news conference, though he said Beijing was capable of handling challenges.
Analysts expect shipments growth to slow in the second half of the year, putting more strain on an economy already feeling the pinch from a multi-year debt battle that has driven up corporate borrowing costs.
Investors fear a prolonged trade battle with the United States could harm business confidence and investment, disrupting global supply chains and harming growth in China and the rest of the world.
China's commerce ministry confirmed last month that Chinese exporters were front-loading shipments to the U.S. to get ahead of expected tariffs – a situation that could exacerbate any slowdown in shipments toward the year-end.
Imports grew 14.1 percent in June, customs said, missing analysts' forecast of a 20.8 percent growth, and compared with a 26 percent rise in May.
The commerce ministry also said this week it will use funds collected from tariffs charged on imports from the U.S. to help ease the impact of U.S. trade actions on Chinese companies and their employees.
The ministry encouraged companies to increase import of soybean, soymeal, vehicles, aquatic products from other markets.
In a sign Beijing is seeking alternative supplies of the commodities as it hit U.S. imports with extra tariffs, China had dropped import tariffs on a range of animal feed ingredients from several Asian countries.
TRADE SURPLUS EXPANDS
China's exports to the United States rose 13.6 percent in the first half of 2018 from a year earlier, while its imports from the U.S. rose 11.8 percent in the same period.
Separate data showed Chinese shipments to U.S. ports rose more than expected in June, suggesting some retailers moved up orders to insulate themselves from an intensifying trade war that threatens to send up costs on a growing number of consumer products.
For January-June China's trade surplus with the United States rose to $133.76 billion, compared with about $117.51 billion in the same period last year.
China logged a trade surplus of $41.61 billion for the month, compared with forecasts for a $27.61 billion surplus in June and a surplus of $24.92 billion in May. The surplus was China's highest since December.