LAHORE: The dissemination of information and education is perhaps the most important door of possibilities that modern technology has opened, and turned into reality.
Startups in Pakistan and other countries are increasingly focusing on using modern technology to come up with solutions to people's day-to-day needs. Healthcare, transportation and logistics, education, connectivity, and employment are some of the needs that these startups are trying to fulfill.
With a rise in technology-based startups, the country has also seen a rise in tech incubators which provide mentorship, funding, accommodation and accelerate startups with big potential. Plan 9, The Nest I/O, Plan X, National Incubation Centres, i2i, and Microsoft Innovation Centre are some of the most sought after startup incubators in the country.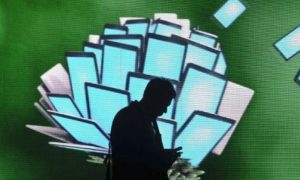 The National Incubation Centre has perhaps gained the most momentum since it is a collaboration between the Ministry of Information and Technology, Jazz, the Ignite Fund, and Teamup. It has opened centres in Lahore, Islamabad, Karachi, Peshawar, and most recently in Quetta after partnering with different universities in each city.
One startup that is making its mark in the online learning space is EdTech Worx.
Founded in December 2017 by Dr Farrah Arif, a Commonwealth scholar with a PhD from the University of Cambridge, EdTech Worx is an education technology company which was incubated at the National Incubation Centre (NIC) in Lahore. It develops online digital interactive data-driven products for informed decision making.
The company, since its inception, bases its methodology on 'learning outside walls'.
The founder is also a leading corporate trainer in Pakistan, and teaches at the Lahore University of Management and Sciences (LUMS). With a distinguished career as a strategic thinker and marketing consultant, Farrah has helped many organizations optimize their business and marketing strategy to drive sustainable revenue growth and profits.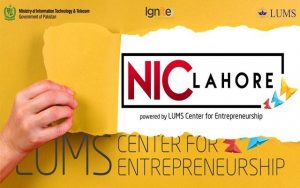 Her clientele includes large corporations such as Telenor, Jazz, Packages, EasyPaisa, Engro Foods and Bulleh Shah Packages. Her areas of speciality are Design Thinking, Digital Transformation and Consumer Data Analytics. She sits on boards of various incubation centres such as the NIC in Pakistan as advisor and mentor.
Dr Farrah Arif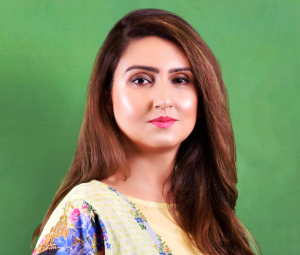 In an interview with Profit, Dr Farrah explained her motivation for starting EdTech Worx and said, "This is the first educational technology company in Pakistan. It includes both blended learning courses and experiential learning courses. A certain percentage of the course is conducted online, while some of it is conducted in a classroom setting".
For those who seek online education, or have had experience with foreign universities or taken part in distant-online programmes, EdTech Worx might just come across as Pakistan's version of Coursera or Udemy – both of which offer online courses affiliated with leading universities around the world.

Dr Farrah, however, disagrees on this, and says, "This might be like Coursera, but in reality, it's much more than that. The difference between Coursera and our company is the fact that Coursera only offers online learning through audio/visual content. EdTech Worx offers case study based courses which require students to learn online, and then sit in classrooms or 'hubs' with other students, and get an opportunity to interact with industry leaders from the corporate sector who judge their projects".
EdTech Workx offers hypermedia case studies. These case studies are sourced and curated from multiple digital platforms", she added.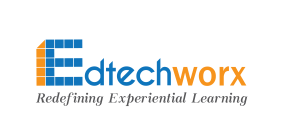 The company is inspired by real-life experiences where business simulations and a Digital Interactive Platform (DIP) facilitate both educators and corporate trainers to create a state-of-the-art online learning environment – where participants can practice and hone their decision-making, problem-solving and strategy formulation skills.
"I have been disseminating high-quality education to top universities of Pakistan and abroad for twenty years but it was only last year that I decided to bring digital transformation to my classroom. The idea was to create an engaging and interactive digital learning space where teachers can teach via case-study based pedagogy and students can learn through a blend of instructor-led sessions, online simulations and peer-to-peer discussions. This then led to the birth of EdTech Worx."
Currently, the company's 'Marketing Essentials' and 'Design Thinking' courses are accepting registrations. These courses will enable candidates to learn and practically demonstrate essential marketing and design thinking skills in 6 and 5 week blended learning courses, along with mentorship and guest speaker sessions from corporate sector leaders and influencers.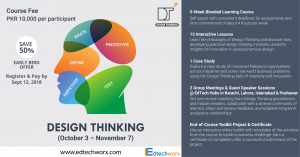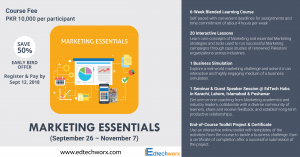 Pakistan's educational landscape is perhaps devoid of quality digital courses which students can take part in, and be affiliated with top universities. When universities such as Harvard, Yale, or Columbia are offering online courses to students worldwide; being affiliated with LUMS, and tech incubators such as the NIC, EdTech Worx has the potential to change the dynamics of education in the country.