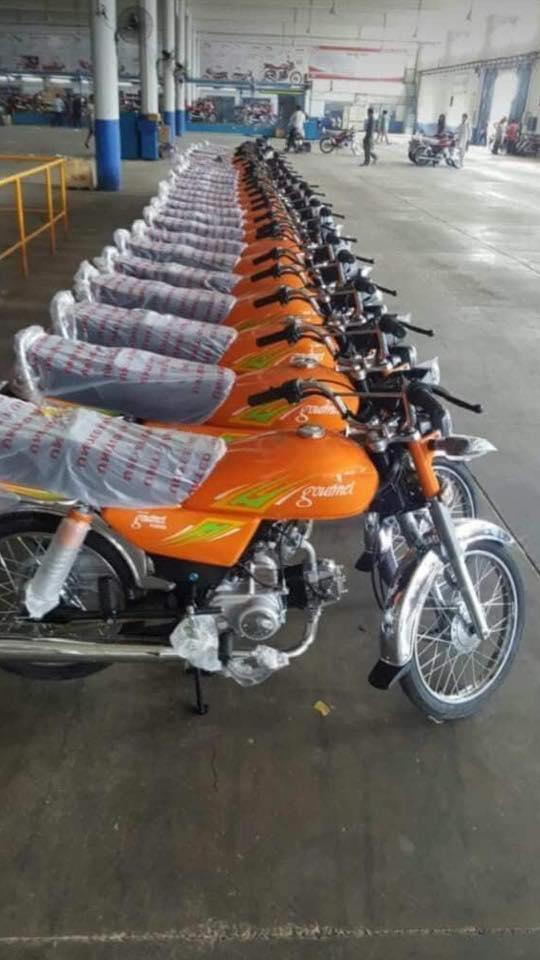 LAHORE: Pictures have been circulating on the social media, depicting motorbikes parked at a showroom with Gourmet's logo painted on them, inciting rumours that the business that first started off as a bakery chain has further diversified into the production of motorbikes.
However, an official from Gourmet while talking to Profit has categorically denied such reports, stating that the bikes have been produced by United Motorcycles, and are to be used in-house, by Gourmet's own employees.
"We got the motorbikes made from United Motorcycles for our own employees," says Shabbar, the spokesperson for Gourmet, insisting that the pictures circulating on the social media were sent over WhatsApp by some unknown employees of United Motorcycles.
Gourmet, which started as a food bakery 27 years ago, has a strong retail network with more than 100 outlets in Lahore alone.
The company has since then moved into various businesses ranging from restaurants and catering to other completely unrelated avenues like magazine publication, furnishing and pharmacies.
It also acquired a 12 percent stake in Silk Bank in 2015. A few years ago, the company was also rumoured to be working on their own line of Android and Java-based smartphones in collaboration with a Chinese manufacturer, however, that did not materialize.
Recently, the company has also moved into the media industry and has launched a TV channel, GNN, after acquiring the struggling Jaag TV in 2016.
Since its launch, the TV channel has attracted renowned media personalities like Hamid Mir, who joined as the president. Other notable personalities that joined GNN include Salman Hassan, Amir Mir and Sohail Warraich.