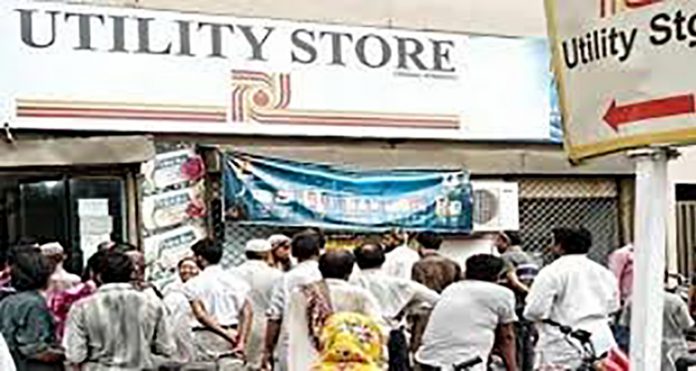 ISLAMABAD: The newly installed Pakistan Tehreek-e-Insaf (PTI) government has decided to reverse its decision of shutting down Utility Stores Corporation (USC) and make it completely operational again.
The decision to make USC operational again has been taken to stabilize prices of commodities since the economic managers are disturbed by the increase in food product prices, reports Express Tribune.
When the government came into power in August, the Adviser on Commerce, Textile, Industries, Production and Investment Abdul Razak Dawood had decided to close USC by ending all procurement of commodities.
Consequently, the ban contributed to a persistent fall in its revenues and the Economic Coordination Committee (ECC) in a recent meeting instructed Mr Dawood to prepare a detailed report within a month providing recommendations for converting USC into an active entity and maintain price stability.
The ECC has directed Mr Dawood to provide recommendations for making USC fully operation again to stabilize prices of food commodities.
The Power Division Secretary during the meeting highlighted the price of tomatoes would decrease considerably after supplies from Punjab enter the market.
According to the railways' minister, USC was setup to offer commodities at affordable prices for the downtrodden and stabilize prices of food commodities.
But, he believed the USC was not operating properly, hence the prices increased. During the ECC meeting, it was stressed that market committees were not carrying out their due role in scrutinizing the increase in prices of food items.
And these market committees are working under the provincial governments and ECC observed there was an urgent requirement to make USC a more active and useful entity.
USC sales plummeted from Rs94 billion a few years ago to Rs49 billion and losses have soared to Rs4 billion.
The USC's role is to provide daily-use commodities to the low-income bracket at subsidized rates and employs over 14,500 employees and has 5,550 retail outlets across Pakistan.
Currently, USC's monthly sales stand around Rs1 billion and sitting on an inventory worth Rs4.5 billion.
The entity was one of few public-sector enterprises generating profits during the Pakistan People's Party (PPP) tenure, however, during the previous administration's rule, it became a defaulter.
During the first quarter of FY18, USC incurred a Rs1.36 billion with negative equity of Rs1.808 billion and payables stood at Rs1.36 billion owed to vendors.
Due to this, the majority of the vendors stopped supplying commodities to USC.