Overseas Pakistanis can now use Xoom, a money transfer service owned by PayPal to send their donations for the CJ-PM Daimer-Bhasha and Mohmand Dams fund.
The State Bank of Pakistan (SBP) has recommended overseas Pakistanis to utilise Xoom's services. Most overseas Pakistanis send their donations by using credit or debit card facilities.
Xoom has agreements with five banks in Pakistan including the National Bank of Pakistan (NBP), MCB Bank, Allied Bank, Bank Alfalah and United Bank Limited (UBL).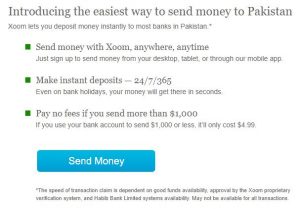 Xoom offers fast money transfer options including same day deposit/transfer of money and instant deposit of money from different countries to the five designated Pakistani banks, according to a report by ProPakistani.
According to the State Bank of Pakistan (SBP), the donations received by the central bank reached Rs4.113 billion from resident and expatriate Pakistanis in more than 2 months.
It is pertinent to mention here that Finance Minister Asad Omar hinted at the launch of PayPal in Pakistan within the next few months.
So far, the contributions to the dams' fund made by overseas Pakistanis stand at Rs379 million whereas the donations of resident Pakistanis are Rs4.09 billion as of 2 October.