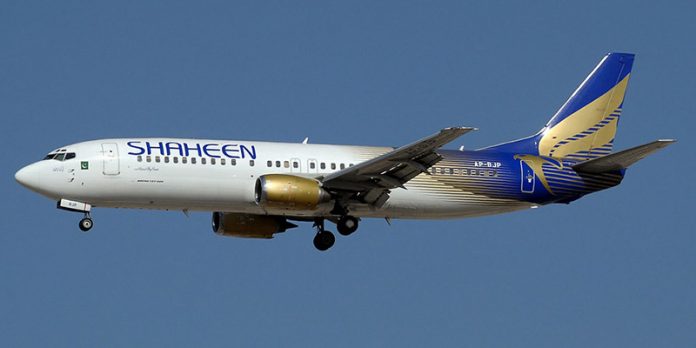 KARACHI: Shaheen Air International (SAI) which has been grounded for the past five months due to payments default is looking to restart its operations by January.
SAI which requires roughly Rs3.1 billion to recommence its operations has reached out to stakeholders in the Middle East, East Asia and western regions to arrange these funds, an airline official who declined to be named, reports Express Tribune.
The airlines' operations have remained halted since May this year aside for special Hajj flights and the flight that brought back stranded Pakistani's from China.
The official said SAI would resume operations together on all eleven routes on which it was flying before the suspension of operations.
Previously, SAI was flying on routes including regions and countries like the Middle East, China and three local destinations, Lahore, Karachi and Islamabad, said the official.
The airline had been operating on eighteen routes and possessed more than 15 aircraft before the financial crisis stranded it.
However, now the fleet size has been decreased to seven after SAI recently leased A-319 jets and some of the ageing aircraft were permanently grounded.
The market has been buzzing with rumours that SAI has been acquired by a Saudi-based investor who would soon be taking management control to which the official said, "We are reviewing all the available options for the financial arrangement."
But the official carefully ruled out the management change.
He elaborated that the law does not permit divesting 100% stake in any of the domestic airlines to overseas investors.
The official said the domestic airlines must retain a 51% majority shareholding and if the company had to give a stake to the Saudi Arabia-based investor, then it would need to have a domestic partner there which was not the case at this point.
Furthermore, the official shared all stakeholders from UAE, Oman, Kuwait and China had been taken into confidence for the financial arrangement.
But the official didn't divulge the mode of the financial arrangement if it would be a loan, an investment or a hybrid of the two.
"We are working from dawn to dusk…very soon we will give you good news regarding the required financial arrangement," the official said.
SAI owned by the Sehbai family is exploring in various directions including the option of arranging to finance from their friends and other resources.
The official shared SAI was working with local travel agents to manage the situation and retrieve stuck revenue from them which came to around 50-70 percent of the needed money and are cooperating beyond expectation.