The year 2017 was not a good one for Habib Bank. It was accused of having insufficient controls to prevent money laundering by the New York State Department of Financial Services and effectively forced out of the United States by a state regulator determined to crack down on financial malfeasance. What's more, the bank's earnings took a massive hit owing to the $225 million fine it had to pay as a settlement. Needless to say, heads rolled at the top, and CEO Nauman Dar was shown the door.
Enter Muhammad Aurangzeb, the veteran global corporate banker who was appointed CEO of Pakistan's largest bank on April 30 of this year. Right off the bat, Aurangzeb has tried to strike a different tone, which may have been influenced by his experience as a senior banker in East Asia.
Aurangzeb is an alumnus of the Wharton School at the University of Pennsylvania, from where he earned both his bachelors and his MBA. He started his career in Pakistan at Citibank, moving with Citi to the United States before returning to Pakistan to spend an extended period of time at ABN Amro, where he eventually rose to become Pakistan Country Manager. Having hit the ceiling at ABN Amro in Pakistan, Aurangzeb then moved to the Dutch bank's global headquarters in Amsterdam.
Following the acquisition of ABN Amro by the Royal Bank of Scotland in 2007, Aurangzeb moved to Singapore, to help lead the RBS corporate banking team in Southeast Asia. He was then hired away by JPMorgan, the venerated American banking giant, in Singapore where he worked in the corporate banking division and was the head of JPMorgan's Asia Pacific corporate banking business when he was tapped to become the CEO of Habib Bank.
Since joining Habib Bank, Aurangzeb has sought to strike a different tone than his predecessors. He made waves in Pakistan's financial markets when, during an interview with Bloomberg in October, he said: "From my perspective, we have to start thinking that we're an IT company with a banking license."
This was completely unexpected. Most Pakistani bank CEOs pay lip service to their technology infrastructure, and the need to invest in it, but Aurangzeb appeared to be turning the matter completely on its head: that for a bank to survive in the 21st century consumer financial market, they must cease to think of banking as the core service and instead assume that technology will drive consumer behaviour and decisions far more than financial products will.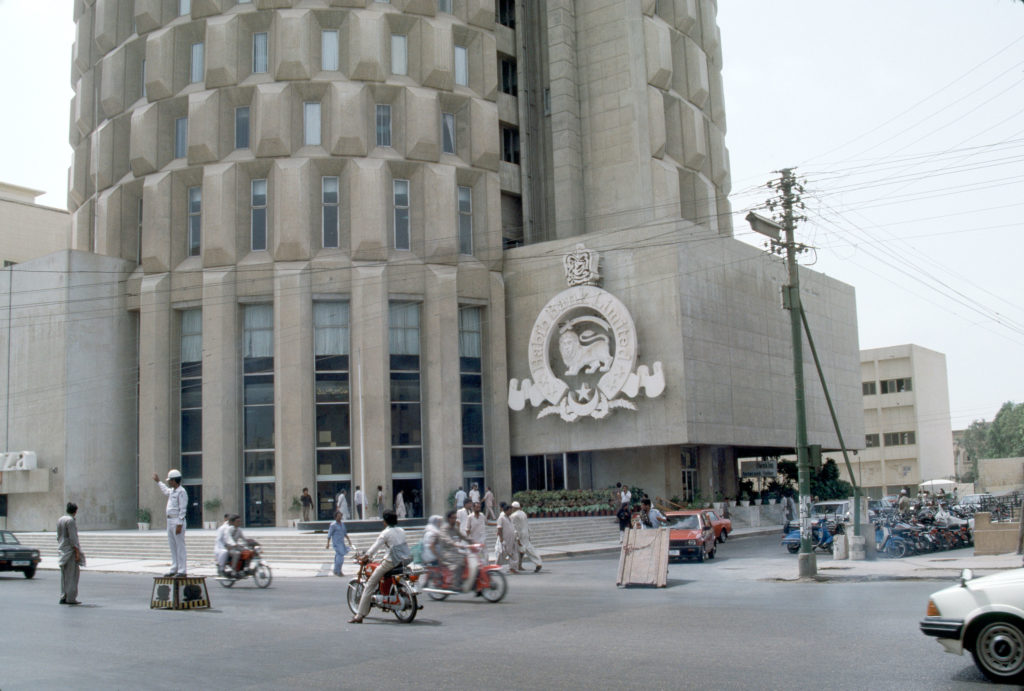 Aurangzeb backs up his view with numbers: "With 1,700 bank branches and 2,000 ATM's all over the country, HBL acquires 1 million new customers a month. With the rollout of biometric devices nationwide that number is set to double or triple," he said.
One key area of focus is branchless banking, a service that brings together operational efficiencies through the better use of mobile technology, as well as an integration of the bank's user interface with their customers' needs: most consumers still deal with cash, and ATMs are more expensive to set up that simply establishing a relationship with neighbourhood corner stores throughout the country.
Habib Bank's branchless banking platform is called Konnect, and management states that it currently has approximately 32,000 agents nationwide, serving a client base of over 900,000 people. The bank estimates that this number may quadruple in the coming year, with an estimated 3 million new customers expected to join the platform by the end of the calendar year 2019.
Given the bank's estimates of signing on approximately 12 million new client accounts a year, that means that Konnect – the branchless banking platform – will account for a quarter of all new accounts opened at the bank with the largest branch network in Pakistan.
In October, Habib Bank also finally got rid of one key irritant for its digitally savvy customers: it integrated the mobile and web browser based systems. Previously, the mobile app and the bank's website had completely different systems that required completely different usernames and passwords. Clients often found it difficult to remember which username and password combination worked for which element of the bank's digital banking offerings, which was a pain point for many.
With the integration of its online systems, Habib Bank is seeking to displace Standard Chartered Bank Pakistan – long seen as the market leader in online banking in Pakistan – from the top spot.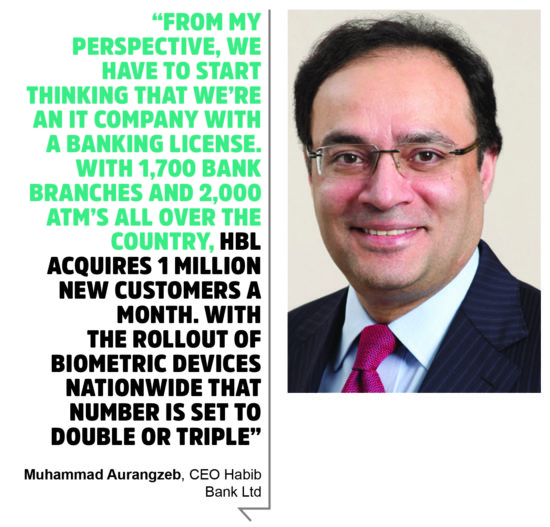 In many ways, the pivot towards a better digital presence began even before the new CEO's arrival. As Branding in Asia reports, the bank hired Abrar Ahmed Mir as the first Chief Innovation & Financial Inclusion Officer for Habib Bank, the first hire of its kind for any bank in the country.
The strategy appears to be two-fold: get customers to focus their high-volume, low-value transactions on the digital and branchless banking platforms, and only use the branches for high-value, low-frequency transactions. The goal is to optimise both the bank's operational efficiency and cost basis, as well as improve the customer experience by offering multiple convenient options for clients to conduct their transactions.
The market appears to be responding favourably to Habib Bank's pivot toward technology.
"We believe the technology transformation in mainstream processes would assist the bank's expansion and provide HBL with an edge over its peers," wrote Amreen Soorani, a research analyst at JS Global Capital, an investment bank, in a note issued to clients on Tuesday, October 30.
Nonetheless, the bank's legacy infrastructure is not going to be easy to transform. Habib Bank has the largest branch network in the country, with more than 1,700 physical locations nationwide. Much of this infrastructure was inherited by the bank from the days when it was a state-owned entity making massive politically-motivated loans at the behest of senior government officials and politicians and not investing at all in its infrastructure.
However, because of State Bank regulations that govern financial inclusion, banks are not allowed to close branches in an area where there is no other bank branch within a certain radius. Since Habib Bank has the largest number of branches, it also has the most branches that serve currently underbanked regions of the country. That means that Habib Bank has the least flexibility when it comes to trimming the size of its branch network.
And there is also the fact that while the bank is likely to be able to use technology to improve its deposit growth, it will likely have a hard time deploying those deposits productively into loans, as has been demonstrated by the bank's balance sheet for every quarter since the second quarter of 2011: the bank's lending to the government through its purchases of Treasury bills and Pakistan Investment Bonds (PIBs) has exceeded the entirety of its lending to the private sector.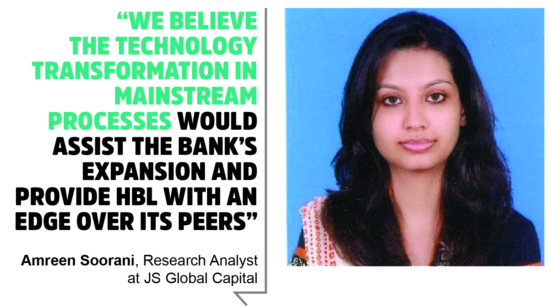 While the most recent quarter saw a relatively faster rate of growth for non-government loans relative to the overall asset book, the fact remains that Habib Bank, like the banking sector overall, is highly exposed to government borrowing, which means the government's fiscal policies have a far more direct effect on the bank's financial health than most businesses.
The bank's CEO may like to think of Habib Bank as a tech firm with a banking licence, but the task of making such a large organisation transform its culture is likely to be a challenging undertaking.