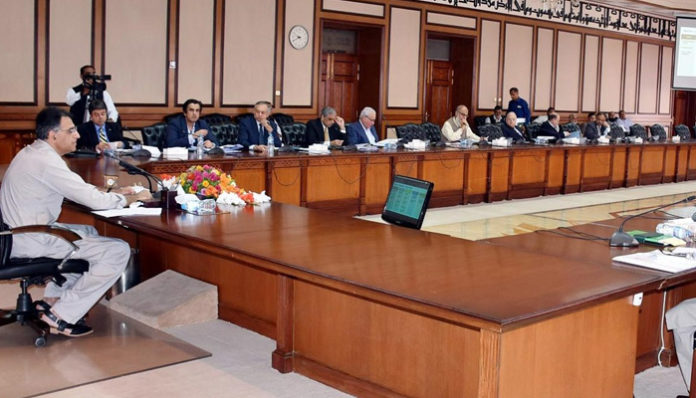 Committee approves to raise fresh financing of Rs35.806bn for PHPL through a syndicate of banks
SSGCL directed to withdraw gas load management notices issued to zero-rated industry
ISLAMABAD: The Economic Coordination Committee, in a meeting chaired by Finance Minister Asad Umar on Monday, approved a financial support package amounting to Rs17 billion for Pakistan International Airlines (PIA) – the country's national flag carrier.
The PIAC chairman had briefed the meeting on the current operational and financial position of the organisation. The ECC directed the management to improve the business model of the company and to devise a strategic plan for the solution to its financial and administrative problems on a long-term basis.
It is pertinent to mention that PIA has been plagued by financial losses over the past years, and has relied on the government's support at various times to continue operating. The airline accumulated losses of Rs356 billion with total liabilities amounting to Rs406 billion against assets of only Rs111 billion, it told the Supreme Court during a hearing of a suo moto case pertaining to its financial situation in June 2018.
On another proposal of the Ministry of Energy (Petroleum Division), the committee gave a go-ahead to an allocation of 10 million cubic feet per day (MMCFD) gas to Sui Southern Gas Company Limited from Bitrism gas field and 12MMCFD gas to Sui Northern Gas Pipelines Limited from Dhok Hussain gas field, respectively. It had been proposed earlier that the government provide a subsidy to the gas utility companies by injecting additional gas during the winter season when the demand peaks.
The Petroleum Division secretary during the meeting briefed the ECC about the gas supply situation on the SSGCL network. The ECC was informed that the supply of gas to zero-rated industry under the SSGCL system, covering Sindh and Balochistan provinces, would continue unabated during the winter season, in accordance with recently approved gas supply priority for this sector. The ECC directed the SSGCL management to withdraw the gas load management notices issued to these industries.
The ECC on the occasion considered and approved the proposal of the Ministry of Energy (Power Division) to raise fresh financing of Rs35.806 billion for Power Holding Private Limited (PHPL) through a syndicate of banks.
The Ministry of Maritime Affairs secretary briefed the meeting regarding the working of the LNG terminals at Port Qasim and the associated administrative and financial issues. The ECC directed that the maritime affairs and petroleum ministries to work closely to assess the requirements for setting up new gas terminals and other necessary details in this regard.