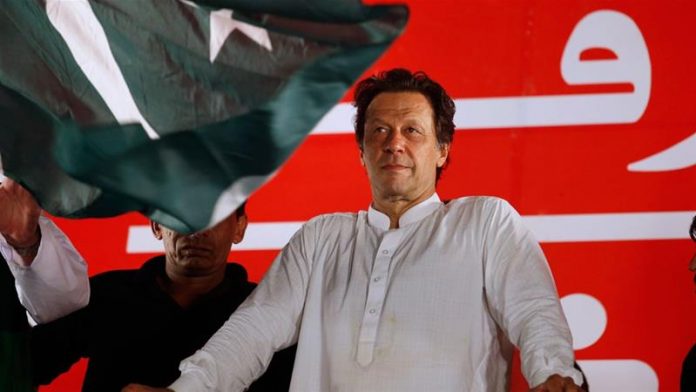 ISLAMABAD: In an address to the Pakistani diaspora in Malaysia on Wednesday, Prime Minister Imran Khan said recent financial aid obtained by his government from "friendly countries" was just a stop-gap solution to the country's economic problems.
He announced his government's four-pronged strategy to take the country out of its loan troubles.
While addressing the Pakistani community, where he is on a two-day official visit, the PM said the government was devoted to uplifting the living standard of poor and underprivileged sections of society by ending corruption and improving governance, reports Dawn.
He said the government's concentration was on four area on an immediate basis which included increasing exports, sending remittances via legal channels, attracting investments and putting an end to money laundering.
The PM said the first step towards getting the country out of its persistent loan cycle was to raise exports.
Mr Khan elaborated that Malaysia with a population of 30 million people had exports of $220 billion and Pakistan with a population of 201 million had exports of $24 billion, then it was clear they were doing something wrong.
He added that this government was working on a programme to raise exports.
As per the premier, Pakistan needed to develop legal channels for overseas Pakistani's to send their remittances and shared the finance minister Asad Umar was undertaking working on an incentive programme to make routing of remittances simpler.
Mr Khan added, "Currently, we receive $20bn in remittances," the premier said. "We (the government) think that if all the money sent in remittances [is sent via legal channels], then we will receive at least $10-12bn in addition.
Right now, we are facing a shortfall of $12bn. If we start receiving all our remittances [through legal channels] then this problem will be solved."
Moreover, the prime minister highlighted the significance of attracting investments, especially from foreign businesses.
He cautioned Pakistan would continue to face a shortage of dollars if it didn't attract foreign investments.
The PM appreciated the overseas Pakistanis' for their passion to invest in Pakistan and pledged to facilitate them by fixing the governance system in the country.
Mr Khan pledged to develop an "ease of doing business" for both domestic and foreign investors.
He said, "There will be a designated office within the PM Office and its sole purpose will be to solve any problems being faced by investors."
He asserted that previous regimes had obstructed investors by stopping them from earning profits and said why would anyone invest in the country if they couldn't earn a profit?
The prime minister said investors should be facilitated in making money and said that wealth creation enables a country to grow.
He reminisced, "Mahathir Mohammad (Malaysian prime minister) told me this 20 years ago when I met him soon after entering politics."
Further outlining the governments' strategy to pull the country out of the economic quagmires, PM Khan said terminating the practice of money laundering was necessary.
He highlighted that Rs10 billion was sent overseas via money laundering annually, however, assured that every agency in Pakistan was working earnestly to make it difficult for individuals to move money overseas illegally.
The prime minister said that his government had signed memorandums of understandings (MoUs) with various countries and slowly were obtaining details of the funds that had been sent overseas illegally.
Mr Khan explained that the recent financial aid obtained by his government from "friendly countries" was just a stop-gap solution to Pakistan's economic problems.
He said, "We have acquired loans from friendly countries in order to repay instalments of loans that were borrowed earlier."
"Even now we are trying that we have to borrow the least amount of money possible from the IMF (International Monetary Fund), with whom we are in negotiations right now. But this is temporary. This is like treating cancer with Disprin," he added.