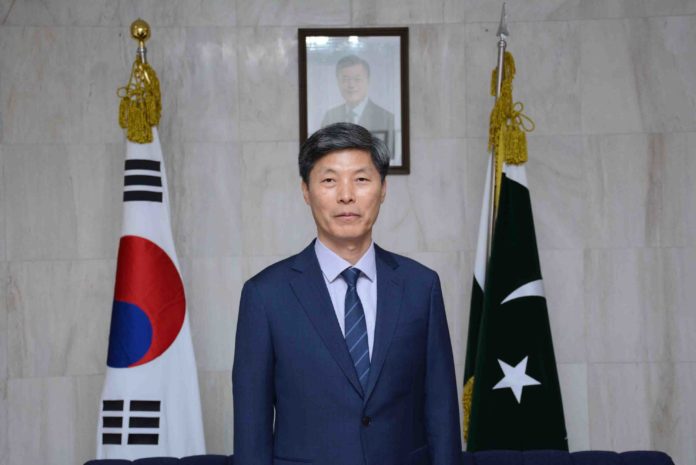 'Korean investors are looking at Pakistan Railways as future investment prospect'
Envoy says fertile lands of Pakistan can double their yields if modern technology and quality seeds are used
'Korean companies are eager to transform Pakistan's local industry on modern patterns'
ISLAMABAD: A senior South Korean delegation is set to arrive in Pakistan next month to explore future investment opportunities in Pakistan with a specific focus on the upgradation of Pakistan Railways infrastructure.
In an exclusive chat with Pakistan Today, Ambassador of the Republic of Korea Kwak Sung-kyu said the Korean investors are looking at Pakistan Railways as a future investment prospect.
"Since ML-I is a project which needs an investment of around $80 billion, there is a possibility that it would be constructed in phases. Korean companies believe that they can invest in ML-I," the diplomat mentioned. "Korean companies would also look for investment opportunities in ML-II and ML-III projects."
He said Korea intends to provide locomotives to Pakistan Railways, adding that talks would be held in this regard between the two sides soon.
The envoy said that Korean companies are eager to transfer technology to Pakistan so that its local industry could be transformed on modern patterns. He said Korea would also like help uplift Pakistan's agriculture sector as well.
"Pakistan has a rich agriculture base. However, Pakistani farmers lag behind in per acre yield, cold storage and food processing technology. Korea would like to extend a helping hand to Pakistan in order to boost its agricultural exports," he said.
Elaborating, Ambassador Kwak noted that Pakistan had a rich variety of mangoes but most of the yield gets destroyed due to the lack of modern food processing, packing and packaging facilities.
"South Korea can help Pakistan in adapting modern technology and techniques to boost its food exports. Moreover, the rich and fertile lands of Pakistan can double the per yield crops if modern technology and quality seeds are used," he said.
The envoy mentioned that two South Korean auto companies are investing in Pakistan. He informed that Nishat Group is in partnership with South Korea-based Hyundai Company while Lucky Cement is also collaborating with another South Korean firm, Kia Motors.
"Lucky Cement would have 60 per cent shares in the joint venture and will invest $150 million. The new venture will also market and sell the parts and accessories, besides import and export of all types of Kia vehicles," the envoy briefed. "Nishat Mills Limited would assemble vehicles with Hyundai Company. The two companies together will set up a greenfield project for assembly and sales of HMC passenger and 1-ton range commercial vehicles in Pakistan."
Asked whether any South Korean company had expressed an interest in investing in Special Economic Zones (SeZs) being established under the China, Pakistan Economic Corridor (CPEC), the ambassador said that delegation visiting Pakistan next month would explore all investment possibilities.