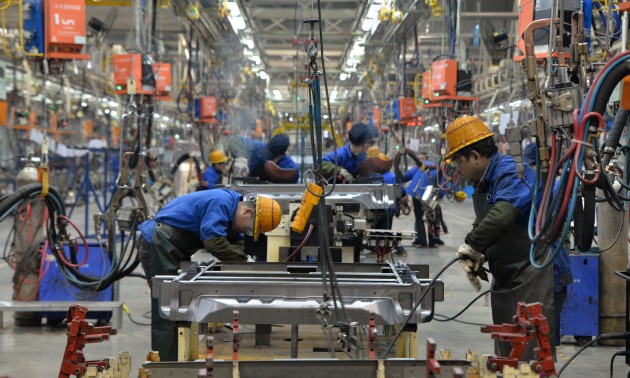 BEIJING: Profit growth at China's industrial firms cooled for a sixth straight month in October as factory prices and the pace of sales increases softened amid mounting uncertainties stemming from the U.S.-China trade war.
The figures point to a further weakening in China's vast manufacturing sector and economy days ahead of a high stakes meeting between Presidents Donald Trump and Xi Jinping, which Beijing hopes could avert a major escalation in their trade dispute.
China and the United States have slapped tariffs on billions of dollars of each other's goods, hurting manufacturing and casting a shadow on the outlook for global growth.
Industrial profits rose 3.6 percent in October from a year earlier to 548 billion yuan ($78.92 billion), a 7-month low and a slowing from September's 4.1 percent gain, the National Bureau of Statistics (NBS) said on Tuesday.
The slowdown was largely due to cooling factory-gate inflation and a high-base effect, bureau official He Ping said in a statement.
Some economists believe profitability will continue to deteriorate in coming months.
Nomura economists said the trend will remain down "given weakening domestic demand, already-high financing costs, rising credit defaults and the escalation in the China-US trade conflict".
Factory-gate inflation has been easing in recent months on sluggish demand, despite government efforts to shore up the economy, including a flurry of credit-easing measures to boost lending to private firms and ramp up infrastructure spending.
TRADE WAR WORRIES
October's profit data came out as worries about the U.S.-China war were deepened by Trump's comments to the Wall Street Journal before his meeting with Xi Jinping in Argentina at the end of this week.
On Monday, Trump told the newspaper it was "highly unlikely" he would accept Beijing's request to hold off on increasing tariffs on $200 million of Chinese goods to 25 percent from 10 percent, as planned for Jan. 1.
China faces slower economic growth thanks to the trade war plus efforts to rein in financial risks and tackle pollution problems.
On Monday, Chinese iron ore futures tumbled nearly 6 percent and steel prices dropped to the lowest in almost five months as worries over weaker steel demand fuelled a sell-off, with raw materials coking coal and coal also down sharply.
Tuesday's profit data showed industrial firms' revenue growth slowed to 9.4 percent in the first 10 months from 9.6 gain in January-September.
Upstream sectors such as mining and metal producers and state-owned enterprises still commanded the lion's share of profit gains but their growth softened in October. Profit gains were concentrated in five industries, including steel and building materials.
Profits earned by state-owned enterprises grew 20.6 percent in October from a year earlier, from 23.3 percent in September.
Shenzhen Energy Group, the southern Chinese city's largest power producer whose main products include electric power, gas and steam, reported an 83.3 percent decline in net profit for the third quarter.
For the first 10 months, profits for China's industrial firms rose 13.6 percent from a year earlier, versus a 14.7 percent increase in January-September, Tuesday's data showed.
At the end of October, industrial firms' liabilities increased 5.9 percent from a year earlier to 63.7 trillion yuan, according to the Statistics Bureau.