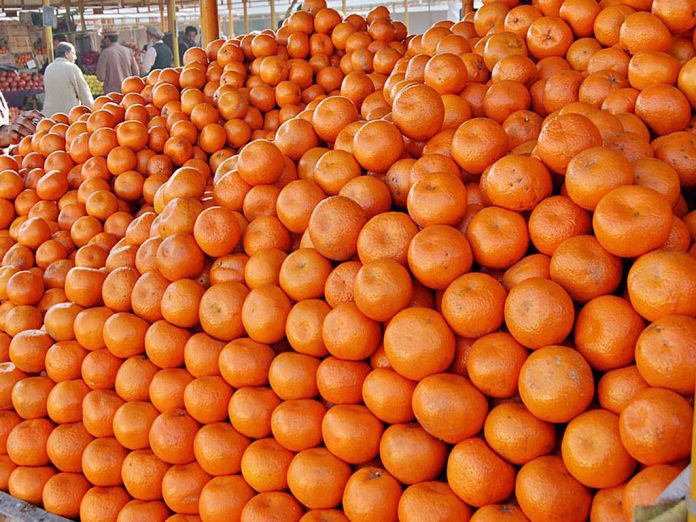 ISLAMABAD: All Pakistan Fruit & Vegetable Exporters, Importers & Merchants Association (PFVA) has set a current year export target of Kinnow to 325,000 tons by reducing 50,000 tons compared to the last year.
The export of Kinnow is due to commence from 1st December 2018. Production of Kinnow during this year is expected to be around 2 million metric tons, however, due to limited availability of good quality of exportable Kinnow, the export target has been curtailed this year.
According to Waheed Ahmed Patron-in-Chief –PFVA& Vice President-FPCCI a record export volume of 375000 tons was attained during last year fetching foreign exchange of $200 million while with the current export volume of 325000 tons, the country is expected to earn foreign exchange of $180 million.
Due to a high cost of production of Citrus fruit and stiff competition with big exporters of Citrus fruits namely – Turkey, Morocco and other big producers of Citrus fruits in the International markets, Pakistan is confronted with real tough competition – Waheed deplored.
The devaluation of Pakistani currency has lost its favourable impact due to an upward revision of freight charges by the shipping companies, rise in the cost of packing material and a substantial increase in local transportation charges while with an increase of Rs100, the cost of purchase of Kinnow has become Rs 800 per mound this year.
Russia, Indonesia, Gulf countries and Middle Eastern countries are big importers of Pakistani Kinnow while Iran had also been a big buyer as well, however, this is the seventh consecutive season of Kinnow, Pakistan continues to face a ban on import-export of Kinnow by the Iranian government.
Iran is an international market having a capacity of 80,000 ton to 100,000 ton of Pakistani Kinnow which had been closed for several years.
Though Russia is a big market of Pakistani Kinnow, however, it is faced with stiff competition from Morocco & Turkey in this market.
Due to a bumper crop of Kinnow in Morocco & Turkey coupled with the devaluation of Turkish currency, Moroccan & Turkey exporters would be at an advantage and it would be easy for them to compete in the Russian market.
According to Waheed, the collective export of Citrus fruit and value-added products can be enhanced to one billion US dollar within five years, however, to attain this target, it's imperative to grow new varieties of Citrus fruits through extensive Research & Development besides ensuring Kinnow "free from all diseases" and to increase yield per acre by setting up new orchards.
The province of Punjab, being a hub of Kinnow production, it's agriculture department has not paid any serious attention and similarly making a plea of the 18th amendment, the federal govt has also ignored the issue of Kinnow Industry!
Due to poor quality and various diseases which has engulfed Kinnow, Pakistan has been unable to take advantage of the gigantic International markets of China and Europe – said Waheed.
However now in this changing scenario due to ongoing project of CPEC the access in Chinese big market would become easy and it's anticipated that China would become a big buyer of Pakistani Kinnow, however we would be required to be well focused on R&D to meet the requirements of Chinese market and assistance can be sought from them in this context.
PFVA has already initiated extensive efforts through collaboration with agriculture research-based institutions and agriculture universities to improve quality and yield and this link can be extended to the research-based institutions agricultureture universities of China. By acquiring technology from China, production of crop of Kinnow and other fruits can be substantially enhanced.
PFVA has already submitted its recommendations, being part of road map of the Horticulture sector developed by PFVA,  to the Prime Minister of Pakistan, Imran Khan for his recent visit to China through the Economic & Trade Advisor to the Premier.