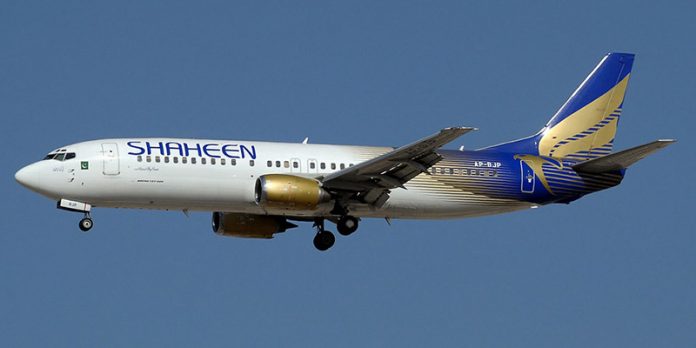 ISLAMABAD: The proprietors of Shaheen Air International (SAI) have escaped Pakistan even after an appeal by the Civil Aviation Authority (CAA) to place their names on the Exit Control List (ECL).
According to a report in Dawn, an official of CAA said a request had been forwarded to the interior ministry in September to immediately place SAI Chairman Kashif Mehmud Sehbai and Chief Executive Officer (CFO) on ECL since they may escape from the country.
The CAA official added but the request wasn't heeded too by the relevant authorities and both owners of SAI have managed to escape the country.
Moreover, the CAA official shared the court had been moved against SAI for the recovery of the dues and indicated if the owners had been present in Pakistan, it would have been easier for the authorities to recover dues and outstanding salaries.
When asked about eight planes of SAI which are in the possession of CAA, the official shared these planes are grounded for their poor condition and it will charge the airline for using its parking.
In reply to a question about some eight planes of the SAI that had been in CAA possession, the official said: "No, these planes are grounded for their poor condition and the CAA will charge the SAI for using its parking."
Earlier this week, a national daily had reported the Saudi prince who had expressed willingness to invest in the airline pulled out from the deal to bail it out.
SAI's Chief Marketing Officer Zohaib Hassan told that the airline hasn't announced any precise closure, however, its offices had been shut for the last two weeks, reported the media outlet.
He added, they were waiting for resumption of work.
The Saudi investor withdrew from the deal after becoming aware of the legal troubles surrounding SAI, told an employee who declined to be named.
SAI's fortunes tumbled in April this year when it defaulted on payments of taxes and fee to the Federal Board of Revenue (FBR) and Civil Aviation Authority (CAA) to the tune of Rs1.3 billion.
Moreover, SAI payables include billions of rupees to catering services, ground handling companies, fuel suppliers, banks and lessors' entities which give aircraft on lease and hotels.
Also, SAI's operating licence and fitness certificates for its aircraft have lapsed, due to which its operations closed.
The lessor Aercap Ireland has with the help of the Irish embassy taken back SAI's eight aircraft.