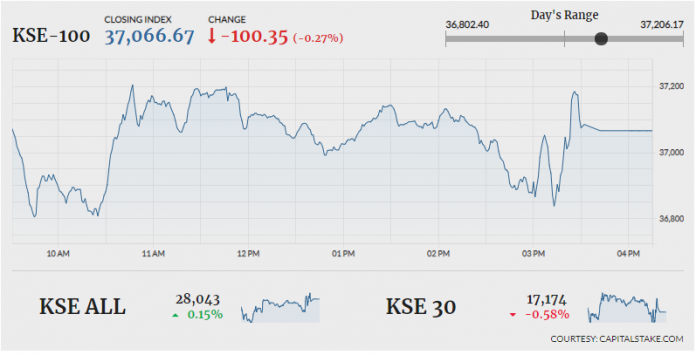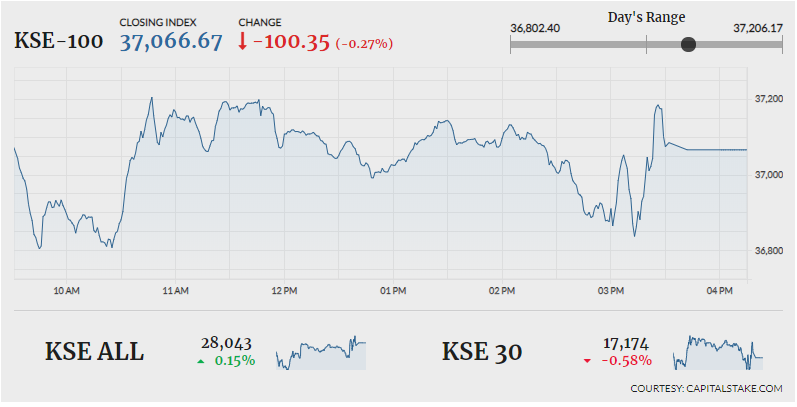 KARACHI: Failing to close the last trading session of the year positive, the Pakistan Stock Exchange (PSX) was once again taken over by bears. Indices continued to bleed for the most part of the day while volumes improved significantly. Foreign investors ended the year as net-sellers with a total outflow of $533.18 million (until Friday's session).
As per news reports, the Oil and Gas Regulatory Authority (OGRA) has recommended a decline in the prices of petroleum products for the month of January 2019 by up to 13.5pc.
The KSE 100 index benchmark touched its intraday low of 36,802.40 after losing 364.62 points. The index then recovered a little and reached its day's high of 37,206.17. It finally settled lower by 100.35 points at 37,066.67. The KMI 30 index was down by 269.92 points at ended at 61,173.56, while KSE All Share index closed slightly positive at 28,043.38 (up by 42.08 points). Out of the total traded scripts, 139 advanced and 160 declined, while 25 remained unchanged.
The overall trading volumes were recorded at 226.06 million. Silk Bank Limited (SILK +10.62pc) topped the volume chart with 23.10 million traded shares. Next in line were K-Electric Limited (KEL +0.34pc) and Sui Southern Gas Company Limited (SSGC +0.92pc). The scripts had traded 18.59 million and 15.29 million shares respectively.
Top gainers of the day included the closed-end mutual fund sector (+7.15pc), miscellaneous sector (+2.93pc), paper and board sector (+2.56pc), automobile parts and accessories sector (+1.90pc) and pharmaceutical sector (+1.77pc). On the other hand, vanaspati and allied industries sector (-4.54pc), cement sector (-1.89pc) and jute sector (-1.70pc) were among the major losers.
Noon Sugar Mills Limited (NONS -4.99pc) nearly touched its lower-lock after the company announced its financial results for the year ending 30th September 2018. A final cash dividend of Rs2.60 was declared by the company. Sales surged up by 3opc YoY, while earning per share improved from Rs8.73 in FY17 to Rs12.76 in the current year.