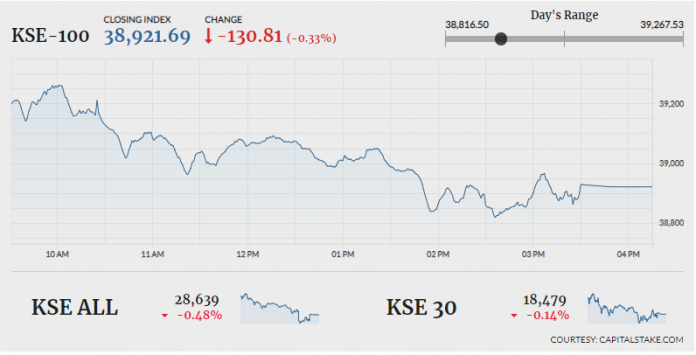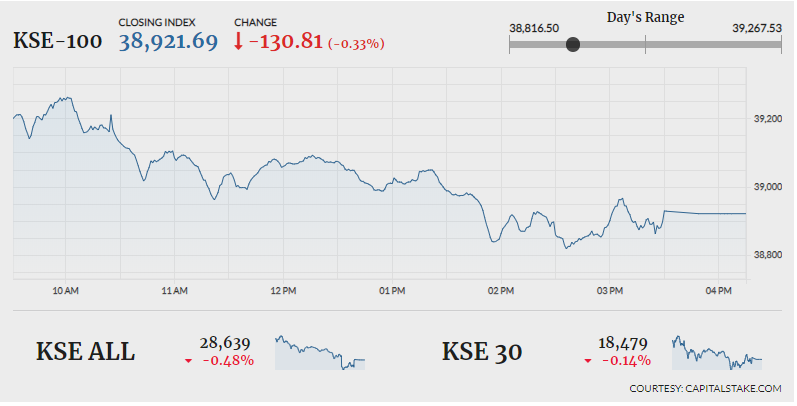 KARACHI: Breaking its two-day winning streak, the Pakistan Stock Exchange (PSX) ended the session on Wednesday in red. Indices swung aggressively in both directions until they finally picked the negative path to end lower.
The World Bank has projected Pakistan's economic growth to slow down to 3.7pc in the current financial year 2018-19, as per latest semi-annual report. During FY2017-18, the growth rate estimated by the bank was recorded at 5.8pc.
After a positive start to the day, the KSE 100 index benchmark reached its intraday high of 39,267.53 (up by 215.03 points) shortly after the commencement of the session. It then oscillated in both directions thereafter, touching its day's low of 38,816.50. It finally ended on the lower side at 38,921.69 after losing 130.81 points. The KMI 30 index fell short by 154.46 points to settle at 65,685.24 points, while the KSE All Share index declined by 137.52 points, closing at 28,638.56. The advancers to decliners ratio stood at 101 to 224.
Trading volumes reduced from 166.79 million in the previous session to 133.85 million. Pak Elektron Limited (PAEL +2.38pc) was the volume leader of the day with 25.12 million shares swapping hands. Unity Foods Limited (UNITY -3.95pc) and Sui Southern Gas Company Limited (SSGC +4.06pc) were next in line. The stocks had traded 11.66 million shares and 8.98 million shares respectively.
Although the overall market trend was negative, the oil and gas exploration sector managed to end with a slight gain of 0.72pc in its cumulative market capitalization. Pakistan Oilfields Limited (POL) appreciated by 3.53pc, while Oil and Gas Development Company Limited (OGDC +0.27pc), Pak Petroleum Limited (PPL +0.79pc) and Mari Petroleum Company Limited (MARI +0.06pc) also closed with minor gains.
Major decliners included vanaspati and allied industries sector (-2.47pc), tobacco sector (-2.24pc), jute sector (-1.70pc), engineering sector (-1.69pc) and transport sector (-1.43pc). On the other hand, woolen sector (+4.89pc), synthetic and rayon sector (+2.54pc) and miscellaneous sector (+2.22pc) ended as gainers.