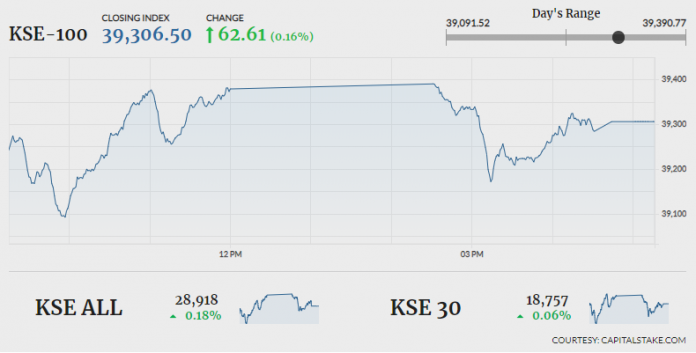 KARACHI: Investors of Pakistan Stock Exchange (PSX) witnessed a turbulent session on Friday where the indices after swinging in both directions ended day slightly positive. Foreign investors on the other hand once again ended as net sellers on Thursday with a total outflow of $4.20 million.
On the economic front, the current account deficit widened 37pc to $1.66 billion in December 2018, according to the latest data released by State Bank of Pakistan. Previously, the deficit stood at $1.20 billion in the preceding month (November 2018). Moreover, as per SBP data, the foreign exchange reserves held by the central bank dropped by 2.09pc on a weekly basis (falling below $7 billion mark).
The KSE 100 index benchmark started the day negative, dipping to its intraday low of 39,091.52 (down by 152.37points) shortly after the commencement of the session. It then kept on oscillating in both directions, touching its intraday high of 39,390.77 after the prayer break. The index finally settled slightly positive at 39,306.50 after gaining 62.61 points. The KMI 30 index managed to gather 94.88 points to end at 66,233.38, while KSE All Share index appreciated by 52.01 points, closing at 28,917.83.
The overall volumes surged from 104.48 million in the preceding session to 155.00 million. K-Electric Limited (KEL +5.05pc), TRG Pakistan Limited (TRG +1.43pc) and Unity Foods Limited (UNITY +3.66pc) led the volume chart. The scripts had traded 55.92 million shares, 8.13 million shares and 7.78 million shares respectively.
Following the news of decline in global oil prices, the oil and gas marketing sector managed to gain +0.13pc in its cumulative market capitalization. Sui Southern Gas Company Limited (SSGC) was up by +3.15pc, Shell Pakistan Limited (SHEL) by +0.90pc and Attock Petroleum Limited (APL) by +0.29pc.
Top gainers included vanaspati and allied industries sector (+3.69pc), woolen sector (+3.37pc) and modaraba sector (+2.90pc). On the other hand, jute sector (-1.70pc), leather and tanneries sector (-1.68pc) and refinery sector (-1.19pc) ended as losers.