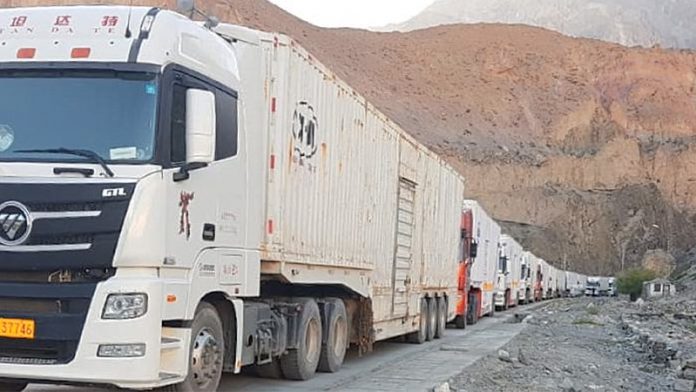 GB lawmakers accuse Customs' officials of involvement in malpractices, say auto parts and garments are being imported in the name of dry fruits
ISLAMABAD: As the China Pakistan Economic Corridor (CPEC) route would be opened by the end of this month after seasonal closure, lawmakers in Gilgit Baltistan have complained about issues pertaining to misdeclaration and fraud at Sust dry port.
The lawmakers alleged that expensive auto parts and garments were being imported from China in the name of dry fruits.
In the letter to Prime Minister Imran Khan last month, GB Legislative Assembly opposition leader Captain (r) Muhammad Shafi stated that a number of consignments carrying precious goods were being cleared against meager charges/duties at the dry port, causing over Rs400 million loss to the exchequer. Evidence of malpractices at the Sust port was available with the lawmakers, he claimed.
In the said letter, Shafi informed the prime minister that Customs Collector Farooz Ahmed Jonaijo, Additional Collector Yousuf Haider Orakzai, Deputy Collector Afandyar Khatak and Custom Superintendent Sardar Manzoor were involved in the fraudulent activities at the port.
He requested the premier to constitute a high-level inquiry into the misdeclaration and fraudulent activities at the port, which was also the gateway of CPEC.
"Misdeclaration in imports and exports are usually reported at other ports of the country, but the same goes unnoticed at Sust port," said an importer at Khunjrab border, confirming that both the Customs officials and importers were involved in illegal practices.
The importance of the dry port is increasing with the implementation of the multi-billion-dollar CPEC, he said. "Although trade on this land route remained suspended for almost five months last year due to prolonged protest of traders against Web-based One Customs (WeBOC) system, the port earned Rs3.5 billion in only three months of the remaining season," he added.
It is pertinent to mention that the bilateral trade via land route had resumed last year after a prolonged protest, which ended after the army's intervention.
The land route usually closes on December 1st and reopens on April 1st every year due to harsh weather in the hilly parts of the two countries. The pass is the highest paved international border at an altitude of 15,500 feet above sea level.
With the development of CPEC projects in Pakistan, machinery and related goods are mostly imported through the land route.