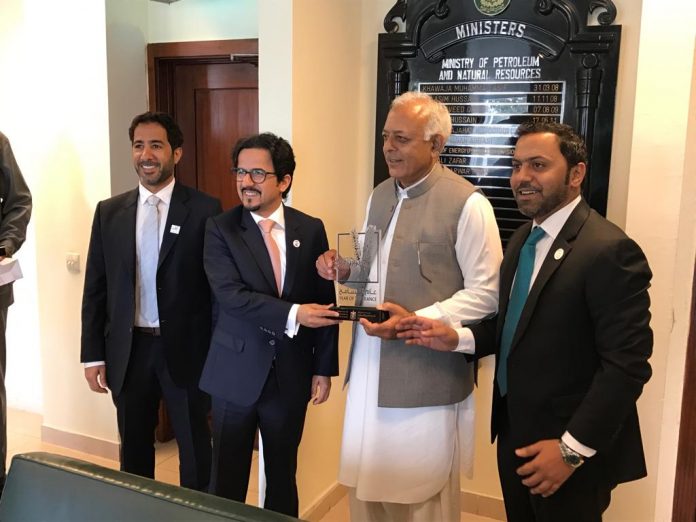 ISLAMABAD: Mubadala Petroleum, an international oil and gas company based in the UAE, has expressed a keen interest in further strengthening its foothold in Pakistan.
Mubadala Petroleum CEO Musabbeh Al Kaabi called on Petroleum and Natural Resources Minister Ghulam Sarwar Khan at the Ministry of Petroleum on Thursday. United Arab Emirates Ambassador Essa Abdulla Al Basha Al Noami was also present on the occasion.
Welcoming the delegation, the minister said that Pakistan, under the leadership of Prime Minister Imran Khan, is committed to facilitating the foreign investors, adding that efforts are already underway to improve ease of doing business in the country.
He commended the UAE for its continuous investments in various sectors of the Pakistani market.
The minister said that Pakistan's downstream oil refining and marketing sector offers lucrative investment opportunities. Based on industry demand forecasts, Pakistan needs new oil marketing and storage network, he added.
Mubadala Petroleum CEO Musabbeh Al Kaabi on the occasion appreciated the steps taken by the government to facilitate current and potential investors in the country.
Al Kaabi shared with the minister recent update and progress on the establishment of PARCO Coastal Refinery, saying that it would be one of the UAE's major investments in the country.
The federal minister was also informed on the execution timelines of the coastal oil refinery, with both dignitaries expressing satisfaction over the current headway being made on this vital undertaking.
The CEO said PARCO's plan to set up a deep conversion refinery would be able to refine 250,000bpd and would prove to be instrumental in facilitating the national exchequer.
The group also expressed interest in the LNG sector as well as in the exploration of onshore and offshore blocks in Pakistan. They also showed interest in establishing the first propylene plant in Pakistan.