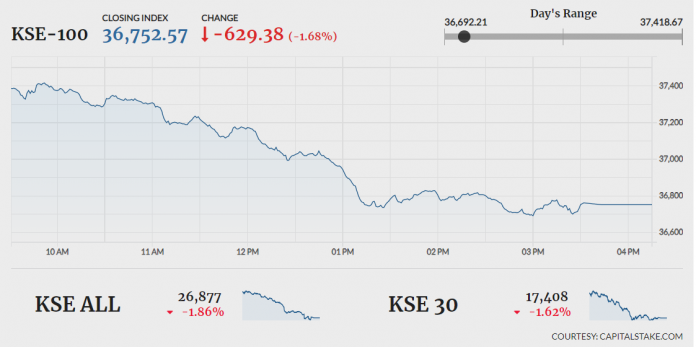 KARACHI: Bears of Pakistan Stock Exchange (PSX) were again successful in capturing the market, as the indices bled for the most part of Wednesday.
A lack of clarity on the economic front and expected reforms under the umbrella of the International Monetary Fund (IMF) kept the investor confidence low. Meanwhile, foreign investors took a U-turn after four sessions and closed the Tuesday's session as net buyers with a net inflow of $0.586 million.
The KSE 100 benchmark touched its intraday low of 36,692.21 after losing 689.74 points. It settled lower by 629.38 points at 36,752.57. The KMI 30 index sunk by 752.61 points to end at 60,283.67, while the KSE All Share index fell by 509.96 points, closing at 26,877.20. Out of the total traded scripts, 67 advanced, 265 declined while the value of 17 remained unchanged.
Trading volumes jumped by 23pc and were recorded at 172.86 million. The Bank of Punjab (BOP -7.39pc) topped the volume chart with 51.48 million shares exchanging hands, followed by Unity Foods Limited's right shares (UNITYR1 -38.31pc) with 23.34pc million traded shares.
Next in line was Maple Leaf Cement Factory Limited (MLCF -1.77pc) with 6.79 million shares. The company, in a notification sent to the exchange, announced the expansion of its new cement line. An additional dry process clinker production line with a capacity of 7,300 per day was set up by the company.
Vanaspati and allied industries sector (-8.09pc), engineering sector (-4.34pc), tobacco sector (-3.81pc), modaraba sector (-3.65pc) and food and personal care products sector (-3.07pc) closed as major losers.
Pakistan Telecommunication Company Limited (PTC -0.33pc) reported its financial performance for the first quarter of FY19. Although the company's sales dipped by a minor -0.59pc YoY, it posted earnings per share growth of 8pc YoY (1QFY18 Rs0.36, 1QFY19 Rs0.39). Other income improved by 76pc while finance cost declined by 53pc YoY which helped in boosting net profitability.
Engro Powergen Qadirpur Limited (EPQL -3.92pc) also posted its financial results for the first quarter FY19. Sales increased by 16pc YoY, whereas earnings per share declined from Rs2.07 in the same period last year to Rs2.20 in the current period.
Ferozsons Laboratories Limited (FEROZ -5.00pc) touched its lower lock after the declaration of its financials for the third quarter of FY19. Sales increased by 6pc YoY, whereas earnings per share depreciated from Rs0.82 in the third quarter of FY18 to Rs0.43 in 3QFY19.