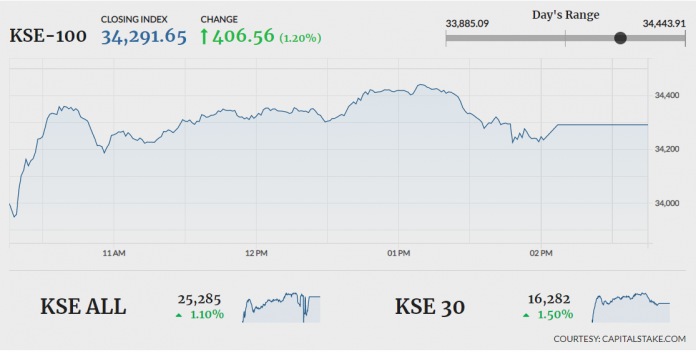 Following the completion of drilling process at Kekra-1, the oil and gas exploration sector gained 3.57pc in its cumulative market capitalisation
KARACHI: Putting an end to its losing streak, the Pakistan Stock Exchange (PSX) ended Wednesday's with decent gains. Foreign investors, on the other hand, ended as net sellers in the preceding session (Tuesday) with a net outflow of $2.17 million.
After gaining 558.82 points, the KSE-100 index jumped to its intraday high of 34,443.91 in the afternoon session. It closed higher by 406.56 points at 34,291.65. The KMI 30 index appreciated by 1,454.88 points or +2.75pc to end at 54,292.67, while the KSE All Share index gathered 275.76 points, settling at 25,285.40. Out of 303 traded scripts, 201 advanced, 91 declined while the value of 11 remained changed.
Trading volumes improved slightly from 105.71 million in the preceding session to 110.88 million. K-Electric Limited (KEL +7.65pc), Maple Leaf Cement Factory Limited (MLCF -2.74pc) and The Bank of Punjab (BOP +4.67pc) remained the top traded stocks of the day, exchanging 9.16 million, 8.85 million and 7.56 million shares respectively.
As per news reports, offshore drilling near Karachi coast on Indus G-Block (Kekra-1) has finally been completed after four months. The drilling was done through joint venture of four companies, namely ENI, ExxonMobil, Oil and Gas Development Company (OGDC) and Pakistan Petroleum Limited (PPL). The drilling process was completed at a cost of nearly Rs14 billion while stem tests are currently being conducted to determine the actual reserves of oil and gas.
The oil and gas exploration sector gained 3.57pc in its cumulative market capitalization. (PPL +5.00pc) and Pakistan Oilfields Limited (POL +5.00pc) touched their upper circuit breakers, while Oil and Gas Development Company Limited (OGDC +2.37pc) and Mari Petroleum Company Limited (MARI +3.74pc) also closed with decent gains.
The refinery sector gathered 4.02pc in its total market capitalization. Byco Petroleum Pakistan Limited (BYCO) was up by 5.55pc, National Refinery Limited (NRL) by +2.88pc, Pakistan Refinery Limited (PRL) by 1.58pc and Attock Refinery Limited by (ATRL) 0.78pc.