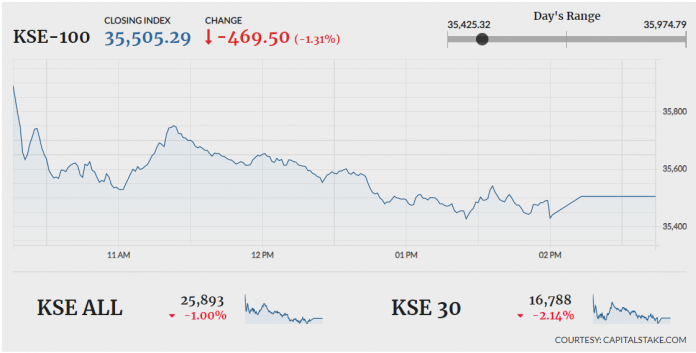 KARACHI: The Pakistan Stock Exchange (PSX) ended the only trading session of the week in the red, as indices kept shedding gains right from the word go amid low turnover. Foreign investors closed the last week as net buyers with a net inflow of $2.95 million.
On the economic front, the government on Saturday had once hiked the prices of petroleum products by up to Rs4.5. When compared to regional oil importing nations, Pakistan's petrol price is 27pc lower than their average price but per capita GDP lags behind their average by 40pc.
The KSE-100 Index lost 549.47 points to touch an intraday low of 35,425.32. It closed lower by 469.50 points at 35,505.29. The KMI 30 Index declined by 1,701.86 points to settle at 56,531.83, while the KSE All Share Index lost 262.73 points, ending at 25,892.76. Out of the 275 traded scripts, 102 advanced, 154 declined while the value of 19 remained unchanged.
The overall market volumes were recorded at 124.64 million. The oil and gas exploration sector lost 3.28pc in its total market capitalization as crude continued to fall in the international markets. Pakistan Oilfields Limited (POL -5.00pc) touched its lower circuit breaker, while Pak Petroleum Limited (PPL -4.13pc), Mari Petroleum Company Limited (MARI -3.56pc) and Oil and Gas Development Company Limited (OGDC -2.29pc) all closed in the red zone.
The cement sector chipped off -1.21pc from its cumulative market capitalization. DG Khan Cement Company Limited (DGKC) lost 4.58pc, Fauji Cement Company Limited (FCCL) -3.91pc and Lucky Cement Limited (LUCK) -2.65pc.
Trading shall remain suspended on account of Eidul Fitr from June 4 (Tuesday) to June 7 (Friday). Trading shall resume with normal timings from June 10 (Monday).