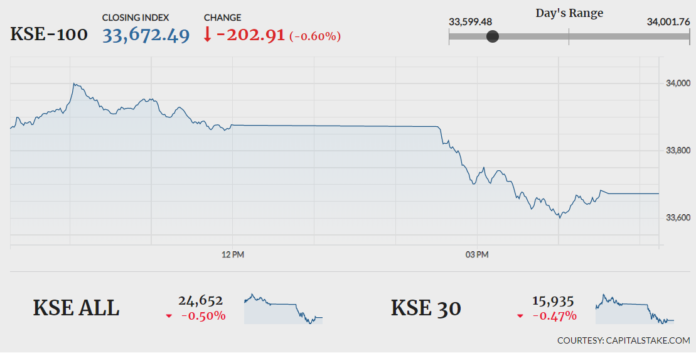 KARACHI: Bearish sentiment surrounded the Pakistan Stock Exchange on the last trading session of the week, as the KSE-100 closed a volatile session in the red zone. Foreign investors closed as net buyers on Thursday with a net inflow of $1.73 million.
As per the State Bank of Pakistan, the total liquid foreign reserves held by the country stood at $14.25 billion as on July 5, 2019. The central bank had earlier received the first tranche of $991.4 million from the International Monetary Fund as part of the bailout programme.
According to media reports, the State Bank of Pakistan's Monetary Policy Committee would meet on Tuesday to decide about the policy rate for the next two months. The interest rate currently stands at 12.25pc.
The KSE-100 Index touched its intraday high of 34,001.76 soon after the commencement of the session. It then moved in the opposite direction, reaching its intraday low of 33,599.48 in the second half. The index finally closed lower by 202.91 points at 33,672.49. The KMI-30 Index declined by 555.70 points to close at 53,285.89, while the KSE All Share Index depleted by 123.74 points, ending at 24,652.17.
The overall trading volumes improved from the previous session and were recorded at 55.5 million. K-Electric Limited (KEL -2.20pc), Maple Leaf Cement Factory Limited (MLCF -4.90pc) and The Bank of Punjab (BOP -0.23pc) remained the volume leaders of the day. The scripts had exchanged 6.89 million shares, 4.52 million shares and 3.91 million shares respectively.
The oil and gas marketing sector lost 1.64pc from its cumulative market capitalization. Pakistan State Oil Company Limited (PSO) was down by 3.43pc, Hascol Petroleum Limited (HASCOL) by -3.37pc, Hi-Tech Lubricants Limited (HTL) by -2.81pc and Sui Southern Gas Company Limited (SSGC) by -1.71pc.
Meanwhile, on the back of media reports that fertilizer prices are likely to be increased by Rs100 per bag, the fertilizer sector managed to gain 0.80pc in its total market capitalization. Fauji Fertilizer Company Limited (FFC +2.08pc), Engro Fertilizer Limited (EFERT +1.52pc) and Fatima Fertilizer Company Limited (FATIMA +1.31pc) all ended with decent gains.