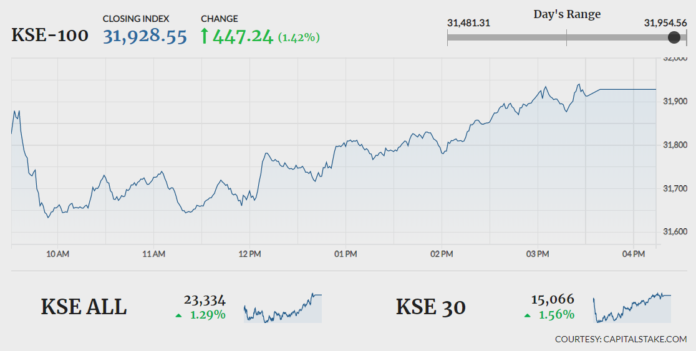 KARACHI: The Pakistan Stock Exchange (PSX) witnessed a positive start to the trading week, as the indices headed north as soon as the opening bell rang, while volumes remained decent ahead of the monetary policy announcement.
As per media reports, an International Monetary Fund (IMF) delegation has arrived in Pakistan to hold a series of meetings with top government officials. The delegation would be briefed on the $6 billion loan it extended to Pakistan earlier this year.
Adding 473.25 points, the benchmark KSE-100 Index marked an intraday high of 31,954.56. The index settled higher by 447.24 points at 31,928.55. The KMI-30 Index accumulated 1,003.23 points to end at 50,720.00, while the KSE All Share Index closed higher by 296.15 points at 23,334.15. Out of the total traded shares, 154 advanced and 134 declined.
The overall market volumes were recorded at 104.61 million, of which 81.68 million came from the benchmark KSE-100 Index.
DG Khan Cement Company Limited (DGKC -1.42pc) topped the volume chart following the announcement of its financial performance for FY19. The company's sales increased by 32pc YoY, while earnings per share declined from Rs20.17 in FY18 to Rs3.67 in FY19 owing to a significant increase in finance cost (up from Rs519 million in FY18 to Rs3.30 billion in FY19). Moreover, the company announced to increase its equity investment in Hyundai Nishat Motors (Pvt) Limited from Rs850 million to Rs1.06 billion.
The Oil and Gas Development Company Limited (OGDC +4.90pc) was next on the volume chart with 6.71 million exchanging hands.
Hascol Petroleum Limited (HASCOL +5.00pc), with 5.70 million traded shares, touched its upper lock during early hours following an announcement that its board meeting would be held on 23rd September to consider and approve its right shares. The stock had fallen by 37pc ever since its half-year financials were announced on August 29th.
The oil and gas exploration sector gained 4.83pc while the oil and gas marketing sector surged 2.60pc after an increase in the crude oil prices by over 10pc in the international markets.
Pak Petroleum Limited (PPL +4.99pc), Pakistan Oilfields Limited (POL +4.89pc) and Mari Petroleum Company Limited (MARI +3.99pc) all closed with decent gains.
Similarly, Sui Northern Gas Pipeline Limited (SNGP +3.92pc), Pakistan State Oil Company Limited (PSO +2.96pc) and Hi-Tech Lubricants Limited (HTL +5.71pc) also ended in the green zone.