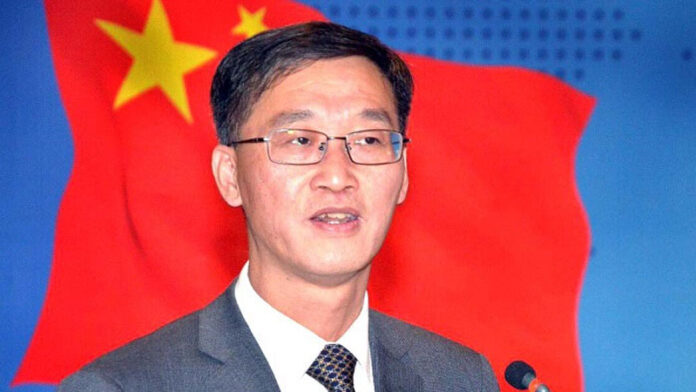 Chinese Ambassador to Pakistan Yao Jing has said that his government was going to establish 19 factories in Gwadar to create job opportunities for the youth of Balochistan, a private media outlet reported.
"China seeks to contribute to the overall development of Balochistan's mining, agriculture, fisheries and water sectors. The Chinese consulate is easing the visa procedure for the businessman community," Yao Jing said while talking to journalists in Quetta.
He said that 200 students from Pakistan had received scholarships in China. He denied speculations regarding the Chinese government's lack of interest in development projects in Balochistan.
"CPEC would change the economic fortune of not only Balochistan but also Afghanistan and other Central Asian countries and all projects would go through Pakistan," he said.
The Chinese envoy said that the provincial fisheries, agriculture, mineral and livestock sectors had room for development, which could end poverty in Balochistan.
"Chinese companies are working to strengthen the provincial irrigation sector while 50 vocational centres are being established for enhancing skills of the young generation of the province," he said.
"China will invest in the expansion of the Zhob-DI Khan highway considered vital for CPEC," he added.
On Tuesday, during the meeting of 9th Joint Cooperation Committee (JCC) of China Pakistan Economic Corridor (CPEC) in Islamabad, both sides had expressed satisfaction over the ongoing and planned projects under CPEC.
The 9th JCC had discussed the proposals forwarded by six Joint Working Groups of the two countries, which included industrial cooperation, transfer of technology and cooperation in agricultural, mineral, oil and gas and steel sectors.
The major development in the 9th JCC was related to the much-awaited mega railway project, ML-I, which according to the planning minister would see practical development within the next 3 to 6 months.
"We will be able to perform the groundbreaking of the mega project in next 6 months as processes related to financing are being finalised with China," the minister had said while addressing a press conference along with Chinese Ambassador to Pakistan Yao Jing after the conclusion of 9th JCC.