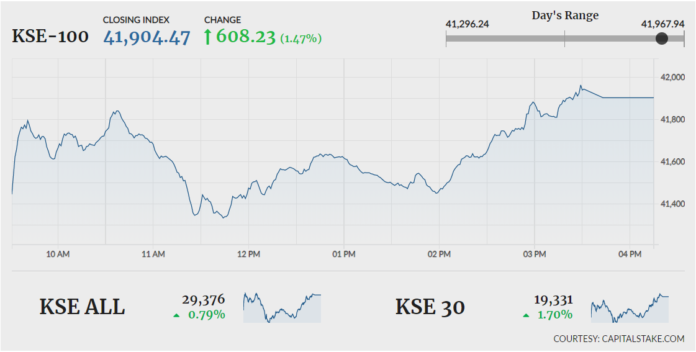 KARACHI: The Pakistan Stock Exchange (PSX) staged a strong comeback on Tuesday after taking a hammering a day before.
Foreign investors also changed their pattern and closed the previous session (Monday) as net buyers with a net inflow of $2.02 million.
On the economic front, Pakistan's trade deficit dipped by 31pc to $11,628 million in the first half of FY20 mainly on the back of import contraction. The country's imports fell by 17.13pc to $23,163 million while exports remained almost flat, up 3.16pc in July-Dec 2019 as compared to the same period last year.
The benchmark KSE-100 Index, which opened the day at 41,445.96, touched its intraday high at 41,967.94 (+671.70 points) in the final trading hour. It closed higher by 608.23 points or 1.47pc at 41,904.47. The KMI-30 Index gained 1,202.15 points to settle at 68,187.68, while the KSE All Share Index accumulated 230.23 points at 29,375.75.
Sectors that painted the KSE-100 Index green included banking (+205.27 points), fertiliser (+82.71 points) and cement (+67.87 points). Among the companies, Habib Bank Limited (HBL +93.10 points), Lucky Cement Limited (LUCK +60.23 points) and Dawood Hercules Corporation Limited (DAWH +56.43 points) contributed maximum points to the index.
The overall trading volumes were recorded at 206.89 million (down 22pc on a daily basis). Hascol Petroleum Limited (HASCOL -1.45pc), K-Electric Limited (KEL +1.10pc) and Siddiqsons Tin Plate Limited (STPL -5.33pc) led the volume chart. The scripts had exchanged 19.04 million, 16.09 million and 12.28 million shares, respectively.
The refinery sector (+4.29pc) ended as top gainer on Tuesday. National Refinery Limited (NRL +4.99pc), Pakistan Refinery Limited (PRL +4.96pc), Attock Refinery Limited (ATRL +5.00pc) and Byco Petroleum Pakistan Limited (BYCO +3.71pc) closed with decent gains.
In a notification sent to the exchange, Bolan Castings Limited (BCL +0.78pc) announced an extension in the shutdown period from January 12, 2020, to February 02, 2020. The plant would resume its operations from February 03, 2020.