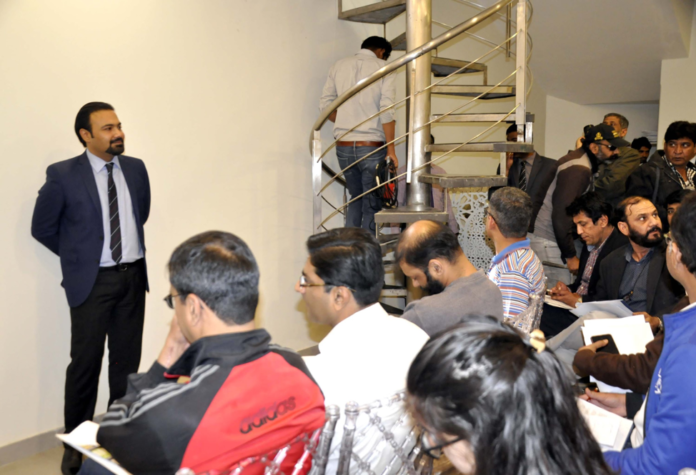 KARACHI: Pakistani businesses are optimistic about the overall outlook in the first quarter of 2020, according to the newly launched Business Optimism Index for Pakistan by American data company Dun & Bradstreet.
As per the index that covers the fourth quarter of 2019, business optimism clocks in at an overall for 144.6 points. Larger companies are more optimistic than small and medium enterprises (SMEs) with their index position standing at 149.5 and 137.3 respectively.
In addition, there is greater optimism within the services sector in comparison to trading and manufacturing, despite the trading sector anticipating an increase in selling prices and profits in the upcoming quarter. Exporters have shown greater confidence, as compared to non-exporters in the wake of the rupee devaluation.

Based on the survey, D&B states that a large proportion of businesses anticipate a growth in sales revenue, thus signifying that demand is likely to rebound. About 42pc of businesses believe that the current business situation is good, while 66pc believe it will get better in the next quarter.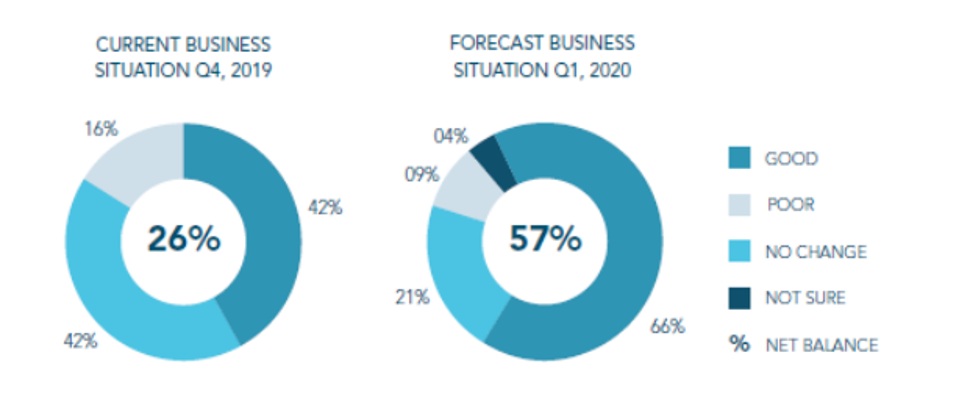 In terms of challenges faced by the business community, a major obstacle as per the survey is government fees and taxes (with 42pc of respondents indicating so), followed by other factors such as exchange rate fluctuation, political instability, and the economic slowdown.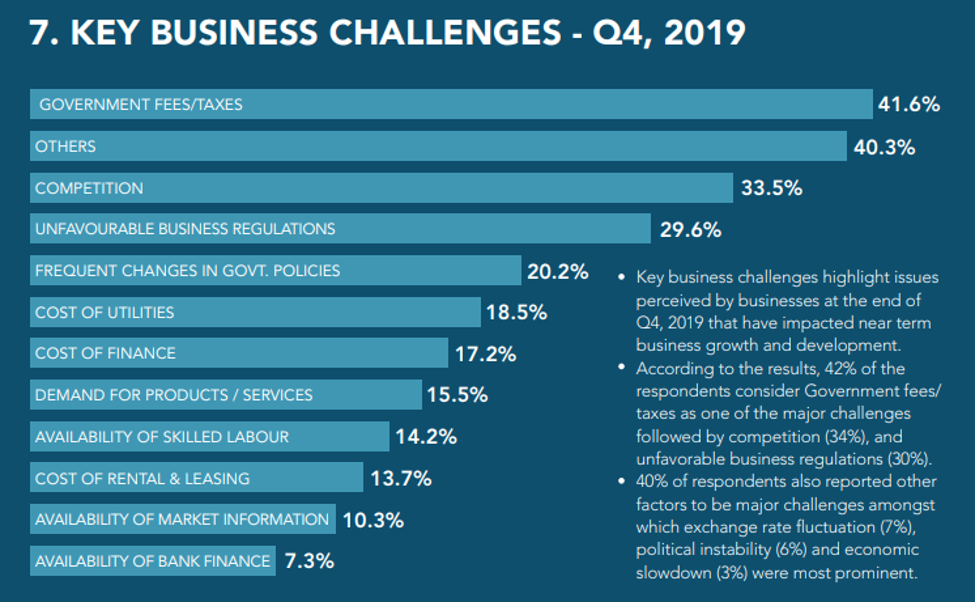 Furthermore, based on the survey results, net balance for all parameters except profits is positive for the fourth quarter of 2019, indicating that business costs increased during the quarter
Amongst SMEs surveyed, top export destinations included USA (48pc of SMEs), UAE (25pc of SMEs), UK (19pc of SMEs) and Canada (19pc of SMEs). 28pc of SMEs expressed willingness to export to new markets in the next quarter (Q1, 2020). 19pc respondents wished to export to the US, whereas 15pc in the UK and 14pc in the UAE making these the most prominent destinations.
Exporters are optimistic with respect to all the parameters of the survey with a positive Net Balance in each parameter. This is widely due to optimism with regards to Sales Revenue, Volumes Sold and Profits. 68pc of exporters expect an increase in their export performance in the upcoming quarter. Top three export destinations included USA (43pc of exporters), UAE (24pc of exporters) and UK (17pc of exporters); however, 67pc businesses wish to expand beyond into newer markets.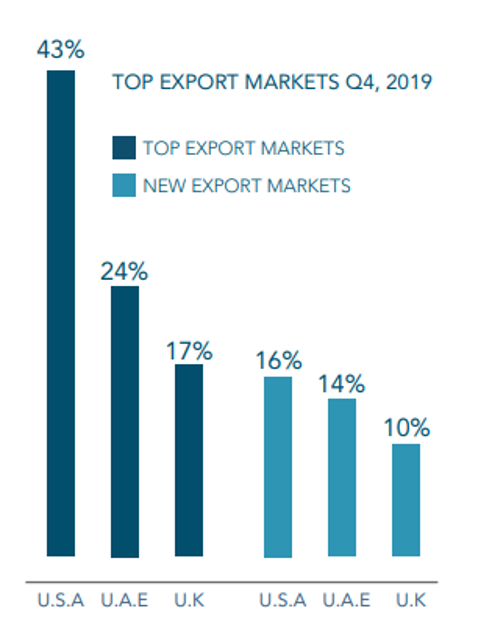 Having been introduced for the first time in the early 1900s, and carried out in ten other countries around the world, the index has now made its way to Pakistan where it will be released every quarter in order to quantify the pulse of the business community and assess the business environment.
The BOI surveyed around 400 to 500 companies in Pakistan. When asked about sample methodology by Profit, Shoaib Rizi, Associate Consultant at D&B, said there are around 108,000 companies in Pakistan with the Securities and Exchange Commission Pakistan (SECP). Based on this, a sample of 408 companies will give an accuracy reporting 95pc.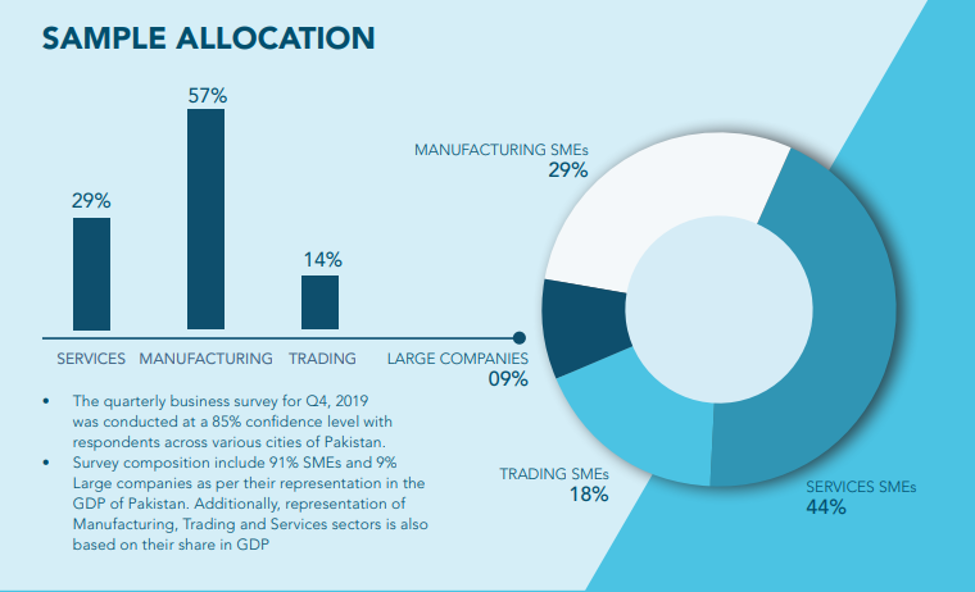 It remains to be seen if this is a truly accurate representation, considering that many companies in Pakistan are not registered with the SECP.
D&B in Pakistan
D&B acts as an intermediary between two companies, providing data and analytics for businesses. The company's database has over 300 million company records and operates in over 200 countries, thus signifying their access to data.
According to Nauman Lakhani, Country Head of D&B Pakistan, there has been a growing interest in Pakistan and Pakistani business for the last two years. In particular, there has been an IT boom in the country. The company decided in 2019 to have a physical presence in the country to provide more data.
D&B has around 50 to 60 clients in Pakistan. Though they did not name their clients, most are banks, AMCs, insurance companies, and importers and exporters.
Lakhani gave three examples of where D&B could be potentially useful in the Pakistani context. First, only D&B companies verified companies can exist on the App store – which would be helpful due to the recent IT boom in Pakistan.
Secondly, many textile manufacturers in Pakistan often look to sell to Walmart – which only accepts D&B verified companies.
Finally, USAID financing – which is significantly important to Pakistan –  can only be received by D&B verified companies.
More broadly speaking, Lakhani also talked about creating a cultural shift in Pakistan regarding data. "Many Pakistani companies want to keep their data hidden, when in fact they should be more open, and create a culture of transparency."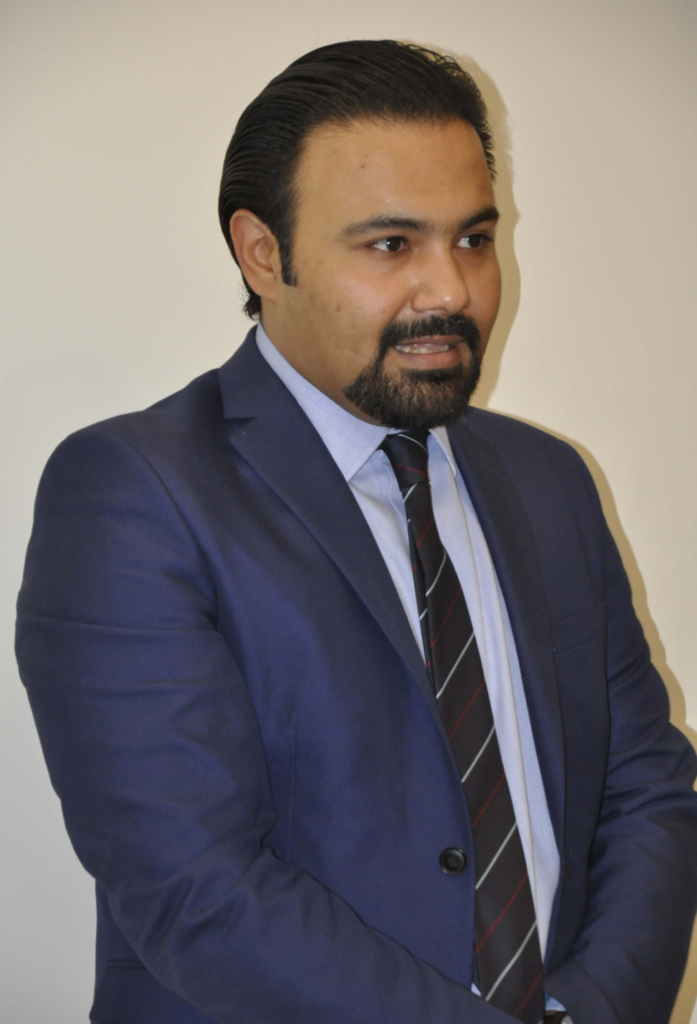 Similarly, he compared the Securities and Exchange Commission Pakistan (SECP) website to Companies House website, a similar body in the United Kingdom, saying it is much easier to access company information abroad. 
FUTURE PLANS
D&B is also planning on getting a Credit Bureau license of Rs225 million from the State Bank of Pakistan. "We feel the capital requirement of Rs225 million is not very high, but there are certain matters we are concluding on internally before going ahead. The letter of intent has already been given to the SBP," said Lakhani.
Thereby, it can be said D&B is only looking to increase their presence in Pakistan. 
Going forward, Lakhani said D&B will be offering quarterly Business Optimism Index and Consumer Confidence Index (CCI).
D&B has collaborated with Gallup Pakistan on the CCI, and will be releasing it in April. The sample size will be 2,000 individuals. 
When asked about the need for additional surveys, considering the State Bank of Pakistan and SECP release their own surveys, Lakhani responded by saying all government documents should be considered with a 'pinch of salt', and that it was useful to have a neutral third party conduct surveys. 
He also said in the future he hoped that government releases would taper off, and that surveys are handled by the private sector. 
WITH ADDITIONAL REPORTING BY MEIRYUM ALI.