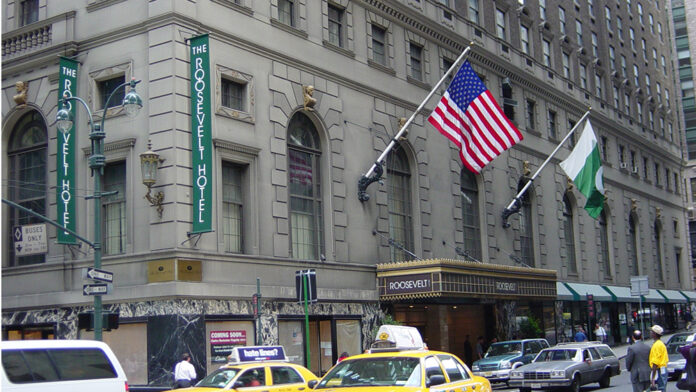 ISLAMABAD: The Pakistan Tehreek-e-Insaf (PTI) government has approved to give on long-term lease Pakistan International Airline's Roosevelt Hotel in New York.
In a meeting of the National Assembly's Standing Committee on Privatisation held on Wednesday, it was informed that the federal government, on the recommendation of the privatisation committee, has decided to lease the said hotel.
The committee was surprised to know that the cabinet had made this decision "on a one-line paragraph summary" forwarded by the privatisation committee.
It was also surprised to know that the PIA Investments Limited (PIAIL), which owns the hotel in New York, was registered in British Virgin Island.
Interestingly, during the meeting, a consultant hired for privatisation informed the committee that the federal cabinet had already approved a summary regarding the "privatisation" of Roosevelt Hotel.
However, Privatisation Minister Muhammadmian Soomro clarified said that the hotel was being given on long-term lease and was not being privatised. "The amount that would be received as a result this step would be spent on the revamping of PIA."
He also claimed that unlike the impression, the hotel was not making profits for the past few years.
"Selling the hotel in New York will cost a lot in taxes, therefore, the ministry is considering a proposal to operate the hotel through a joint venture or leasing it out on a long-term basis."
He continued, "We are not selling the Roosevelt Hotel. Its location is very important, but its income is declining. Leasing out the property is the best option for Pakistan," the minister said.
During the meeting, which was chaired by MNA Syed Mustafa Mahmud, the committee showed its displeasure over the absence of the PIAIL managing director and finance director. The Aviation Division officials informed the committee that the said officials were travelling overseas for pre-arranged meetings and hence could not participate in the scheduled standing committee meeting.
However, the committee chairman directed the division to ensure the presence of PIAIL officials in the subsequent committee meeting so that they could brief properly on PIAIL's privatisation.
Meanwhile, the Aviation Division's joint secretary gave a detailed presentation on the performance of PIA for the 2015-2019 period. He informed about PIA's domestic network; passenger & cargo analysis; market share analysis on international and domestic level; and the airline's profit and loss.
"Presently, the fleet of PIA consists of 32 aircraft to support its national and international business. The passenger analysis shows that it has increased from 4.39 million to 5.29 million in 2019. While for the same period, cargo has increased from 37.69 million to 48.18 million."
The committee was informed that for revenue enhancement, PIA is planning product improvement, expansion on lucrative routes, partnerships, enhancing network coverage and increasing ancillary revenue sources & cargo. On the other hand, the cost-cutting includes renegotiation of contracts of services & supplies and reduction in maintenance cost & rentals due to induction of ground support equipment.