Being an institutional investment professional is no easy job. You have the stress of making people money, all the while making sure that you are not the one responsible for losing their money. The weight of the world is on your shoulder, along with the permanent anxiety of facing a crash in markets, and the daunting task of compiling and going through data to search for a competitive edge, to see what others have missed. Nearly everyone who works capital markets finds themselves scavenging through sheets of data on their computers trying to analyze trends. 
This somewhat simple task is further complicated when you have to set out to search for the data yourself. Scrolling and refreshing websites to update your sheets is definitely not fun, not what your degree was for, and nor is it the smartest way to manage portfolios. However, with the Bloomberg Terminal and Reuters Eikon being very expensive, what option does a Pakistani investment professional have other than slaving away mining for data?
With a large quantity of data pouring in from all directions in a market that still has space for growth and maturity; decisions are often left impaired due to relying on informal sources. Considering the dynamics of frontier and emerging markets, and more than 1600 institutions that invest in Pakistan's capital markets, a number of platforms have entered the local arena to give the Terminal and Eikon a run for their money, or so we have been told. Capital Stake, Investor's lounge, Zakheera, Mettis Global, and Tresmark are examples. The nature of these businesses and their business models are quite diverse and are catered toward their specific niches.
Equity-based data services
Both Investors Lounge and Capital Stake are similar with regards to the information they provide such as what stocks or sectors are impacting or driving the market, technical charts for all stocks listed, sectors, and indices. Furthermore, the platforms help with in-depth analysis into foreign and local portfolio investors along with settlement information and insider and off-market transactions. 
In addition to this data, the platforms also provide daily news feed and investment advice from most brokerage houses from across the country. Although operating as competition, both companies align their goals toward providing an in-depth market monitoring tool that proves to be a cheaper alternative to expensive data terminals provided by international companies.
The feasibility of the business model, however, is an interesting concept considering the cost incurred with acquiring, processing, managing and disseminating the data.
While speaking to Capital Stake, it was discovered that their business model primarily focused on B2B sales whereby they sell access to Financial Institutions and further allow them to provide access to their clients. Based on this business model they have been able to amass more than 20 clients. Speaking to Profit, Faraz Naeem, CEO Capital Stake said, "We have more than 20 clients using our advanced analytics platforms across brokerage, asset management and news companies. In addition, basic versions of our analytics are accessible by 50+ brokers via KITS trading terminal. Our APIs and research services are also used by a handful of clients. In 2019, our systems served almost a million users by providing them data, analytics or research on the Pakistani market."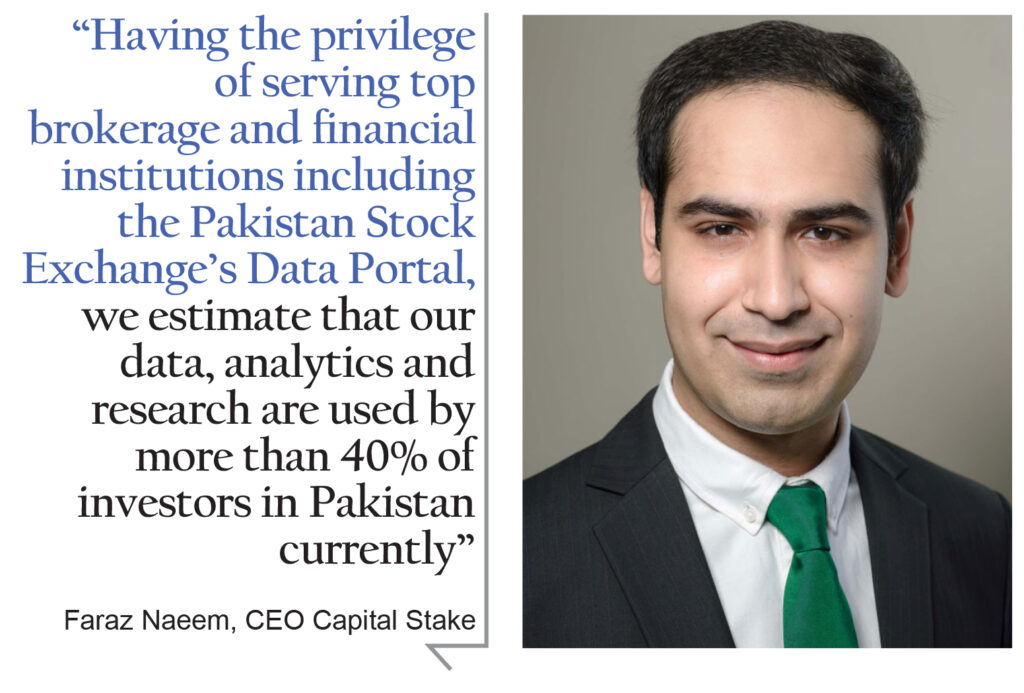 The cost of the account is borne by the financial institution and is priced by Capital Stake in accordance with the number of customers the institution will provide access to. Speaking about market share, Naeem further says, "Having the privilege of serving top brokerage and financial institutions including the Pakistan Stock Exchange's Data Portal, we estimate that our data, analytics and research are used by more than 40% of investors in Pakistan currently."
While the PSX is the most authentic source of data for the stock market, the data on their website shows a lag with changes in prices. This is because the PSX sells the data to financial institutions thereby would make their business model obsolete if they post live data. The website has been remodeled by Capital Stake. Capital Stake, on the other hand posts live data on its portal.
Investors Lounge, while primarily providing the same features as Capital Stake, differentiates itself from it due to the business model it follows. They target institutional clients, B2B, as well as retail clients such as high net worth individuals. In addition, Investors lounge believes that media and research organizations that cover market dynamics are also among their target audience. Investor's Lounge serves more than 40 institutional clients and HNWIs in Pakistan and abroad.
While speaking to profit, Sennen D'souza a founding member of the company says, "Its difficult to comment on market share but we currently have approximately 25% of the market share (Our competitive landscape broadly includes Bloomberg, Reuters Eikon, and Zakheera, while our only competitor in the API provision/Research Portal solution space is Capital Stake."
The business model is simple, the company has a subscription-based revenue model for terminal access, as well as providing data through APIs to institutional clients in the form of white-labeled solutions. They also engage in fintech development for leading local and international financial institutions. Investors Lounge further plans to expand into other emerging market territories where they are well suited to serve pain points that are similar to Pakistan's.

However, it can be said that the business model for these two businesses are weak. Let's say you were to look up the price of a stock. As an average Joe, you would go to google and type the stock symbol along with psx. The first result would be of the PSX followed by SCStrade.com. The PSX, however does not disseminate live data, while SCS does. It does not stop there, SCS further provides analyst reports from its research department, charting tools, and analytics. 
While these businesses may make sense for a brokerage firm to disseminate information to their clients, it raises questions around the need for financial data services in Pakistan, in particular for data regarding the equity markets being sold to customers directly as opposed to houses.
SCS trade provides data for free. Naushad Chamdia, CEO Standard Capital Securities feels that his platform is free for all and is far better equipped than counterparts. Despite not posting analyst reports from other platforms, he believes that one, in particular an investor himself, does not need to invest in an account on other platforms. He feels that the financial data needs can be fulfilled easily on the interface and generates more hits than counterparts. 
In addition, he pointed out that when you search for a stock on google, SCS is the second website that shows up following the PSX. When asked about the business model for this service, he said that they have been providing this service for free since 2002 and may charge in the future. Calling data platforms his passion, he reiterated the fact that his platform could compete with both Investors Lounge and Capital Stake and thereby made paying for them a pointless expense.
Zakheera on the other hand is an associate business of Optimus Capital. It provides comprehensive economic and financial content relating to Pakistan's economy, stock market, companies, currencies, commodities, mutual funds, debt market, etc. The platform does now disseminate news or analyst reports of research firms.
The platform primarily was built by analysts for analysts and is user friendly in order to make it more accessible as compared to Bloomberg, and to reduce the time clients spend in data processing. Priced at Rs. 25,000 a month, the platform has managed to gain more than 20 customers. Speaking to Profit, the team commented that the business has been able to break even with regards to Zakheera.
While Capital Stake, Investor's Lounge, and SCS Trade were limited to equity; and Zakheera for both equity and Pakistan's economy- we will now look at two other players that offer more diversified financial data solutions. 
All asset class-based solutions
Primarily being a b2b startup, Mettis Global is a web-based financial data and analytics portal that provides a large range of data pertinent to the financial markets and the macroeconomic. The portal covers all asset classes such as equity, commodities, money market, and fixed income. In order to establish itself as a complete data provider, it is also equipped with macroeconomic data available from the SBP, PBS and external vendors. 
As per the business, its unique selling point is its live forex rates that are in line with treasury rates used by importers and exporters to negotiate exchange rates (However, there are others providing the same feature- Tresmark).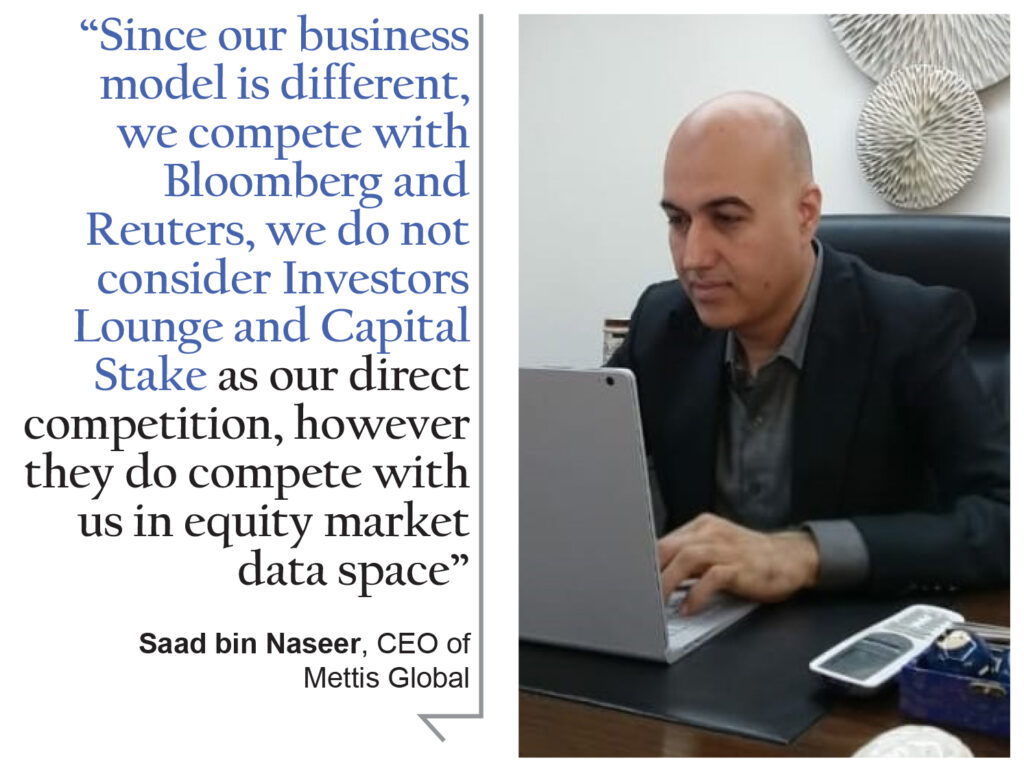 In addition, Mettis global also acts as competition to conventional business news outlets as it publishes regular updates on the economy and sectors. The news platform is a form of under the belt marketing for the product whereby news is displayed to the public following a half hour lag in comparison to paying customers. 
A major proportion of the news is generated through the use of artificial intelligence thereby justifying the need for a small team. The news, however lacks depth in terms of analysis and thereby cannot compete wholly with traditional news disseminating platforms. Mettis Global charges its clients $200 a month for access to a single usage account and has approximately 170 clients.
While speaking to the first customer Mettis was able to get on board, Mr. Jehangeer Jamil at Pak Iran Investment Company, he said, "the platform is beyond cost effective and suits the needs of the business at one tenth the price the firm used to pay". He commented on the reliability and speed at which the data is available too.
While speaking to Profit about the market share, Saad bin Naseer, CEO of Mettis Global states "In terms of key stations we have a good 14% market share obviously the big share goes to Reuters and Bloomberg. But in terms of revenue it is probably only 3% of market leaders like Reuters and Bloomberg, primarily because of the difference in pricing point" 
He further says, "So far the business model has proven to be quite successful. The business growth has been exponential and the business environment is quite conducive for the data distribution company."Speaking on the business model, Naseer further says, "Since our business model is different, we compete with Bloomberg and Reuters, we do not consider Investors Lounge and Capital Stake as our direct competition, however they do compete with us in equity market data space" 
Surprisingly, Mettis did not mention Tresmark as their competition. 
Interesting enough, none of the other data service providers mentioned Tresmark as their competitor either. Tresmark is one of the oldest in the business considering how it started off as a product by Landmark Investments in 2012 and became a separate entity in 2017. 
Despite not being deemed as competition, the company has managed to amass 350 corporate clients that have single or multiple subscriptions. The total number of users, however, is approximately 800 considering how most of their corporate clients have multiple accounts. 
While talking to Profit, Waqas Hussain, Vice President Sales at Tresmark Private Limited commented that one key reason behind them not being deemed as competition to the previously mentioned companies is because they primarily deal with equity, whereas Tresmark is more diversified in their clientele.
Hussain commented that nearly 80% of their clients belong to the corporate sector,the remaining belong to banks, and very few brokerage firms. He says that the low penetration within the brokerage industry is primarily due to it not being their focus. Clients include Sanofi Aventis, PPL, Parco, Samba Bank, Habib Metropolitan Bank, Habib Asset, Jubilee Insurance, etc. He further commented that their sucess can be guaged by their strong client retention rates.
The business model is such that they believe that whilecorporate users usually rely on brokers for their equity needs, they still need a platform for other financial services. This is where Tresmark steps in. 
Tresmark is a financial terminal that can be used to view market rates for currencies, commodities, fixed income, equities, and futures. The platform allows users to view data, chart, analyze historical trends, and work on technical analysis. This gives users an edge at making informed decisions regarding their investments, funds and remittances. The business provides lives quotes for the FX, local markets and the secondary bond market.
Speaking on the inception of the product, Hussain recalled that the company started off as a financial advisor. Corporate clients used Reuters or Bloomberg for their financial needs. An example of such is National Refinery, PSO, PPL using those platforms for oil prices. 
Considering a gap in the market, Tresmark decided to expand their services. Originally, corporate clients would outsource their treasury departments to the company. Considering Watermark understood the business, they thought the formation of Tresmark made more than sense. After which based on what the company has to say, they have managed to replace Bloomberg and Reuters in most of the corporate world.
The company feels that they were able to reach out to banks due to their presence in the corporate sector. Banks got curious about the product once they saw a number of their corporate clients using it. 
The business, however, deals with their banking clients differently through altered solutions. Hussain explained that since their services are not only limited to financial date, but also advisory, communication and customized trade solutions. He added that Tresmark provides customized solutions by white-labeling their product to banks whereby their branches and treasury are better connected. As far as security concerns regarding data are concerned, the solution is provided on the banks' servers to ensure confidentiality.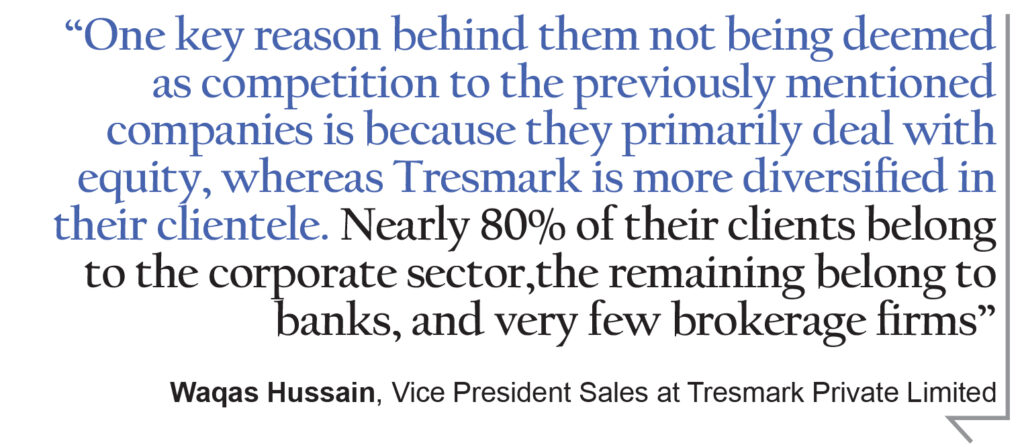 Tresmark is a disseminator of financial news too. However, unlike Mettis, Reuters and Bloomberg; Tresmark shares news from its sources crediting them rather than having an onboard news agency team. 
However, when asked about whether they think they are competitors for Reuters and Bloomberg, they feel that they cannot drive the two out until transactions can be carried through their platform. 
Tresmark, however, unlike the other platforms has a chatting application that enables them to work on dealings. Hussain explained that while transactions cannot be carried through the portals, they have managed to come close by allowing users to quote rates through the portal and then realize the transactions over recorded call lines. He said that the SBP regulated transactions through either recorded lines or terminals like Reuters or Bloomberg. Hussain says that Tresmark is working toward facilitating the process further. 
Speaking on the potential of the market, Hussain feels that their product is able to compete considering their pricing and the services they provide. While the company has not quoted an exact price due to the fact that they charge different clients different prices, it is still cheaper than Reuters and Bloomberg. 
The business, however, sees a spurt in sales when the market is declining. Hussain explains that brokerage firms are price sensitive considering how their commissions go down when the market does. Then they're under immense pressure to cut down on costs. That, despite being bad for investors is good for local data service providers considering how local options become more of a viable solution. 
As for the future, Tresmark is working on a new application called axis that will serve as a communication & business analytics tool for the corporate sector, banks, and brokers. In simple terms, it's like Whatsapp but for professional use. The platform will enable users to make charts and tables at a tap of a screen and make it easier to relay that information to others. Like the Tresmark platform, this too will have a white labeling option whereby it can be specialized for clients.
Review
As someone that has used five out of the six (Mettis did not provide a free trial despite numerous requests) platforms mentioned in order to understand the business model, I feel that Capital Stake and Investor's lounge can be used interchangeably. I, however would not invest in either as an individual investor and would just rather use free data available on SCS trade. 
Then again, I am not a high net worth individual. As a high net worth individual, I would choose Investor's Lounge considering Capital Stake is strictly B2B. However, as an equity analyst, the platforms are easy to navigate and provide in depth analysis and make work easier. As a brokerage firm, I would choose either of the two based on their cost competitiveness due to their services being vastly interchangeable.
As for Zakheera, the platform is easy to use and captures both equity and economic data through charts and tables. The data is easy to use. However, I feel that the team needs to market its product more as very few institutions are aware of it and therefore unable to comment on its utility. The overall user interface, however, needs to be improved. It, however, is a straightforward platform.
Tresmark and Mettis, being in a different league provided a different user experience. They reminisce with the Refinitiv Eikon, especially due to how market-moving news is shared. The platforms are easy to use, unlike the Terminal. Being a complete service for all asset classes, I think they are a valuable addition for a business or financial institution that has needs that are restricted to the local market but not to just equities. 
From what I have gathered regarding Mettis Global through their website and through the in-person demo I received during the interview with the Mettis team, I feel that despite Mettis calling themselves the Pakistani Bloomberg, I would not go as far to call them that because their news lacks substance and because they do not make their own analytical indices. 
While the platform is certainly easier to use than the Terminal and more like Eikon, calling it direct competition for the Terminal and Refinitiv is an overstatement I would not make. However, considering how the platform failed to provide a free trial despite my request in person and through their portal, their sales and customer services come into question. 
Tresmark, however, has an upper hand considering the chat option that they have that allows them to facilitate clients with going through with deals. However, the interface needs a little work considering how there is a lag in the way pages load. 
Cost-effectiveness
It is interesting to note that these businesses have entered the market fairly recently. It was, however, easier for them considering the rupee devaluation and the underwhelming performance of the capital markets. As a result, Bloomberg and Reuters were not as cost-effective for businesses and they had to look for cheaper alternatives. Institutions could not afford to continue with multiple accounts for the expensive Bloomberg and Reuters. 
While digging around, we uncovered that even the big brokerage firms, such as Arif Habib limited, and banks such as Askari Bank Ltd, cut down from multiple accounts to save on costs and now share the terminal or portals between departments. While speaking to Refinitiv, the situation sounds different as they claim they have been able to increase their presence in Pakistan and take over Bloomberg. 
While speaking on the success of the business, Naseer further states, "We believe Mettis will continue to replace expensive key stations of Reuters and Bloomberg. The value-add we provide at the lower cost point to local treasuries, asset managers and investment banks will continue to create room for growth."

Priced between $1500 to $2000 a month, these international financial data services providers have not really played in the local market on volumetric sales. They often have only a few systems or accounts with split screens or shared access. Some institutions further find them expensive considering how one is not enough to fulfill their needs as the Terminal is needed for bonds and Eikon for forex.
Pakistan is not an island
While this does seem like a lucrative business opportunity, research suggests that the business model is not very practical, at least not for companies like Mettis Global and Tresmark, considering their price. The fact that these companies only disseminate local data makes their usage quite limited. It constrains Pakistani financial institutions to local information and does not help in decision making whereby comparisons are to be made. Tresmark, however, manages to sustain itself considering its integration in the corporate sector. 
In most cases, comparisons on a year on year basis are not enough. Cross-sectional data comparing counterparts around the world help form conclusive decisions. The sales team at Refinitiv feels that the Pakistani financial institutions cannot restrict themselves to just Pakistan. The financial markets are not an island and therefore, relying on local data is not enough.
However, Capital Stake believes that while aligning the local market with the world is important, most local users of their database their decisions on developments within the country including the political environment, the stability of the economy, to name a few. 
The ability to track some international data such as oil and commodity prices, however is important due to some industries being integrated and sensitive to changes. Thereby, companies like Investor's Lounge and Capital Stake are merely just providing institutions with data they need without making a strong effort to bring a change within the market based on the current product. 
In addition, licensing data is a cost new entrants may not be able to compete on. With companies like Reuters and Bloomberg playing with data long before Pakistan was even made, they have access to information not many do. In addition, with a team of highly qualified economic and financial experts, they are able to build indices, charts, etc. that give their users and edge over counterparts that do not. Naseer from Mettis believes that room is crowded for a new entrant thus making the effort and investment higher than expected results.
That being said, the industry for such services seems crowded and does not seem as lucrative as one would expect. Considering the world dynamics, these products are behind in terms of the services they provide. One out of six of the local platforms provide an in-app chatting feature, nor do they provide a ranking for analysts through which credibility and correctness could be ascertained. While Investor's Lounge is working on such a ranking, the lag in this endeavor by the other data service providers is quite concerning.
Furthermore, the development and operational costs seem dramatic as opposed to the revenue they earn. The fact that Bloomberg and Refinitiv are able to charge more and still sustain themselves within the current market is a testament to the fact that the service they provide is worth it. 
Verdict:
As the world accelerates towards more data-driven decisions, Pakistan finds itself lagging behind in terms of its reliance on data. "Tip" based investing can only get you as far. With that said, the capital markets need to adapt themselves toward more analytics decisions and integrate the use of AI. 
That being said, while local competition is moving ahead in the right direction, it is years behind in being a replacement for Bloomberg and Refinitiv as both a data service platform, and a complete financial solution. Each operating in their own niche, local competitors, will not be able to attain significant growth from this point onwards in their business cycle considering the nature of their products. In addition, based on a market consensus, despite these services claiming to be substitutes for the two international platforms, they remain largely inadequate to fulfill that space. 
Bloomberg and Refinitiv remain undefeated in their conquest of the capital markets, at least in terms of their utility and their effectiveness at carrying out transactions. Considering how none of the local participants are able to provide services at par or near that of Reuters and Bloomberg, the question arises, will they ever be able to drive them out- or better compete wholly?