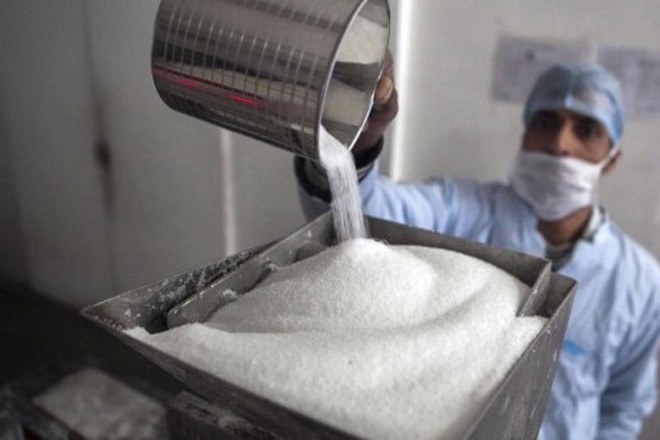 LAHORE: Economic experts have recommended the government to lift the ban on sugar imports (allow duty free imports) and let the market decide the commodity's price.
They said that duty-free imports would not only help the country overcome the influence of sugar cartels, but would also help in mitigating the encroachment of sugarcane to cotton crop areas.
According to sources, the inquiry commission report on sugar price hike was a major blow to the country's influential 'sugar mafia', members of which had been ruling the roost for the last three decades.
They informed that this powerful sugar mafia has members in all political parties, and that they were mostly on the same page when it came to sugar cartelisation despite their political differences.
"The mafia has had access to power corridors in all governments, utilsing which they had also established sugar mills in cotton belt areas during the last decade," informed an industry insider.
Talking to Pakistan Today, Malik Ahsan Budh, an agriculturist from Muzaffargarh, said over the years, sugarcane has encroached upon the realm of cotton queen, causing severe losses to farmers as well the economy.
Budh informed that sugarcane growers had capitalised on opportunities arising from pest attacks that had ruined cotton crops for several successive years.
He continued that the sugar mills had moved to south Punjab districts like Muzaffargarh, Rahim Yar Khan, Khanewal, Layyah and Rajanpur, promising ready cash to the farmers. "But after eliminating the cotton crop, the sugar mafia started exploiting the farmers."
He maintained that the entire ecosystem of cotton crop was disrupted by the sugarcane encroachment.
"Now is the time we should start supporting cotton farmers by introducing regulations pertaining to pesticides, seeds and support prices etc.," the agriculturist suggested.
Sources said that the influence of sugar mill owners was not just limited to the industry, as they had also penetrated in different segments of the economy.
"In Pakistan, there are around 780 sugar hoarders, with some having a stock worth Rs10-15 billion every year," an insider said. "Apart from them (hoarders), every sugar mill has 150-250 commission agents who purchase sugarcane from farmers for peanuts and sell it to sugar mills."
It has been observed that tor the last 30 years, regardless of the political party in power, the sugar mafia has somehow always managed to get lucrative subsidies.
WHAT THE ECONOMISTS SAY
Talking to Pakistan Today, Economist Sakib Sherani maintained that sugarcane was an inefficient, water intensive crop not suited to Pakistan.
"It is grown largely at an expense of cotton, which can yield value addition via textile exports," Sherani said.
Meanwhile, leading economist Dr Nadeemul Haque said no policy or regulation was required as sugar was a commodity freely available in the world.
"In Pakistan, all controls must be lifted. Let the market work and let some players die if the market wants them to die," he said.
Agreeing with them, economic expert Dr Ikramul Haq said that the country's sugar policy must include that the government would never give any subsidy to sugar mills. He added the government should also incorporate that there would be no import duty on sugar import/export.