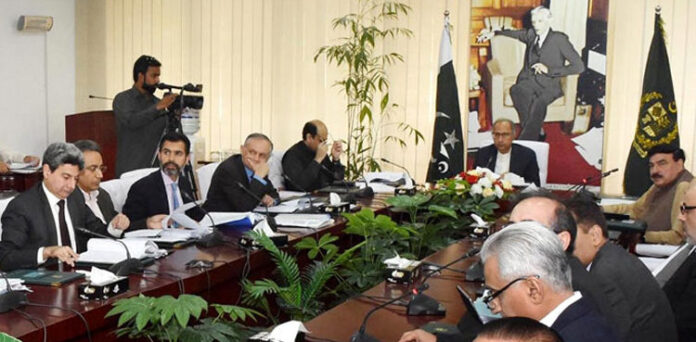 ISLAMABAD: The Economic Coordination Committee (ECC) is likely to approve a Rs200 billion relief package for daily wagers whose livelihoods have been affected by the countrywide lockdowns imposed due to coronavirus outbreak.
The ECC meeting would be held tomorrow (Wednesday) under the chair of Adviser to PM on Finance Dr Abdul Hafeez Shaikh.
According to sources, the committee would mull over a summary to initiate cash distribution programme for daily wagers. The project would be the second biggest cash distribution programme of the federal government, they added.
Meanwhile, the ECC would be given a presentation by the Finance Division on the overall working and performance of the Competition Commission of Pakistan (CCP).
It may be noted that on Monday, Adviser to PM on Austerity and Institutional Reforms Dr Ishrat Hussain had submitted a report on CCP, wherein he had declared CCP's performance as "satisfactory" and had also opposed any restructuring of the commission.
However, during the cabinet meeting on Tuesday, the PM rejected the said report and directed the firing of the CCP chairperson, citing reasons that "powerful cartels are backing the CCP officials".
The ECC meeting would also take up a proposal of the Ministry of Water Resources regarding a technical supplementary grant of Rs606 million for 19 projects to be implemented by the Balochistan government in the fiscal year 2019-2020.
A proposal of the Interior Division for approval of a technical supplementary grant of Rs7 million (within the sanctioned budget) for the purchase of spare parts of helicopter maintenance by Headquarters Frontier Corps Balochistan (North Quetta) during the fiscal year 2019-2020 is also on the ECC's agenda in Wednesday's meeting.
The ECC would also consider the Ministry of National Health Services Regulations and Coordination's proposal for the provision of Rs150 million as a grant for the Islamabad Healthcare Regulatory Authority.
In addition, the committee would consider the Overseas Pakistanis and Human Resource Department's request for approval of budget proposal for the year 2019-2020 and revised budget of estimate for 2018-2019 of Employees Old-Age Benefits Institution (EOBI).
The Ministry of Climate Change's proposal regarding hydromet and ecosystem restoration services project (PHETPS) — exemption from relending policy, is also expected to be approved during the meeting.