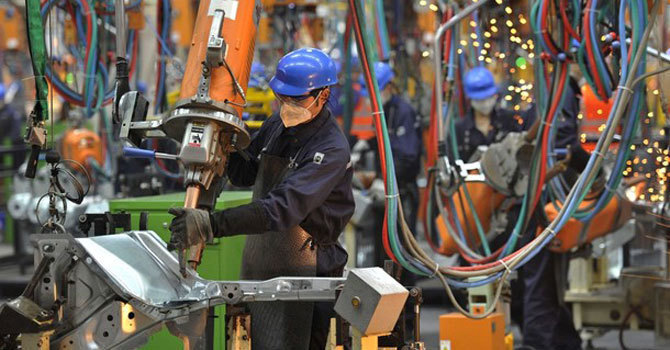 ISLAMABAD: As the government had imposed a partial lockdown during the month of March owing to COVID-19 outbreak in the country, growth in large-scale industries contracted by 22.95pc during the month, as compared to the same month of 2019, Pakistan Bureau of Statistics (PBS) reported on Tuesday.
On a month-on-month basis, the large-scale manufacturing (LSM) shrank by 21.99pc in March 2020, when compared with the LSM output of February 2020.
During the first nine months (July-March) of the current fiscal year (FY21), the overall output of LSM Index decreased by 5.40pc, as compared to July-March FY19.
Apart from the implications of high interest rate, the adverse impact of the pandemic remained visible in March, economists said, adding that the LSM sector may post a further decline in April as there was a complete shutdown of industries during the month.
In March, the State Bank of Pakistan slashed the policy rate from 13pc to 11pc on calls from the business community, which was struggling to account for the economic impact of the lockdowns necessitated by the spread of COVID-19.
The central bank in April had announced a further reduction of 2pc in the policy rate to 9pc.
The government has partially lifted lockdown and allowed export-oriented industries to resume operations to fulfil international orders. Similarly, industries catering to domestic needs are also resuming its operations. Experts believe the partial opening of markets will also raise demand for production.
According to the data, a few food-related industries posted marginal growth in its production during March 2020 while all major sectors, including textile and electronics, plunged dramatically.
It may be noted that the LSM Index had returned to the red after witnessing 9.66pc growth in December 2019, which was led by impressive performance in sugar production, rising by 97pc.
As per the available figures, production of 11 items under the Oil Companies Advisory Committee (OCAC) went down by 9.63pc during March 2020, 36 items under the Ministry of Industries and Production edged lower by 27.73pc, while 65 items reported by the provincial Bureaus of Statistics fell 7.24pc.
The auto sector, which has seen a massive decline in sales over the last few quarters, witnessed multiple upward price revisions due to currency depreciation, which kept potential buyers at bay.
On a yearly basis, it registered a decrease in sales in almost all variants during March as the production of tractors plunged by 48.76pc, trucks 11.78pc, buses 31.91pc, jeeps and cars 64.64pc, LCVs 47.51pc, and motorcycles 23.02pc, respectively.
Meanwhile, the production of sugar declined by 39.95pc YoY in March, whereas cement production posted a fall of 16.56pc.
Pharmaceutical also suffered due to a considerable lag in regulatory adjustments in prices, which in addition to the weakening of rupee added to the distress of the import-dependent sector. As a result, the output of syrups was lower by 3.95pc, capsules 10.52pc, tablets 6.22pc and injection 12.92pc.
Cooking oil and vegetable ghee witnessed increases of 26.84pc and 4.43pc, respectively, whereas blended tea fell by 13.89pc. The wheat and grain milling also posted a positive growth of 87.26pc during the month under review.
Others that posted positive growth in production during March included woollen and carpet yarn +1.51pc, woollen and worsted cloth +48.78pc, woollen blankets +8.33pc, ointments +5.27pc, galenicals (tincture) +33.33pc, polishes and creams +1pc, matches +2.56pc, soap and detergents +3.19pc and storage batteries +0.36pc, respectively.
LSM constitutes 80pc of the country's total manufacturing and accounts for nearly 10.7pc of the national output. In comparison, small-scale makes up for just 1.8pc of GDP and 13.7pc of the secondary sector.